Early this year on the Andrew Marr Show, Marr was in conversation with the Prime Minister. The interview was on a wide range of issues but when it came to the housing crisis Marr referred to those in social housing for rent as "people at the bottom of the heap" Yes really. It's lucky the interview was transcribed so you can see it for yourself. (page 11)
I am still affected by that remark and although I tried, politely, to challenge him about his use of his language on Twitter I got no response. It made me think of a good friend with a good job, who cares for his wife and who are social housing renters. I doubt he'd recognise his situation in the description Andrew Marr used.
I've always know that there is a real challenge in the rhetoric around poverty in the media. It has been used to stigmatised and belittle, misrepresent and misreport the experience of the lives of thousands of people in the UK. Now as the world around us is changing rapidly, UK politics is imploding, life for many is more uncertain than ever. With this in mind the battle to challenge this narrative is urgent and the voices of people in/experiencing poverty need to be heard.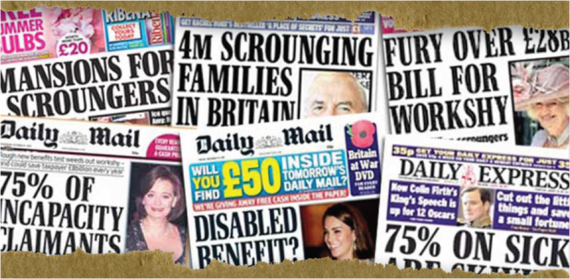 Earlier this week Julia Unwin, CEO of the Joseph Rowntree Foundation (JRF) led a call to arms to ensure that the "experience of people living in poverty is documented and described." The JRF she said has the power to "enable the voice on those who live in poverty and to ensure that those voices are heard, and listened to. Not met with the oscillating insults of pity and scorn" The JRF are leading the way in challenging what Julia says is the "poisonous rhetoric" that "passes as commentary" They've funded poverty truth commissions and commissioned films that depict true lived experience of poverty.
We cannot underestimate the power of lived experience storytelling. Not just on the listener and wider society but on the storyteller. I recently had a conversation with someone I had met through my work as a storytelling trainer. He told me that he had been 'embarrassed' by his story of growing up in poverty. The son of a single mother, with siblings by different fathers, a journey that included time in care, a stint in prison (for stealing a Sony walkman) and an uncertain future. He felt that he would be labelled by others so had chosen to keep quiet. I didn't know his story before I met him. I saw a successful social entrepreneur who'd received a Big Lottery Fund grant to support young people not in education or training to give them the skills and confidence to find work. I didn't see his label. I saw him as an active participant and asset to the day. He was adamant that I had helped him speak out to share his life experiences with others. I think I just asked open questions, listened and learnt.
A key word is asset. Too often we use 'deficit language' a term I heard used by Caroline Mason, Chief Executive of the Esmee Fairbairn Foundation referring to words like "troubled", "disadvantaged", "hard to reach" which, like me, she is adamant to address. We need to look at people in terms of assets and our starting point will be listening to them.
Next month I am working alongside the JRF to run storytelling workshops with people with firsthand experience of poverty. I hope to that participants will see that they have a vital role to tell their stories in their own ways and in their own ways so they can challenge media narratives themselves. I believe that with the right tools and support many will be confident to do that. I look forward to sharing the feedback from the day with you.
And I hope that Andrew Marr and other journalists take a good read of this recently published NUJ Guide to reporting poverty supported by the wonderful Church Action on Poverty.
Jude is the founder of sounddelivery an award-winning digital storytelling company set up to help non-profit organisations and other socially-minded enterprises embrace the changing media landscape and find new ways of getting their messages across.
Event: Being the Story Friday 16th September, Conway Hall
10 thought provoking talks to challenge narratives, spark conversations Being the Story takes place on Friday 16th September 2016 in London. You can hear Sam and 9 other inspiring speakers share their stories and insights www.beingthestory.org.uk #BeingTheStory