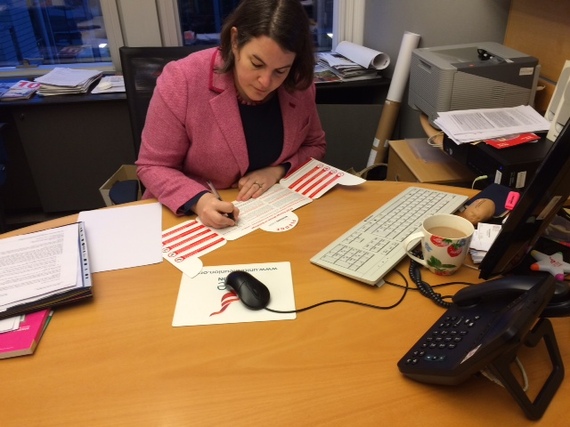 Since becoming an MEP in May last year, much of my time has been focused on trying to get more energy into EU energy policy. News that energy imports into the EU total more than £750million a day, and the ongoing conflict in Ukraine, have exposed the vulnerability of the EU's energy supply and provided an important wake-up call. Over-reliance on imports, particularly from Russia, is no longer an option.
No one is in any doubt that the European Union has an energy security and supply crisis. But there are many views on how this should be addressed.
Last week, Commission Vice-President Maroš Šefčovič presented how he hopes to build a European Energy Union to MEPs. Everyone's definition of the 'Energy Union' seems to differ, but one area of consensus seems clear that energy efficiency and savings must be at its core.
Lowering our energy consumption by increasing energy efficiency in buildings is one of the most cost-effective and sustainable ways to address security of supply, while at the same time drastically cut CO2 emissions. Buildings, especially homes, make up the largest proportion of the EU's energy consumption (40%) and CO2 emissions (36%) - more than any other sector. If we want to be serious about improving energy security in the EU, improving building efficiency cannot be side-lined. That's why together with my fellow Labour MEPs I have been trying to increase the EU's ambition in this crucial area, because it is EU policy that has driven savings for consumers so far.
Political engagement is needed to drive energy efficiency, so last Wednesday (28/1/2015) I signed a pledge to work to stop energy waste in buildings, as part of an initiative by the campaign group Renovate Europe. In doing so I've committed to using my influence as Labour MEP to press the European Commission and UK government to take swift and far-reaching action on building renovation. Increasing EU renovation rates from 1.2% to 3% by 2020 would ensure an 80 per cent reduction in energy demand from building stock - a one-third saving on total EU energy use - by 2050. Last week, I tabled amendments in the European Parliament to push this forward as part of our energy security strategy.
The example of Stockton-on-Tees in my native North East is proof of just how much citizens stand to gain from such measures.
The fitting of external cladding and new boilers, central heating systems and internal insulation have benefited 5,000 homes in some of the poorest areas in Stockton-on-Tees. Almost £8m worth of funding was secured by an initial £700,000 investment by Stockton Borough Council, in the largest roll-out of the community energy savings programme (CESP), which required energy firms to fund area-based domestic carbon savings. I heard first-hand about the scheme from residents and those responsible on Friday morning.
Getting residents to agree to substantial works on their homes was achieved by a true community engagement effort: local events, a doorstep campaign and a dedicated shop in the town centre secured a 95% take-up among residents. The scheme, the first of its kind to intervene in poor private housing in such a way, has reduced domestic carbon emissions by around 300,000 tonnes. It has created almost 500 jobs, used the services of eight north-east contractors and developed local skills. The regeneration of the urban landscape of Stockton has further inspired other local projects, and the revived sense of community pride is clear to see.
Unfortunately the UK government has shown an unwillingness to commit to such important projects, and instead has sought to 'roll back green taxes', to reduce the obligations of energy companies and to extend the delivery period of renovation schemes. This has badly stalled projects already underway and has reduced the number of homes to benefit from warmer homes and bills of up to £750 less per year. Tragically, this is substantially more than the paltry £50 green tax cut George Osborne promised, which has not even been delivered.
The level of organisation and planning required for the borough-wide scheme, with Stockton Council taking the lead role, demonstrates the need for a joined-up, long-term approach to carry out such ambitious renovation projects. Just think what could be achieved if the European Commission and national governments committed themselves to rolling out building renovation on a European scale.
European citizens stand to directly benefit from such measures. Renovations could create 2 million local jobs by 2020, increase the value of homes and cut gas bills across Europe by up to £180billion annually by 2030. With fuel poverty affecting a quarter of EU citizens on low-incomes in 2012, these savings are good news for Europe. Warmer homes means improvements to our health and quality of life, too.
MEPs, campaign groups and EU citizens know that having an ambitious and united approach to energy policy is a no-brainer, and part of that should be equipping buildings to do the hard work of cutting energy consumption for us. It's time now to convince the Commission and our governments to go that step further to creating a strategy that truly benefits people and planet.
Jude Kirton-Darling is Labour MEP for North East of England