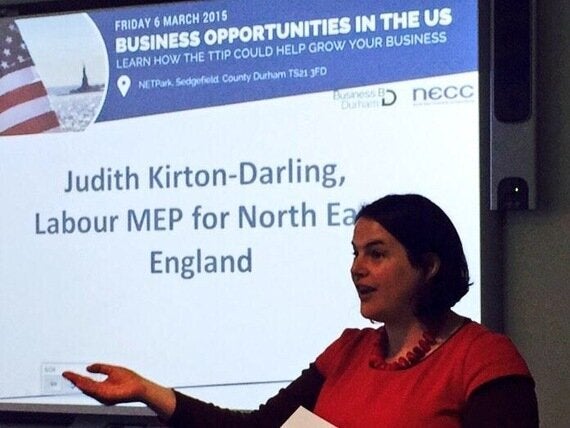 The power of European citizens to directly influence EU policy was impossible to ignore last Wednesday (4th March 2015), when Labour MEPs secured massive support from the European Socialists and Democrats (S&D) Group against the inclusion of private tribunals in international trade deals. Millions of ordinary people across Europe have spoken out against the proposals, which would allow corporations to sue democratically elected governments, and Labour has listened. This spells a crucial turning point for the future of the Transatlantic Trade and Investment Partnership (TTIP) between the EU and US, negotiations for which are currently underway.
Since taking up office in the European Parliament last May questions and concerns about TTIP have dominated my inbox. Millions of ordinary European citizens have made submissions to the European Petitions Committee, of which I am a member, expressing fears about the threat of corporations taking over and the privatisation of public services; about the risk to the water that we drink and the food that we eat. There are many who feel left aside, even though their lives could be dramatically affected by the deal.
Of particular concern is the potential inclusion of Investor-State Dispute Settlement (ISDS) in TTIP. This is a controversial arbitration mechanism in which investors may bring cases against foreign governments in private courts not subject to domestic law. The fear is that ISDS prioritises the protection of multinationals over democratically elected governments and could chill the legislative efforts of states wishing to put services back into public hands. In the European Commission's own online consultation on the matter, 97% of nearly 150,000 responses expressed negative views on ISDS.
This is the largest grassroots campaign on an international trade deal since the World Trade Organisation was set up 20 years ago.
Labour MEPs share these concerns, and as elected representatives we cannot and will not ignore them. As such, we have engaged with thousands in local meetings up and down the country, and will talk to thousands more as the negotiations go on.
As MEP, European Labour Party spokesperson on TTIP and member of the European International Trade Committee (INTA), I have held meetings, spoken in union branches and participated in debates and conferences across my North East constituency to keep constituents informed of EU negotiations and to listen to their views on the matter. I want to hear from everyone who has something to say about TTIP and ISDS and am doing everything I can to ensure that these views are taken up to the European Parliament.
Together, we can have a real impact. Contrary to what many in the media and Parliament have claimed, TTIP is not a done deal; the EU and US negotiators have not even begun a first draft and we still have a long way until the negotiations are concluded. While the UK Government and Conservative MEPs have already signed off the deal with both hands and others have rejected it outright, Labour MEPs believe that the best and most democratic action to take is to exercise as much influence as possible on TTIP's negotiations and outcome and get a fair deal for the people of Europe.
We know that a trade deal with the US could create jobs, lower the cost of everyday household items and open thousands of new opportunities for business in the UK. However we also know that trade talks can go badly wrong for consumers and workers, and that's why we are actively involved to ensure that our concerns are addressed at this stage before any text is drafted.
This is about engaging with Europe to deliver tangible results that we can all trust, and the fruits of our collective efforts are beginning to show. Labour MEPs were instrumental in securing the near unanimous adoption of a strong opposition to ISDS by the S&D Group last Wednesday: we listened to what the British people had to say and have been working for months to build consensus with our European neighbours against their inclusion in future trade deals.
This decision will prove to be a real game changer, not only in the negotiations between the EU and US but also with respect to the trade deal with Canada about to be ratified (CETA) and to all future bilateral trade agreements. MEPs have the power to veto the final text of an agreement, and so the European Commission and Europe's Conservatives will need the support of the S&D Group in the end if they want to see TTIP through. Today, we are sending them a loud and clear message that we can only contemplate support if our conditions - and the conditions of UK citizens - are met.
Jude Kirton-Darling is Labour MEP for North East of England