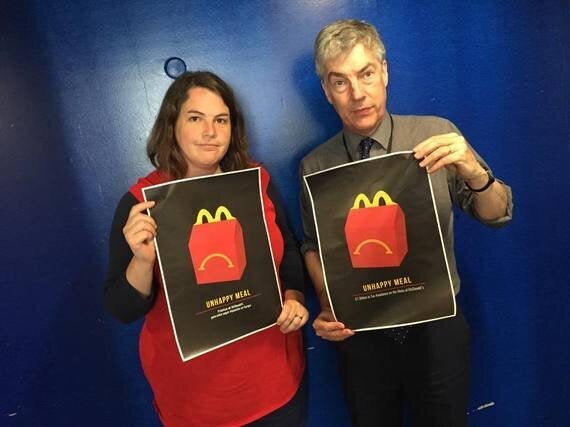 McDonald's is one of the world's most recognisable brands in the world. It employs 1.9 million people globally making it the world's second largest private sector employer. Many of those people are employed on precarious contracts (such as zero-hours contracts) and have few guaranteed workers' rights. It also avoids paying up to €1 billion in taxes each year. The EU has a vital role to play, and, on behalf of the 82,800 McDonald's staff on zero-hours contracts earning minimum wage in the UK, Labour MEPs are leading the fight.
To tackle both precarious work and tax evasion there needs to be a vehicle which can deliver results in both areas. This is no easy task given the size and power of a multinational corporation such as McDonald's. Fortunately the European Union has both instruments and organisation to take a top-down and bottom-up approach to tackle these issues at the same time.
The Panama Papers stands to reconfirm what the LuxLeaks revealed: multinational corporations and wealthy individuals will go to great lengths to avoid, and sometimes evade, paying their share of tax. Tax dodging is not a victimless crime: research reveals that £18.5bn is lost to offshore tax havens every year from the UK alone. To put this into context, austerity cuts to North East council budgets from 2010 to 2019 are set to withdraw £828m of local funding. Tax dodging strips vital resources from our public services and support for the most vulnerable.
Tackling this problem requires coordinated intergovernmental cooperation to end this industrial scale tax dodging. The EU has been at the forefront of this fight. This week the European Commission announced a new proposal to tackle multinationals' tax avoidance and evasion with proposals to force them to publish exactly where they make their profits and where they pay their taxes.
This comes off the back of a European Commission's investigation into Luxembourg's tax treatment of McDonald's. On the basis of two tax rulings given by the Luxembourg authorities in 2009, McDonald's Europe Franchising has paid no corporate tax in Luxembourg since then despite recording large profits (more than €250 million in 2013 alone). If all tax was collected at the full corporate tax rate between 2009 and 2013, McDonald's would owe around €1 billion.
Commissioner Vestager's preliminary view is that a tax ruling granted by Luxembourg may have granted McDonald's an advantageous tax treatment in breach of EU state aid rules. We will have to wait and see what the full outcome is, but the current arrangement is clearly unfair and unjust.
This top down approach is not the only route to raising concerns around unfair trading and tax practices. Three consumer organisations in Italy have urged the EU to launch an investigation into the franchise model McDonald's has adopted. The groups say the way the fast-food chain is operating in the country is anti-competitive. Companies caught breaking EU anti-trust laws face fines of up to 10% of global turnover.
The EU has other mechanisms to fight injustices practised by big multinational corporations. The European Parliament's Petitions Committee gives power to grassroots organisations and individuals voice their concern at the highest level of the European Union.
Three Trade Union organisations from Belgium, France and the UK (including the UK's Bakers Food and Allied Workers Union) have launched petitions to call for an end to abusive zero-hours contracts. Hidden behind the guise of flexibility, these 'contracts' trap workers in a cycle of precariousness, poverty and dependence; it is no coincidence that the sharp rise of zero-hours work since 2010 has been mirrored by a more than tripling of food bank use in the UK.
Over the coming months, the Petitions Committee, on which I represent Labour MEPs, will receive testimonies from the trade unions and workers from McDonald's to explain how working conditions contravene the EU's Charter of Fundamental Rights, which guarantees "fair and just working conditions". Or how under EU law employers are required to inform employees of the conditions applicable to the contract or employment relationship, including normal working hours.
The power of people to unite and take action against unfair wages and working conditions has been displayed fervently in the United States. McDonald's workers have spearheaded the campaign Fight for $15 to raise the minimum wage to a living wage for fast food and service sector employees. The campaign has taken social media by storm and has wide spread global recognition and support.
That movement has spread to the UK with rallies and action days are taking place today in Wakefield, Glasgow, Scarborough, Cambridge and Leicester. Using the hashtags #fastfoodglobal and #wakeyfor10 fast food workers are calling for the minimum wage to be raised to £10.
The EU may not be perfect but it is a vehicle to tackle injustice in a top-down and bottom-up fashion. The Panama Papers should serve to reinforce our efforts to bring about more changes to the way companies and individuals report their tax activities. In the case of these petitions, the European Parliament is uniting workers from Belgium, France and the United Kingdom. This is the essence of the European Union: cooperating to improve the conditions for all our citizens. This should not be undervalued.