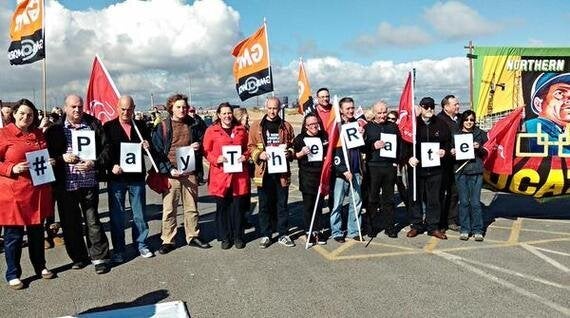 The Coalition Government has overseen five long years of ever-increasing job insecurity and decreasing living standards. More than five million workers earn less than the National Minimum Wage (NMW), 1.8 million are on zero-hours contracts and 1.3 million are working part-time because they cannot find full-time work. As the number of young people claiming Job Seeker's Allowance rises so does food-bank use: families and individuals are increasingly unable to provide themselves with enough to eat.
Against this stark picture of Austerity Britain, immigration and the UK's membership of the European Union has become a key point of focus. Many feel that they are being pushed out by people from overseas coming in, that their wages are being depressed or that they are unable to get work at all because employers prefer to hire cheaper labour from our European neighbours.
Concerns about wages being undermined are valid ones, which is why Labour has made this a central focus of our key pledge on immigration. We want to see an end to the practice of employers hiring only from abroad; we want stronger legislation on agency workers and the closing of loopholes in European law that allow employers to exploit workers posted to the UK from overseas and undercut wages. A Labour Government would raise the NMW to £8 and increase by tenfold fines to firms paying less than this. Zero-hours contracts would be a thing of the past.
The contrast with our Conservative counterparts could not be bigger. As agency contracts rise faster than any other form of employment in the UK, the Coalition Government has failed miserably to clamp down on rogue employers and provide safeguards to workers at risk of exploitation, discrimination and economic insecurity. Each year since 2010, fewer and smaller fines have been issued to firms failing to pay the NMW than in Labour's last year in government.
The Government has not just stayed silent on Labour's plans to close loopholes in European legislation, it has actively made use of them: by including the so-called 'Swedish Derogation' in its implementation of European law, David Cameron's Coalition has allowed employment agencies to routinely pay agency workers far less than permanent staff doing the same job in order to drive down costs.
My North East constituency, which suffers from the highest rate of youth unemployment in the UK, has seen first-hand the effects of this rising casualisation of labour. Concerns have been raised about the use of cheap migrant labour in favour of local workers in the construction of Teesside's new waste-to-energy plants, such as the one currently being built by SITA and SempCorp on Wilton. The construction and running of this site could provide a much-needed boost to the North East, but to do so the main contractor and their subcontractors must give the local workforce a chance. And crucially, to ensure that they are good quality jobs, they must ensure that terms and conditions are in-line with the National Agreement for the Engineering Construction Industry (NAECI).
Sadly, the Government has washed its hands of any responsibility to ensure a minimum standard for the terms and conditions of employment on engineering construction projects across the UK. In response to concerns I raised about whether or not the NAECI would be implemented in the case of Teesside power plants, the Department of Energy and Climate Change has stressed that such agreements are outside of the Government's remit. A resounding 'no comment'.
Labour MPs and MEPs want to see collective agreements such as the NAECI become the norm in the UK and a reversal of the casualisation of labour that is devastating the lives and livelihoods of so many. It's time we stopped treating workers as cheap commodities in a race to the bottom and rather as human beings. The Coalition's legacy on workers' rights and employment should read as a stark warning before polling day on May 7th: only under a Labour Government will it pay to have a job in the UK.
Jude Kirton-Darling is Labour MEP for North East of England
Related