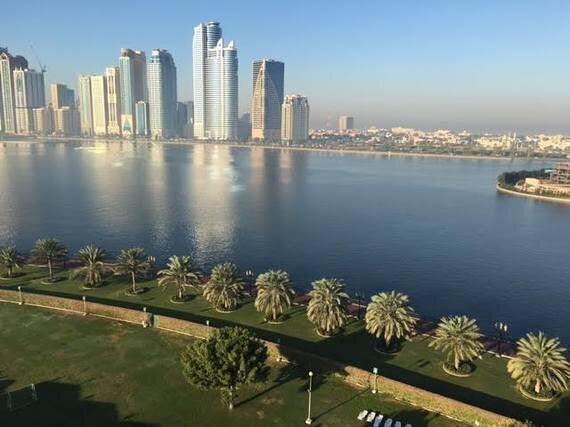 Image Credit: Judith Lewis
"Won't you get arrested?" my half-sister asked me on Facebook. I was a woman travelling alone in an Islamic country in capris and a short-sleeved shirt. Then I went on the beach in a bathing suit and nothing else and family panicked. Was I safe doing so and what makes Sharjah, more conservative than Dubai, such a popular family destination in the UAE?
With temperatures in January and February still reaching 25C+ and almost unbroken blue skies, I had to stay cool when I was out and about, but my clothing choices made my family worry. Was it OK for a woman to show any skin? Was it OK that my hair wasn't covered? Wouldn't I be harassed by men? There were a lot of questions I had to answer and for the most part I wasn't sure. There was little written on Sharjah and almost nothing about being a single female traveller.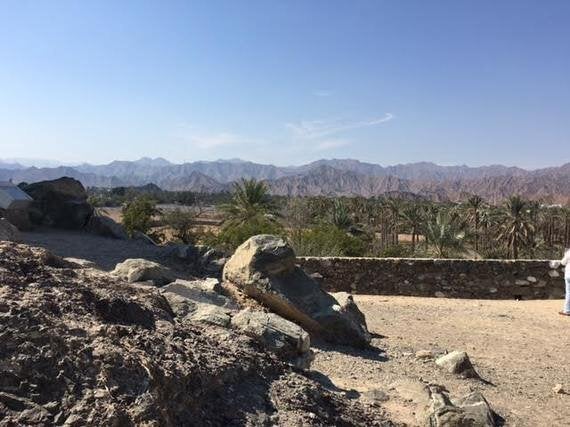 Sharjah Indian Ocean side
Image Credit: Judith Lewis
The first question I actually had to answer was "where is Sharjah?" when I explained where I was vacationing. Sharjah is the third largest emirate in the UAE, a political construct which was created on December 2, 1971 when the British pulled out of the area. Everyone knows Dubai (or seems to), and Sharjah is Dubai's next-door neighbour. Think of it like going from Kensington and Chelsea to Hammersmith - if you didn't know where the borders of each neighbourhood was, you'd never know when you were moving between them. It is, however, cheaper to live in Sharjah, quieter, very family-friendly, respectful of women, welcoming and gorgeous. All of Sharjah seems beautiful from the sand dunes and city of the Gulf coast to the beaches of the Indian Ocean coast.
Sharjah is the cultural capital of the UAE with over 20 museums, including a museum dedicated to just calligraphy. The Art Museum contains many works bought personally by the ruler Sultan bin Muhammad Al-Qasimi who has also overseen the foundation of a university in the desert and development of the port, expanded leisure facilities and helped make Sharjah into the gem in the desert that it is.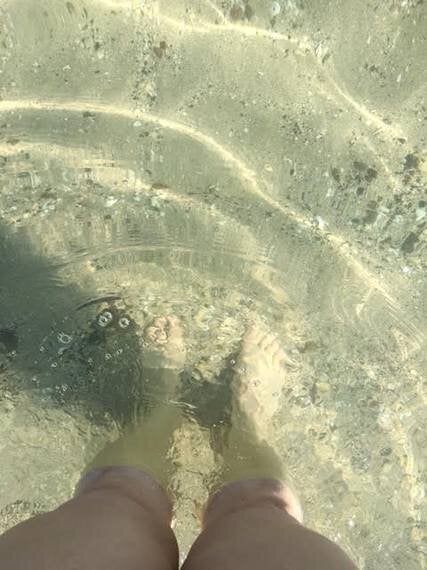 The picture that panicked my family
Image Credit: Judith Lewis
But is it safe as a woman to walk around in capris and a short-sleeved shirt? The advice on this is conflicting online, possibly due to the publication of guidance for locals in 2001. I can report with a high degree of confidence that it is perfectly fine to walk around this conservative (and dry) emirate with capris and a short sleeved shirt on, and with my hair uncovered. I wasn't harassed, I wasn't started at, and most importantly I wasn't arrested. It is also fine to be in a bathing suit on the private beaches the hotels have, and around the hotel pool. In fact, if you'd wear whatever you're thinking of going out in while shopping at Waitrose in Wallingford with your mum, you'll be fine.
But is it safe to be a female on her own travelling around Sharjah? Yes. In fact, given there are no drunken louts, respect for women, and a seemingly genuine care for foreign tourists, if I found myself in shorts and a t-shirt, lost alone somewhere in Sharjah, I have every confidence I would be helped back to my hotel without worrying about my safety. This is part of what makes it such a great destination for families. Another part would be the parks and aquarium and planetarium and of course the big water park helps supplement the amusement park in Al Qasba. There's even amusements within Sahara Mall. There is a great public transport system and taxis which are significantly cheaper than London.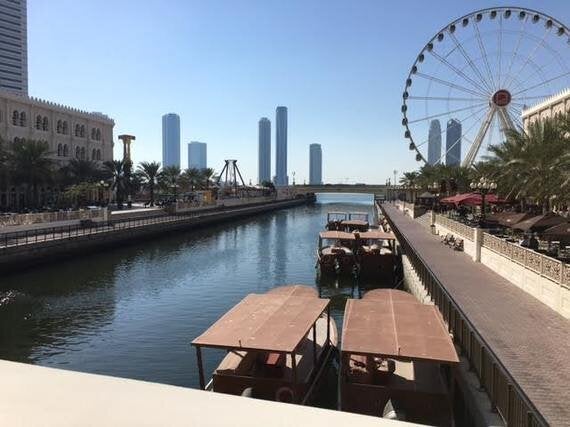 Image Credit: Judith Lewis
But is it safe? My husband, some colleagues, friends and some relatives only had a vague concept of the UAE, let alone Sharjah, and lumped it in with Iran, Iraq, Saudi Arabia and other Middle Eastern areas. My father especially wanted me to leave Sharjah, assuming a lack of safety and possible terrorism. I am probably at more risk from terrorism travelling in London for work than I was in Sharjah.
I suppose I've fallen a bit in love with Sharjah. Flights in advance were not too unreasonable and the hotel Holiday International often has super cheap deals on. I want to return to that quaint old hotel, take my husband around Sharjah city and especially the Al Noor mosque and old centre, and I want to stay at the Oceania resort on the Indian Ocean side of Sharjah emirate and wade in the clear blue water. It's safe as a place, safe for a woman alone and safe overall and - I'm glad I went. Apologies to my dad for worrying him.