I have been an aid worker for over 25 years. In that time I've witnessed and experienced events and horrors that are beyond most people's imaginations. But I don't think I have ever felt the mixture of emotions that hit me recently as I boarded a tiny plane to take me out of the city of Malakal in South Sudan, back to the relative safety of the capital Juba.
For thousands of desperate, terrified and hungry people Malakal has become a city of tarpaulin and hastily erected shelters. It is South Sudan's second city and until recent fighting had a population of 170,000 people.
Since January fierce battles have engulfed the city and tens of thousands have fled their homes to seek refuge in a nearby UN peacekeeping base.
The fighting is between government and opposition forces keen to gain control of one of South Sudan's most lucrative oil states. Today virtually all of Malakal is left scorched and destroyed with buildings, including hospitals and schools, looted.
But behind the bursts of ammunition are the growing scores of dependents, the ordinary families who are now reliant on humanitarian aid.
I watched as floods of people literally ran for their lives from Malakal to the UN base a few miles from the city and the relative safety it offered. In a matter of hours 16,000 people were crammed into an area the size of three football pitches, mostly women and children. Aid agencies rallied to organize and offer food, shelter and sanitation to all those in need. But the urgency of the situation has stretched our limited resources to breaking.
It appears to the outside world this situation is going relatively unnoticed.
The UN has warned its mission here it has only the quarter of the funding it needs. A peace treaty is now seemingly off the table for the near future. The sad reality is here in South Sudan we can only expect more dead or displaced people, and more in dire need of our help.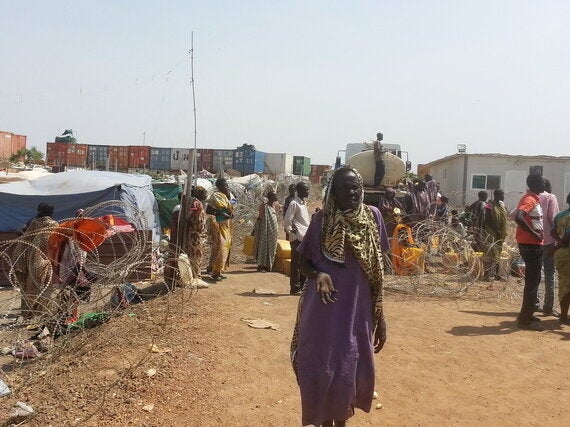 [Malakal, South Sudan. PHOTO/World Vision]
Our work begins with emergency relief, food water - the basics of survival. But it also includes establishing safe and sanitary areas for people to live. When it rains the area becomes a sea of stinking mud, washing away what little possessions people were able to flee with. Space is at such a premium that we struggle to find areas to place temporary latrines. When we do we need to decommission (refill) them every three weeks because the combination of small space and soft soil means we can't dig them deeply.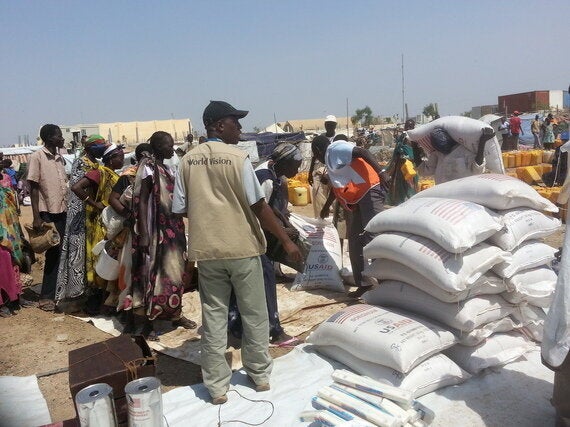 [Malakal, South Sudan. PHOTO/World Vision]
Over the past few weeks I'm proud to say World Vision and other agencies have managed to install latrines and systems for allowing people to fill up jerry cans of clean water at distribution points. Seeing this happen has provided small solace in a heartbreakingly tough environment that changes by the hour.
But to put it into perspective that small success is just in one area of one camp in Malakal. Any positives are dwarfed by the on-going conflict in South Sudan and the speed at which the situation is worsening across different parts of the country.
In my 25 years working in famine, war and disaster I thought I had seen it all. But Malakal has proven the source of some of my worst and best moments in the job.
Watching people receive the water and food they need to live will stick with me. And knowing that because of our constantly improving work children under 5 years old are now being pre-screened for malnutrition brings me joy.
The worst has been the way the society has so quickly collapsed amid looting and fear. People are hurting their own, something I struggle to understand.
And the waste of young lives and promise hurts. South Sudan was created among such optimism and hope yet that hope is fading fast. Malakal was never the type of city where you see high-rise apartments and luxury cars. People lived simple lives in thatched huts but children had schooling and communities were close. But now that life is lost.
One face above all stays with me - Ameila
Ameila's husband had been shot dead and she had been shot and badly injured. Her three eldest daughters had been dragged away in front of her to be raped. She was struggling to keep her four youngest children alive despite her own injuries. We got her to the temporary hospital hastily set up on the base and I was able to check in on her before I left. Physically she's mending but mentally how can she? She has no one to help her and nowhere to go.
Thinking about her and knowing what challenges lay ahead for this country leave me with a very heavy heart indeed.
Related