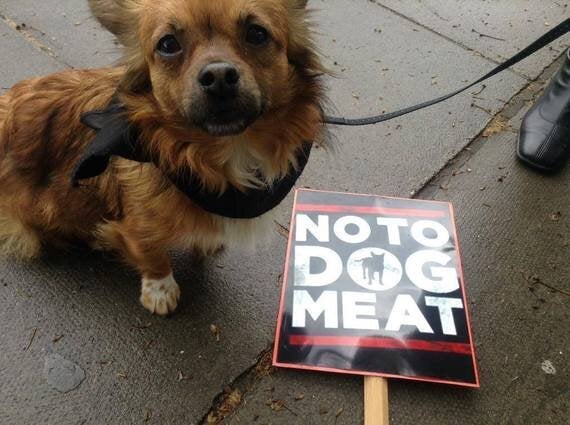 Today, November 5th, UK MPs will make parliamentary history by debating the dog meat trade in the House of Commons for the first time. The debate has been scheduled by the Backbench Business Committee following a bid from Robert Flello MP. It is likely to take place around 2.30 and will be televised. London-based charity NoToDogMeat Foundation will be attending and watching carefully to see where the debate leads.
NoToDogMeat has always considered the application of political pressure to be part of its fight to end the terrible cruelty inflicted on dogs and cats in a collection of countries where historically it has been considered culturally acceptable and where animal welfare is not a priority.
It is 2 years to the day when in 2013 NoToDogMeat achieved the (no-mean) feat of the over 10,000 required signatures for a government reponse to it's epetition asking the UK government to put pressure on Korea to end the practice. The petition received a formally-worded brush off from the Foreign Office. Towards the end of that same year, in December I spoke in front of APGAW (All-Party Parliamentary Group for Animal Welfare) and received an encouraging response from MPs and animal welfare groups - though disappointingly no further action was taken.
This year our team met with government officials at 10 Downing Street when we handed 100,000 signatures from animal loving supporters asking the newly re-elected government to address this issue. The response both to ourselves and our partner organisation Occupy the UN for Animals came from DEFRA, once again mindful of the cruelty but not placed to intervene in the legislative decisions of other countries...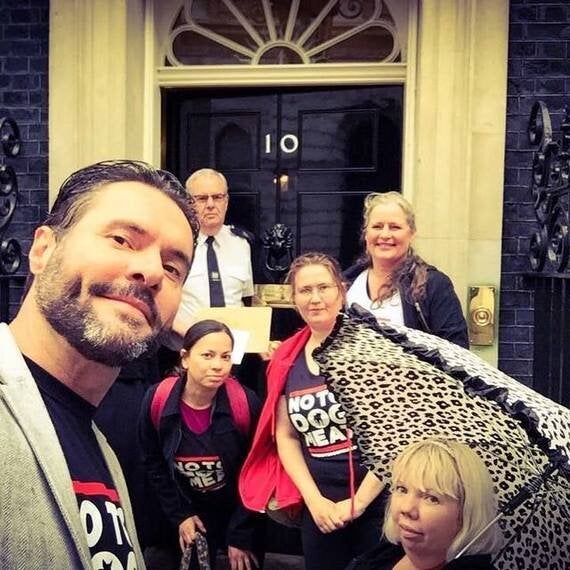 Will economics always win over ethics? The sad reality to date is yes. Protesting at the Department of Trade and Industry in February, just prior to Prince William's visit to China when he addressed the illegal trade in ivory and issues on world wildlife we wonder why royalty speaks out only for animal conservation and but avoids welfare. David Cameron appeared to adopt the same stance for the state visit of President Xi of China last month, when he was steered away from the site of both from the NoToDogMeat protest and that of human rights campaigners out on the street at Whitehall.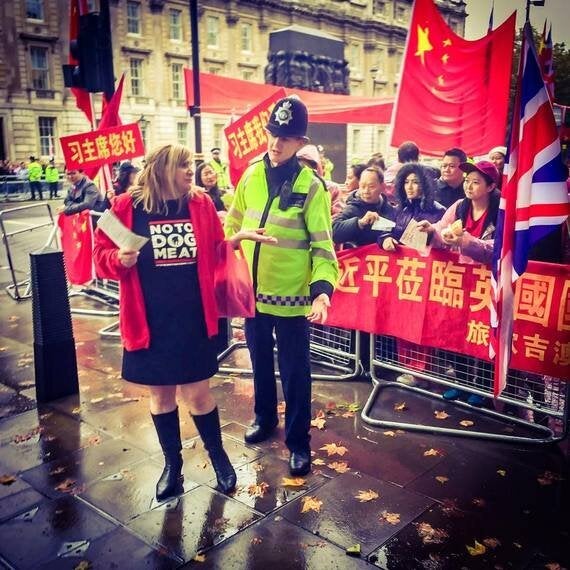 Julia de Cadenet at demo for President Xi
Even the despicable 'Yulin Dog Meat Festival' which attracted mass worldwide media attention this year could not be stopped. Once again diplomatic concerns were voiced yet did China really take these into account?
Activists in China and beyond rely on our charity to give them a voice where they are suppressed from speaking out and as a global citizens it is our duty to stay loudly vocal. And there are many avenues to apply pressure. We must try to close all loopholes where unregulated trade encourages cruelty abroad. The European Union showed genuine political will to trade ethically when it banned seal products in 2010 and this ban survived challenge by Canada and Norway in 2014 when the World Trade Organisation upheld it. It is our hope the EU will soon ban all fur production, sales and imports as this will also prevent any trade of dog or cat fur.
A successful outcome to this afternoon's debate would be for MP"s to back our petition to Mathew Rycroft, the UK Ambassador Delegate to the UN asking him to table the issue of the dog meat trade on the forthcoming UN Agenda. We also hope they will support our discussions with the OIE (World Organisation for Animal Health) to move to declare dog meat as unfit for human consumption.
Related