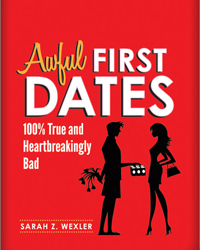 New York City. The promised land of romcom-worthy brownstones, where potential boyfriends pour out onto the sidewalks after work each evening and every night is date night. Or so I imagined growing up in suburban USA, dreaming of the day when I, too, would join that city set.
Then I actually tried New York dating.
Far from a world of sparkling conversation over cocktails, I discovered a post-university minefield where men you barely know ask if they can shower at your place before a dinner date because they're "coming straight from the gym". Where guys insist on paying for your pad thai and beer until not one but two of their credit cards are declined by the waitress. And, yes, where first kisses have been known to come with a hand down the back of your jeans on beer pong night at the local sports bar. (All true tales from my back catalogue, unfortunately. Worst of all, I actually went out with Mr Ass Grab again, due to a lack of other viable options.)
Of course, if you survive them, truly terrible nights in the dating trenches make for the best stories. With that idea in mind, my New York-based friend, the writer Sarah Z. Wexler, started a blog back in 2009. Her site, awfulfirstdates.com, quickly became a place where fed-up singletons from around the world shared their tales of woe. It was so successful, she got a book deal out of it, and Awful First Dates (Sourcebooks Casablanca, 2012) has just hit shelves and Kindles.
Organised by category (the cheapskate, the sex pest, the guy who should probably be in rehab...), Wexler's collection of vignettes from real women is also sprinkled with worst-date-ever anecdotes from celebs like Jessie J, Salma Hayek, and Kelly Rowland. You'll laugh, you'll cry, you'll cringe, because the stories are authentic, hilarious, and sometimes painfully close to home. For me - who ditched NYC for sunnier romantic climes in London just before Wexler's blog launched - it's like reading the transcript of a call to your best friend after a particularly horrendous outing or being transported to a girls' brunch in Manhattan... without the £500 airfare.
But, true romantics, fear not. Awful First Dates is not a treatise on why all the single ladies should just throw in the towel, and it manages to strike a surprisingly hopeful note in the end. Because even in the face of such eye-watering miseries, there's always a chance that the next date will be better.