Many say January is the most depressing month of the year but I love it. It's a time for new beginnings, a fresh start, refocusing and looking ahead to the next 12 months. January is also awards season, meaning that red carpets all over the world are, for a brief few weeks, the focus of the world's media.
Just a week before the 71st annual Golden Globe Awards in Los Angeles we were put in touch with a 6 months pregnant Naiyana Garth, who had just discovered she needed something spectacular to walk the red carpet in. Her partner, star of Mandela: Long Walk to Freedom and Best Actor nominee Idris Elba, had been unwell and it was touch and go whether they would even attend, particularly as the polar vortex was moving in and many flights to the US had been cancelled due to bad weather. However, after making a swift recovery, Idris decided that the Golden Globes were an occasion not to be missed and Naiyana was to go to the ball after all.
Naiyana, who is pregnant with the couple's first child, wanted to shine at the ceremony (and why shouldn't she?!) but she also wanted to be comfortable and feel confident in front of the hundreds of photographers covering the event. We offered to create something special for the occasion, designing and creating a bespoke gown to flatter her beautiful bump. We had dressed Naiyana for the UK premiere of the Mandela film just a few weeks before, so it was a real honour to be asked to dress her again and for such a wonderful occasion.
Naiyana was due to fly to LA just 4 days after getting in touch, so we knew we had our work cut out. She visited the design studio on the first day to discuss her ideas for how the gown should look. We gave Naiyana exclusive access to our yet to be released Spring/Summer 2014 collection, from which the beautiful floor-length Clara Gown caught her eye.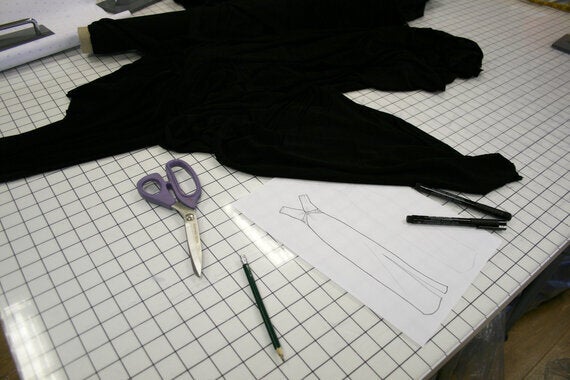 The team then set about adapting the existing design to meet Naiyana's needs. Naiyana loved the Clara Gown, particularly its twist detailing under the bust, but wanted to accentuate its plunging neckline further. We also gathered the dress at the shoulders in order to add coverage to this area, whilst slimming down the skirt and adding a slit to ensure the dress would exude elegance on the red carpet. We chose a quality stretch jersey fabric for the gown which gave it a wonderfully silky look but also ensured Naiyana was cool and comfortable throughout the evening.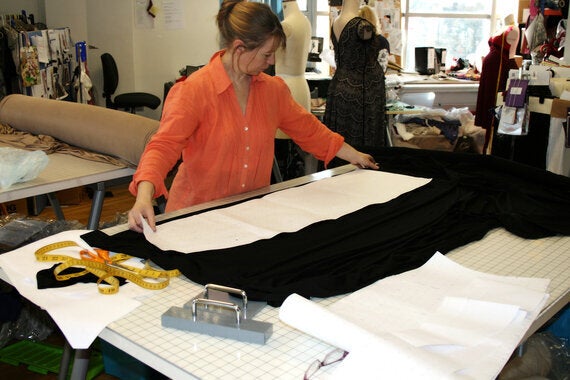 Day 3 quickly came around, and Naiyana made a second visit to the design studio for a final fitting. We made some last minute alterations and by day 4 we had created a gown that I am exceptionally proud of. Naiyana looked stunning in the dress on Idris' arm and it was wonderful to see her wearing one of our creations in front of the world's media.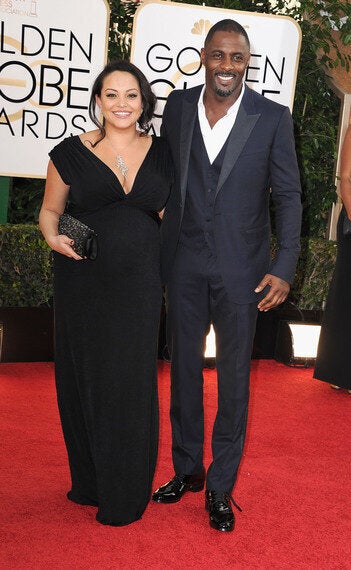 Designing a dress to be worn on the red carpet at the Golden Globes seemed like a distant dream when I set up my business ten years ago, but now that dream has become a reality. Looking back on that week of chaos and thinking about the times when I was convinced we could never pull it off makes me feel prouder than ever of what my team achieved.
The baby bumps have been out in full force so far this awards season, with the likes of Drew Barrymore, Olivia Wilde and Kerry Washington all glowing on the red carpet. Wearing designs by the likes of Monique Lhuillier, Gucci and Balenciaga, it was wonderful to have a Tiffany Rose dress photographed alongside them. These women are also living proof that maternity fashion need not be frumpy and being pregnant does not mean that you can't compete in the style stakes.