Last summer I received a travel grant from The Gladstone Memorial Trust for a trip to Tibet. For various frustrating bureaucratic reasons, I never made it to Tibet. However, the Trust generously allowed me to keep the grant for a different trip - one to South Africa with friends from college. I was required to write a travel report of my experiences, which I thought I might share on this blog. It's a hideously long piece, unable as I am to write succinctly, so I've divided it into a trilogy. The first part is about arrival in Johannesburg, Safari in Kruger park, and a disturbing experience in Durban. I hope you enjoy it.
Jo'burg
Our discovery of South Africa began in Johannesburg. I obviously knew that landing in South Africa in September promised weather similar to very early spring in Europe - yet it was still something of a shock when we walked into the African air and it was wet and cold. For a mad moment I wondered if we'd even left the UK - the English signs at the O.R. Tambo Airport were yellow and blue - just like Heathrow, the sky outside was a similar shade of grey, and the people were largely just as white. The only giveaway seemed to be a collection of safari animal statues at customs.
The drive to our first hostel revealed a landscape that was to become so familiar in the next three weeks, but that was for the time being new, and difficult for me to categorize. I've done a fair bit of traveling, but still nothing compares with the thrill of being in an environment so new that your brain doesn't quite know what to do with the images. I suppose my mind is framed almost subconsciously by narrow definitions of development - conditioned doubtless by both Western media and the degree I'm doing in politics... I tried to shake these thoughts as I looked upon the outlines of Jo'burg. I saw a grey and somewhat bleakly industrialized city, perked up by an occasionally beautiful building or cluster of trees. It strangely reminded me simultaneously of Edmonton, Canada and some bits of rural China. Some of this impression actually stayed on about many of the big cities I later saw in South Africa.
Of the five of us traveling together, three were politics students. It thus came as no surprise to anyone that our first activity was the Apartheid Museum. For me, this history has always been, by far, the most powerful incentive to visit South Africa. Looking back, my attitude has been fortified, although hopefully with more knowledge and perspective, and definitely with more awareness of the reality of today. Looking through the journal I kept in South Africa, I found that I'd written with some embarrassment that it was clichéd how I found Nelson Mandela inspiring. But I realize now with the power of retrospect that we need to cherish what human inspiration and value we can find. Whatever one may think about the reality or pretences of human goodness, I think that the purpose and meaning of Mandela and the entire anti-Apartheid movement teaches us a lesson that is much needed in today's somewhat apathetic world.
One particularly memorable part of the museum was a display in honor of all the activists killed in the struggles throughout the years. A rectangular room with a high ceiling, from which nooses hung, one for each life lost. A quote on the wall, for us not to grieve over the blood lost by those who have died, but for those who are still alive and suffering.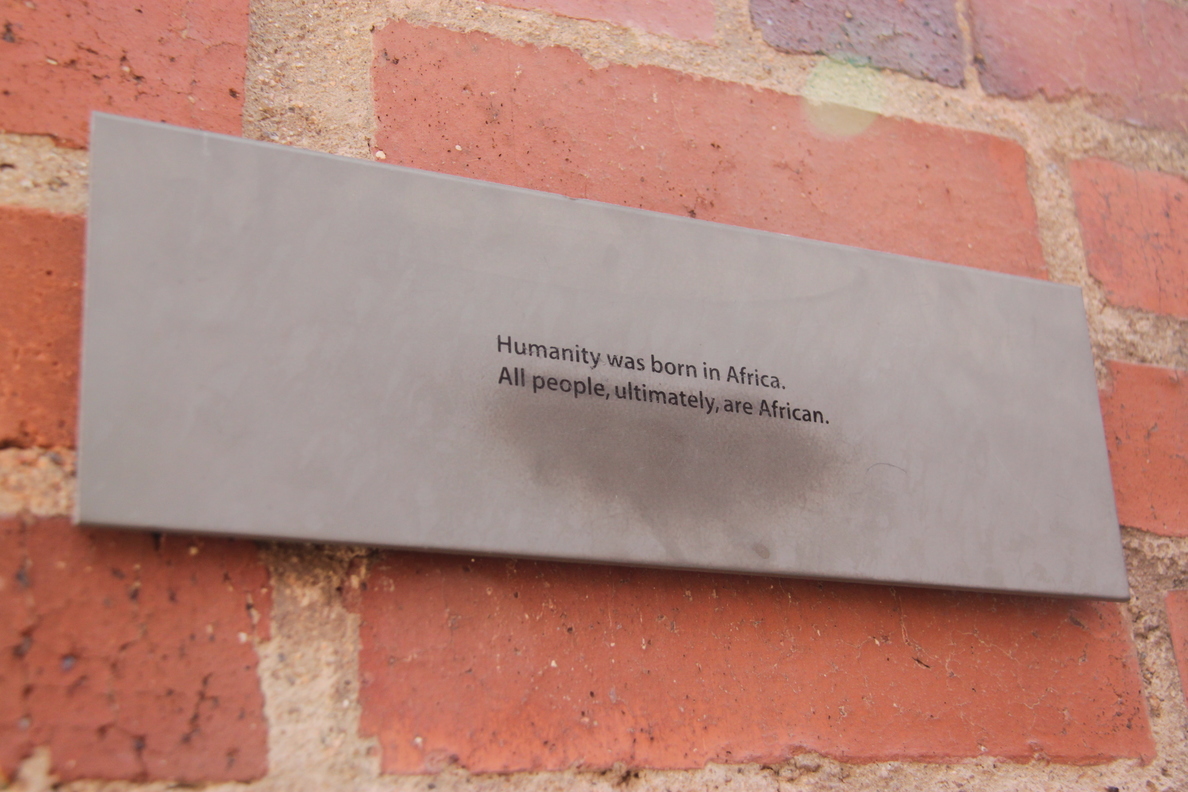 Truth on the walls of the Apartheid Museum.
Mandela's conclusion of his famous speech and the Rivonia trials was printed simply and clearly on to a display column right beside a model of his cell on Robben Island.
"During my lifetime I have dedicated myself to this struggle of the African people. I have fought against white domination, and I have fought against black domination. I have cherished the ideal of a democratic and free society in which all persons live together in harmony and with equal opportunities. It is an ideal which I hope to live for and to achieve. But if needs be, it is an ideal for which I am prepared to die."
I don't worship Mandela the way I used to when I first read about him at school, and when I went online and looked up the video of him walking triumphantly out of Robben Island, his fist held high in dignified victory. I think my degree, with all its critical analysis of any political action, has made me cynical, if anything. Purpose is a farce - a political tool - and I have hundreds of essay footnotes to prove this. But what kind of a world does this leave us in? Surely, and ideal for which one is prepared to die makes one much more alive than the instinctive habit to doubt? So many read politics because they change the world - how many actually do? These are thoughts that have been with me for a long time, and have surfaced more recently as a university finalist. And as I stood in front of the above quote in Johannesburg, I was willing to trade in all my critical thinking for finding meaning.
Safari
We stayed one night in Jo'burg in a flooded hostel room. In the pouring rain we began the next part of our trip - safari. We stayed at a lodge just outside Kruger. For some reason I didn't expect safari lodges to be so nice - but obviously they would be. Watching lions could hardly be the pastime of an impoverished person. The charm of the lodge, however, was halfway erased by how much rain we were subjected to. For about three days nothing was really dry.
Safari, for me, was by equal measures amazing and surreal. But there was nothing out of the ordinary safari story - until our last night. We went on a night drive in the hopes of seeing some of the night cats out hunting, but to no avail. Nothing more exciting happened other than a few zebras crossing the road. It wasn't until our drive back from the reserve that something happened.
I was, at this point, so bored and tired that I was unabashedly napping in the car, when suddenly, our day driver - Sydney - uttered a single growl: "lion." Everyone sat bolt upright as he swung the steering wheel and plunged us out of the road towards the savannah - and sure enough, the headlights hit a sleek and powerful looking nala, slinking off into the grass. "It's hunting. It's not alone," grunted Sydney, as he directed our van purposefully into the grass. Sydney was a man who had professed himself rather bored of his job of searching for dangerous carnivores - I'd never yet seen him so alive. The moment was so tense it was almost funny. I'm not entirely sure how he knew where to drive - it was pitch black and we were (illegally) off the road. Someone exclaimed "zebra!" and shortly afterwards we heard a pathetic high-pitched squeal, followed by light growling. Sydney kept directing the van around professionally (a part of me felt like James Bond in a car chase), following the noise, and sure enough a few turns later, as Sydney dramatically switched the headlights back on, the entire van gasped at one of the most incredible scenes I have ever seen in my life. Four lionesses and a cub, feasting on a zebra that was not yet dead.
For the next half an hour, we sat in the van, in complete awe and amazement, and watched and documented this incredible act of nature. The lions ate quickly and silently. Their snouts were bloody as they helped each other rip the zebra apart. I remember a bit of zebra intestine bouncily straightening as the lions tore through its gut. To get a good picture, my friend reached out of the window and pointed the camera at the scene - the flash went off. In a split second, the lioness closest to us swung her bloodstained head around and stared us straight in the eyes. Sydney chuckled and half jokingly told us to be careful not to irritate a mother. But it was an incredible moment, like staring nature straight in the eyes. Something from Life of Pi jogged my memory - about whether or not an animal's eyes just reflect your own soul.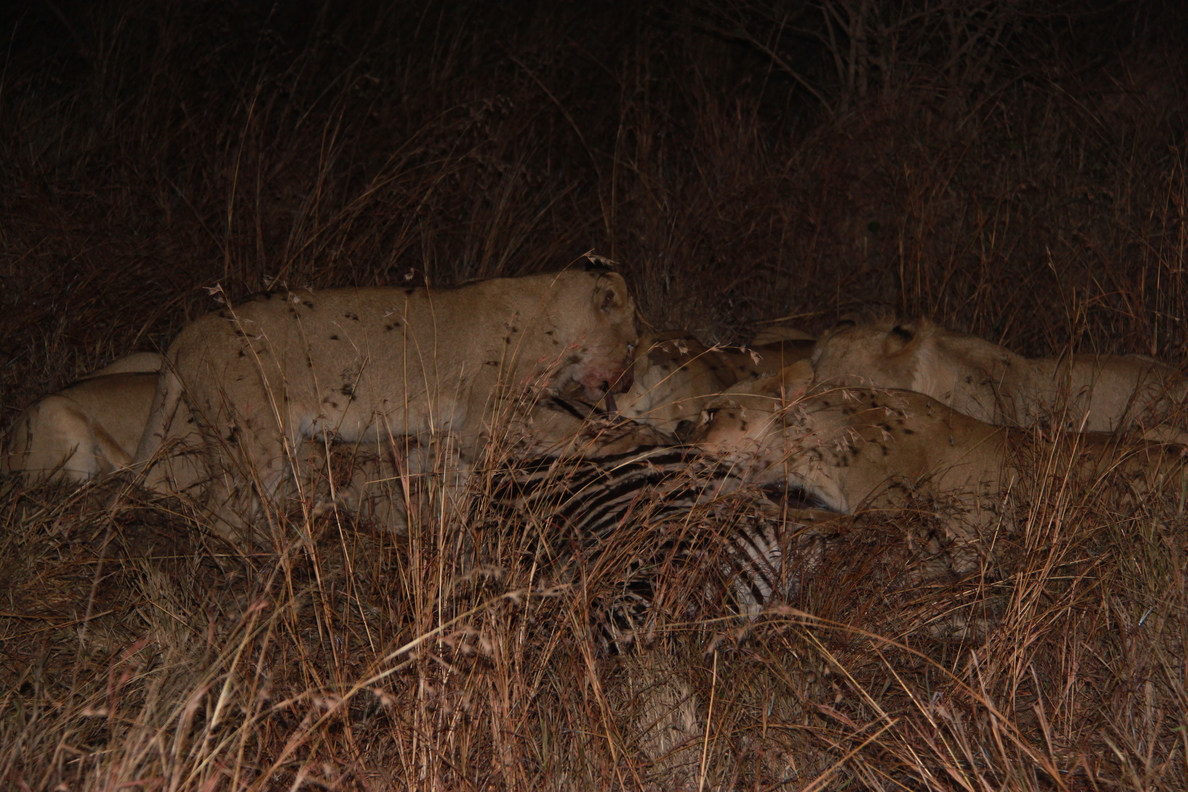 Dinner time.
During the drive back I sat back at stared at the stunning night sky, sprinkled with twinkling diamonds. I was more aware at that moment than any other during the entire trip I was in Africa. I felt so immensely grateful. Back at the lodge, the poetry of the night was only slightly reduced by the fact that we were served a late dinner of rare steak...
City life
Our next destination was Pretoria, which we went to via the Blyde River Canyon - the second largest canyon in the world. Pretoria was, in a word, European. It could easily have been in Switzerland. The government building reminded me of English cities, and sure enough I soon discovered it was designed by a Sir Herbert Baker from Kent.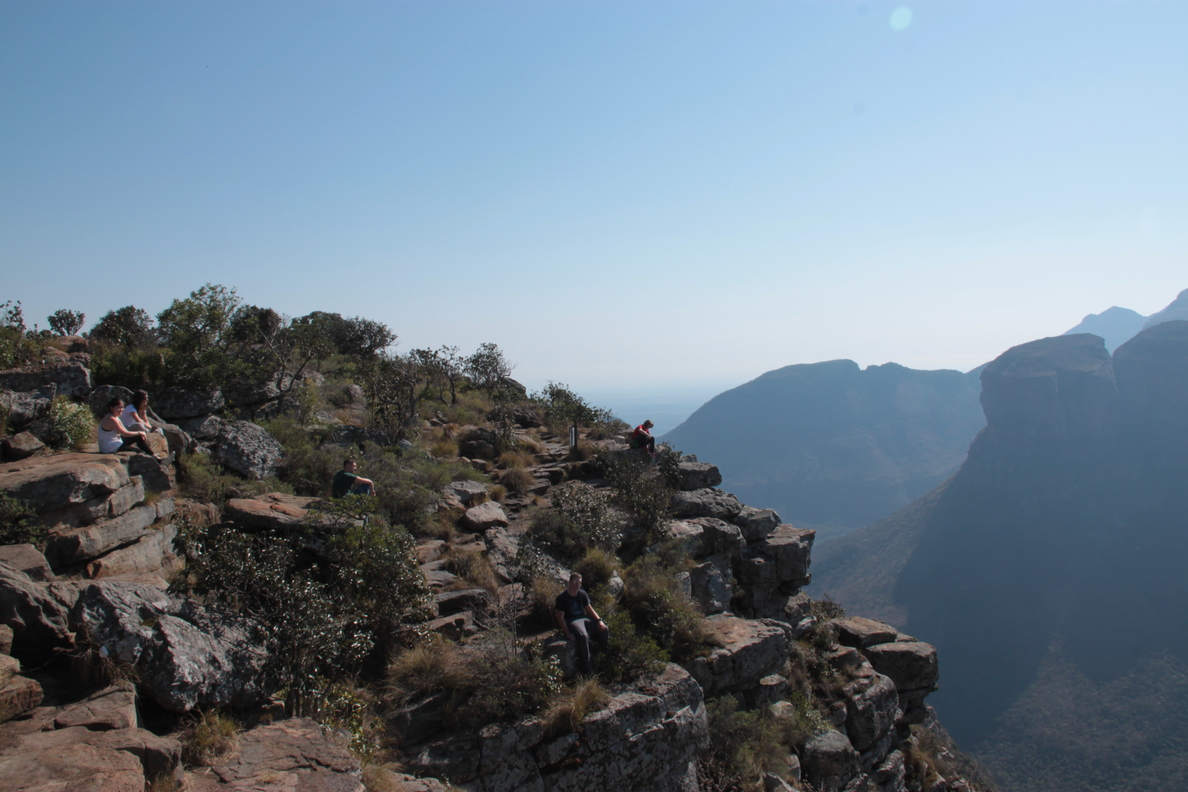 Cue epic music over the Blyde River Canyon.
My friend Guy had family in South Africa, and we stayed with some cousins in Pretoria. The weather had cleared up, and we had a lovely evening in the garden of a beautiful house in a suburban area called Irene. The couple we stayed with were both academics at the University of Pretoria. They not only fed us, but also instigated some incredibly interesting discussions. They talked to us about the ANC, Zuma (incidentally the lady of the house, Mary, was the head of the department of HIV-AIDS studies at the university), race, class, and distribution. Something Mary said has stayed with me ever since that night. She lamented at how little respect society accords academics, when they are the ones who make wealth possible. Comparatively, someone in the corporate world with little to no contribution to the human accumulation of knowledge has an income multiple times that of an academic.
Next up was Durban. The drive was ten hours long, but absolutely stunning. We weaved around the snow-capped Drakensberg Mountain, past a sparkling blue lake that wrapped itself around the foot of the mountains like friendly, aquamarine tentacles.
We arrived at Durban at nightfall. It was a low rising urban jungle, and the architecture was a curious mix of India and Africa, with some bits by the beach reminiscing an Italian beach promenade. We spent a whole day exploring the city, and it was glorious. We trekked through different sections of the city, and the smells and sights changed with each district, as did the things that hawkers were selling. We went from temple, to mosque, to church, all within a few blocks of each other. Street names echoed the great leaders of the anti-Apartheid movement. We watched the sunset on the beach, and headed into a supermarket to pick up dinner supplies. It had been a perfect day, but just as we were about to begin our walk back to our hostel, we were approached by a man clad in white washed denim, sporting a drag queen-esque blonde wig. I thought for a bizarrely comical moment that surely we weren't the right clientele for him. He looked extremely concerned and asked us what we were doing in that neighbourhood. We told him we were about to go home. He said, "You can't walk around here like this. The blacks will rob you!"
He offered to hail us a taxi but we declined, and proceeded to walk home, the day spent in wonder of the multicultural city shattered by that one sentence. Even though he probably said it out of genuine concern, I think we were all quite disgusted and shocked at the way he'd phrased it. Nevertheless we were in a big city in South Africa - none of us could help speeding up our walk back towards safety. Every passing face suddenly looked like a potential threat. I forced myself to consider what race had to do with it.
Since I was six years old, I've been a foreign face in a Caucasian world. Growing up in Finland, my surroundings were never particularly multicultural. I tended to forget that I wasn't also blonde and blue eyed - after all, I can't see my own face, and I sounded and thought the same as my peers. Occasionally I would be unpleasantly and forcefully reminded that I look different, but for the large part I consider race almost a waste of time. I've been quite fortunate in that the circles in which I move allow me to think that any seriously educated person would not consider race to be a meaningful separator of merit. Therefore we would be much better off focusing our energy on other things - there are plenty of problems to solve without the bother of race. Some flowers are red, some are blue - doesn't make one any better than the other, unless you're deluded - enough said. But here it was, reality in my face in South Africa, the home of the triumph of the Freedom Charter, in the heart of multicultural Durban. Race is everywhere, everyday, despite overwhelming evidence it shouldn't be. In a country like South Africa, whose very identity has been defined by the question of race - how does one even begin to transcend race? Or should we even try to transcend race?