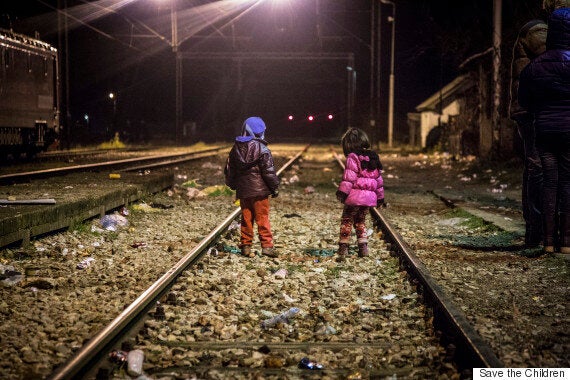 Two children play on the railway lines in Presevo, waiting for another train to take them on the next step in their journey
A few weeks before Christmas in 1938, a party of 196 German children arrived at the UK port of Harwich. They had left Nazi-controlled Berlin by train the day before, after their Jewish orphanage had been burned to the ground. They were the first of nearly 10,000 children who travelled to Britain to escape persecution, facilitated by volunteers and far-sighted officials, in what became known as the Kindertransport.
The Kindertransport movement is something Britain can be incredibly proud of, a beacon of light in an otherwise dark time. I was reminded of it when I stood on a beach in Lesvos recently, helping families fleeing conflict to come ashore on flimsy rubber boats. Many held out their babies and small children first, calling out for them to be carried to safety - that innate desire of parents to save their children at all costs.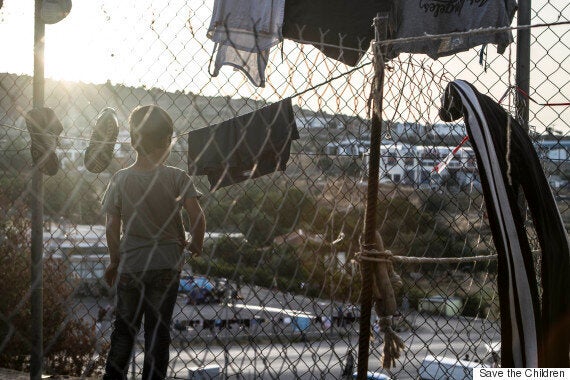 A young boy looks across the street in the unofficial camp at Kara Tepe on the Greek island of Lesvos
It was that same determination to survive that led them to set out on an uncertain journey in the first place. Unfortunately, the gamble does not always pay off - as I write this, news has come in of another tragic drowning off the coast of Turkey, with up to 21 bodies brought ashore in Lesvos including children.
As we face the biggest refugee crisis globally since WWII, it's time to think again about how we can reach out a helping hand to those that need it most. After I met children in Sicily early last summer who had made the journey to Europe completely alone, walking across the desert and facing hunger, torture and abuse on route, Save the Children called on the UK government to offer to take in up to 3,000 of these lone children. That call was backed yesterday by a cross-party group of MPs on the International Development Committee, who recognised the extraordinary vulnerability of unaccompanied refugee children.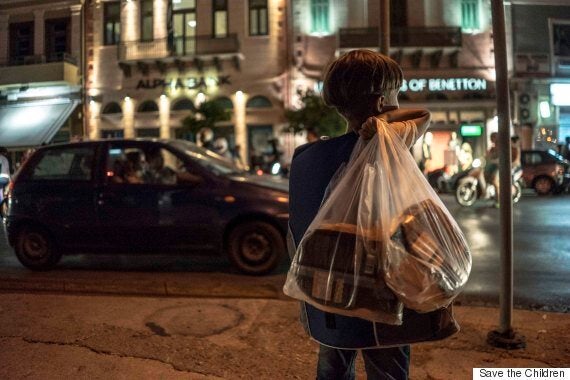 A young boy who is still wearing the life jacket that he was wearing when he crossed the sea walks around the city of Lesvos
The 3,000 number was calculated as Britain's fair share of the estimated 26,000 children who arrived in Europe in 2015 without any family. They come from Syria, Afghanistan, Eritrea and elsewhere, some of them teenagers, some as young as eight. Like those children arriving in Harwich in the 1930s, many of them are escaping conflict. They seek safety and security, but unfortunately, with reception services in Greece and Italy totally overwhelmed, they do not always find it.
Last year, Italy said that 4,000 of the lone children they had registered had vanished. Some can be found working as prostitutes around train stations, others are moved on by people traffickers. They come to Save the Children's centres in Rome and Milan to get a decent meal and a shower, to have the chance to call back home and be children again for a while. In Greece, we try to identify and help child refugees who are on their own, but with up to 10,000 people arriving every day at the height of the crisis, the situation is chaotic.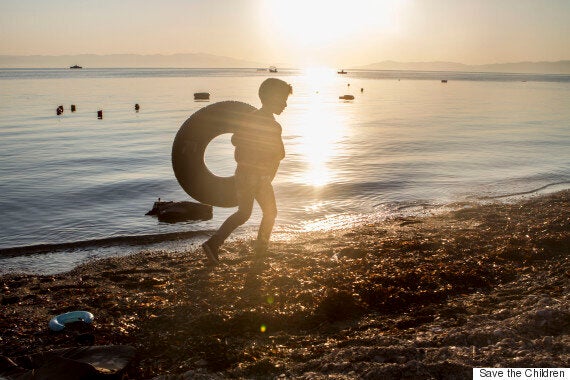 A boy who just arrived on an inflatable boat from the Turkish coast to the Greek island of Lesvos carries his lifebelt across the beach
As a result, children on their own are extremely vulnerable. Our staff have heard reports of a ten year old boy being raped while he slept in a park, and of children being tortured by people traffickers on the migration route to extort more money. We believe we can do more for children who have already suffered so much.
After hearing our call, organisations and individual families across the UK have come forward and offered to help. One charity, Homes for Good, has already registered 10,000 potential carers and adoptive parents who are ready and willing to give a refugee child a chance at building a better life. We believe that 3,000 is a manageable number for the UK - it's less than a third of those we took in during the Kindertransport and amounts to just five children per parliamentary constituency.
The UK has led the way in aid to the Syria region, and the government recently took the very welcome step of offering to take in 20,000 refugees living in camps in the Middle East. But we know that Britain can also reach out a hand to some of those who have already made the dangerous journey to Europe, those at-risk children who are on their own this winter. Like those dark days in 1938, children are leaving their homes today without their families because they fear for their lives. Britain can live up to the best of our history by offering them a better future.