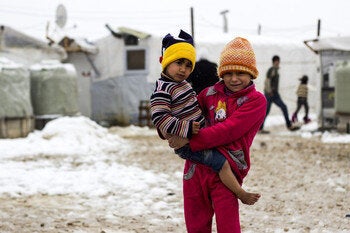 World leaders are gathering in Kuwait today to decide the fate of millions of people in Syria and the neighbouring countries. The Kuwait pledging conference, the third of its kind, will bring together the UN and donor governments to pledge money to help civilians caught up in the spiralling violence. They will need to be generous - as the war enters its fifth year, Syrians and their neighbours are increasingly unable to cope with this unprecedented humanitarian catastrophe.
Visiting Lebanon's harsh but beautiful Bekaa valley earlier this month, I met a group of Syrian families living in what's known as an informal settlement. With no official refugee camps in Lebanon, many of the approximately 1.3m million refugees that now reside in the country live in hastily put-together homes of cardboard and plastic sheeting, vulnerable to the snowy winters and scorching hot summers. The children playing in the mud had the weather-beaten faces and chapped hands of those who work in the fields or play outside all day, rather than going to school.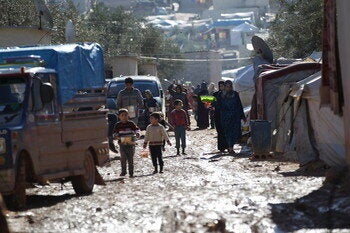 Their parents were distraught. More than four years into the war, spiralling costs and falling aid budgets mean the little money they receive from aid agencies has been cut. Local landlords are demanding ever more cash and free labour for the farmland they rent to live on, they cannot afford the bus money to send their children to school, and this winter they were burning rubbish in their tents to keep warm because firewood was too expensive.
Aid agencies are doing what we can to help - we have set up an irrigation system in that particular settlement to stop it flooding and prevent disease outbreaks and are supporting over-subscribed schools nearby, working closely with the Lebanese ministry of education. Across the region Save the Children has helped more than 2.3 million people, but these families are unfortunately just the tip of the iceberg. There are an estimated 12.5 million Syrians in need of humanitarian assistance across the region, including 5.6 million children.
Worryingly, the number of people in need has risen significantly this year, while the amount of money being given by donors is falling. At the end of 2014 the UN appeals for the Syria crisis, the largest in their history, were only 54 percent funded. Now, there has been a 31 percent increase in the number of people in need inside Syria, and the number of people forced to flee their homes has gone up by a quarter. As the very fabric of Syria's society collapses, people need urgent help with everything from basic life-saving healthcare to food rations and schooling.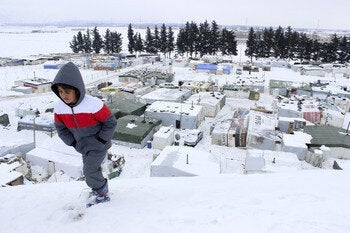 There is much that we can do to help innocent people caught up in Syria's brutal regional war, despite the violence. Visiting a school in the Bekaa valley for some of the lucky refugee children who are able to go study, I could see the incredible difference that having books, pencils and a committed teacher made to them. Despite taking their lessons in a chilly wooden hut, after several years out of school they were ecstatic to be learning again.
Save the Children supports schools like this both inside Syria and in the surrounding refugee-hosting countries. These are the children who will one day be able to go back and rebuild their country - for those who have forgotten how to read and write, who have known nothing but war and misery, the prospects are bleaker.
To be able to continue helping them and millions of children like them, humanitarian actors need a serious financial commitment from donor countries. If donors committed to the No Lost Generation initiative, the agencies involved could reach millions more vulnerable Syrian children with full-time education and psychosocial support. The UK has already been generous in donating to the Syria response, but it must continue to do so and encourage other governments to step up and increase the size of their pledges in relation to their economies. To enable us to truly improve lives, funding must also be long-term and predictable. This crisis is not going to go away soon, so funding humanitarian appeals on an ad-hoc basis is impractical and ineffective.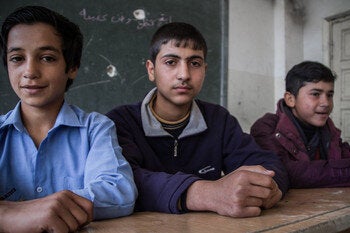 It is also not enough to just give money. As those world leaders gather in Kuwait, civilians inside Syria will be bombed, murdered in their homes, starved in besieged areas. Even where aid is funded, it is not always able to get through - the United Nations revealed last week that the Syrian government has only allowed it to deliver aid to three of the 33 sites it has requested access to this year.
The UN Security Council passed no less than three strong resolutions last year which promised to increase humanitarian access to civilians trapped in hard-to-reach areas in Syria, but its member governments have taken no action to enforce those resolutions. It is an outrage that children and families cannot get the help they need, while the world's most powerful countries let politics take precedence over saving lives.
Aid agencies can and will continue to strive to reduce the suffering produced by this conflict, but we can neither stop it nor solve it: it is only governments and political leaders who can. All influential leaders attending Kuwait have a moral and financial obligation to use their leverage to urgently find a solution to the conflict and end the suffering once and for all.
Related