Breast cancer and sexuality: they are not the easiest of bedfellows, and yet, it seems they work very nicely for some.
Remember the "Coppafeel" campaign run by The Sun newspaper to encourage women to check their breasts for signs of breast cancer, and advertised by none other than Page 3 models? Did it feel compassionate? Did it make ethical sense? Have a look at Rosa Doherty's open letter to the charity here.
Remember the viral campaign, written about so eloquently here by breast cancer survivor and friend Nicola, that challenged women to 'Hold a Coke Between Your Boobs' and post a selfie of it? For breast cancer, of course. Except, had you had a mastectomy, then, sorry, you couldn't take part.
In a, perhaps more subtle, advertising move good ol' Marks and Sparks have teamed up with Breast Cancer Now and lingerie model and entrepreneur Rosie Huntington-Whiteley to raise money for the charity and advertise their underwear by asking women to " Show Your Strap". This means taking a selfie of yourself holding your bra strap to the camera. Most of the selfies received so far are beautiful and sexually alluring. On Twitter breast cancer survivors are using the hash-tag to make the point that these bras do not cater for them if they've had no reconstruction, and are asking whether the bras are pocketed for protheses - so far no response to this. None of this sits comfortably. Some are offended by the continuing sexualisation and objectification of breasts in the context of cancer.
Personally I have not been through breast cancer, but am close to people who have, and they were not thinking about whether they would look good in a bra, but whether they would survive. Blogger Flatter Fashion, having talked about the sexualisation of Angelina Jolie's famous decision to have mastectomy and reconstruction in the media, makes the point well, saying,
"At the time of Angelina Jolie's mastectomy with reconstruction the media was awash with headlines such as "But as Angelina proves, having a mastectomy needn't ruin your figure" (Emma Parlons, Daily Mail, 04 June 2013). This article goes even further with quotes such as: "your breasts are so integral to your sexuality", "pleasingly more pert than my old breasts" and "the work of scientists meant I could cut my risk of breast cancer, as well as keeping my femininity and figure". A consultant plastic and reconstructive surgeon, is also included in this article stating that, "women who had breast cancer were facing severely mutilating surgery".
- when I was diagnosed with cancer my figure was the last thing on my mind.
- my breasts, including their pertness, were not integral to my sexuality nor my femininity.
- my surgery was traumatic, but not mutilating!
I am not saying that mastectomy-only surgery is the right option for everyone, but it was definitely the best choice for me and I strongly believe that clinicians need to move away from this apparent focus on reconstruction and accept that many breast cancer patients may see bilateral mastectomy-only surgery as their preferred cosmetic option." [End quote]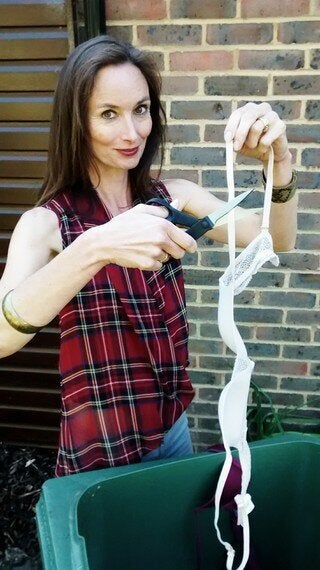 This is why Loose Debra cannot support the Show Your strap campaign. It comes across as insensitive to those who, because of breast cancer, have lost their breasts, and those, who choose not to live with the restrictive kind of femininity sometimes imposed by the media.
In our efforts to find clothes that look good without a bra we continue to cater for those who do not need or want to wear bras, because we know a secret that M&S have yet to learn: Freedom Doesn't Have A Strapline.