See the 'Big Five' up close and look after Kenya's wildlife...
The thunder of hooves fills the air. The dust rises to form a hazy screen in the sweltering heat of the morning. The deafening, unrelenting brays of 'gnu, gnu' begin and the riverbank fills up with an endless moving mass.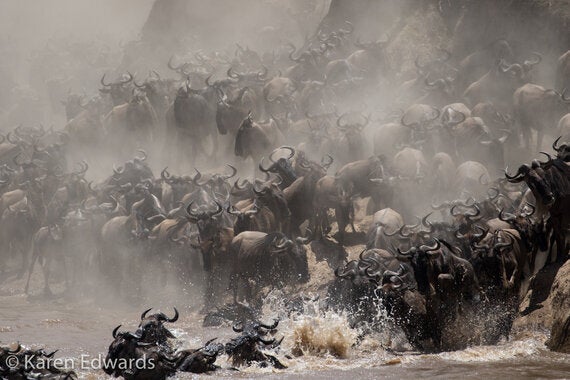 Thousands of wildebeest are about to make the dangerous crossing of the Talek River in the Maasai Mara. Herds upon herds traipse along the sandy bank. It's like a scene from The Lion King - and here I am, sitting in an open-top safari truck, about to see one of nature's greatest phenomena in all its glory - the great African migration.
Their leaps are gallant, forceful and determined. Their mission: to make the safe crossing to the 'other side' where they can continue their journey to the Kenya-Tanzania border, where greener pastures await in the Serengeti. The whole scene is a mix of disorder and chaos, bravery and instinct. Their dark brown coats merge into one as they criss-cross each other when they jump.
In reality, they have just seconds to get across. Five hungry crocodiles are waiting down river for that one missed footing. They don't have to wait long. A young antelope enters the stream. The crocs glide over, quietly positioning themselves. One opens its jaw wide and fits the whole rear end of the animal into its mouth. My partner Brad and I audibly gasp in unison. The crocodile flings his head from side to side and drags the flailing wildebeest underwater. And then, it's over. Nature at its most raw and unapologetic.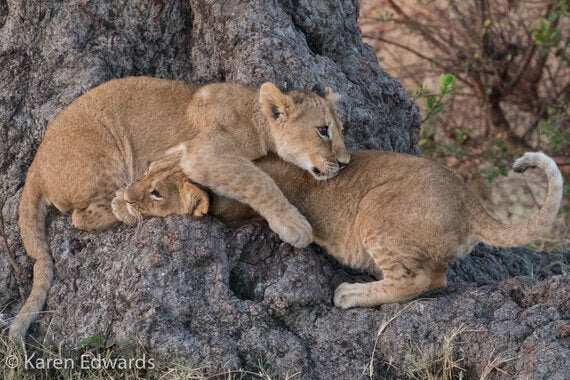 Located in the Narok region of southern Kenya, the Maasai Mara covers 583 square miles. This is not only the place to see Africa's 'Big Five' (elephant, buffalo, rhinoceros, leopard, lion), but the place to see them in action - making kills, feeding, looking after young and, during the dry season, migrating.
The Mara does not disappoint. We are lucky to see three spectacular crossings in one day and several lion families playing and feeding. At one point a cheetah walks up to our vehicle and takes shelter from the scorching sun, under the back wheels. Amazing.
The sad effect of tourism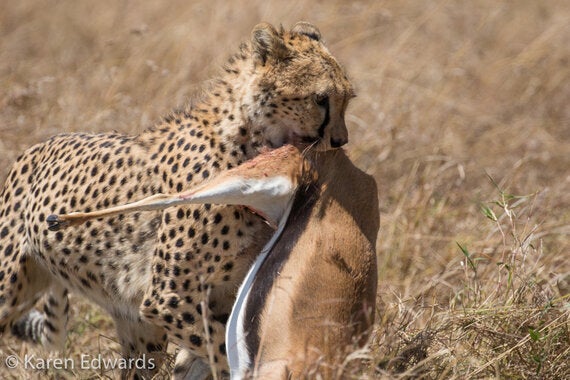 We could have seen more - but we choose to stay away from some sightings. Why? Because of the packed safari vehicles thundering along the gravel roads to the latest scene. It's uncomfortable to watch as scores of trucks gather around an animal.
Unfortunately, crowding is common here - especially in high season when there is huge pressure to deliver sightings to tourists. We see it again as two jeeps cut off a herd of wildebeest as they gallop towards the water. It's horrifyingly disruptive - the kind of malpractice that can alter wildlife behaviour.
According to Drew McVey, Technical Advisor at WWF Kenya, carelessness by guides and drivers can lead to tragedy - and to ensure your safari prioritises the animals' welfare, it's important to carefully select where you stay.
'Go to the camps directly,' he suggests. 'This makes sure you get people who are most passionate about the Mara. Camps like this ensure that you receive a qualified guide.
'In the worst cases, we have seen cheetah and lion cubs run over as drivers rush or get too close, or predators abandoning kills and even their cubs. The disturbance of animals in dry season, when food is low, can result in catastrophic events - animals dying.'
We arrange our game drive directly with Aruba Mara owner, Gerdi Simon, who shares our feelings about safari ethics. Our guide, Joseph from Aruba Mara Camp, is a part of the local Talek Maasai tribe and knows the reserve well. We tell him we don't want to race across the park and we want to keep our distance so as not to disturb the wildlife. An alternative option would have been staying within a conservancy - although more expensive, your fees go to a good cause.
'The conservancies are a joint partnership between the local Maasai communities and private tourism operators,' explains Drew. 'A part of your fees go directly to supporting local community projects and benefiting local residents. There is [also] a limited number of vehicles and strict rules to ensure wildlife welfare.'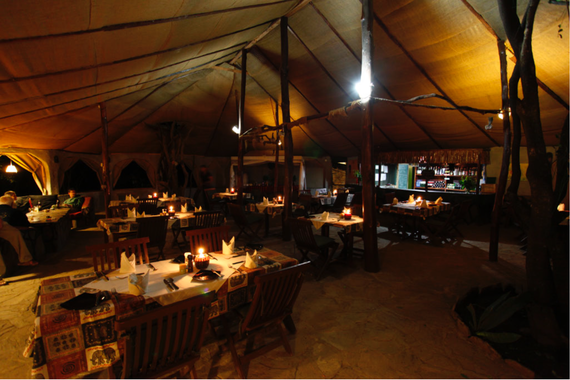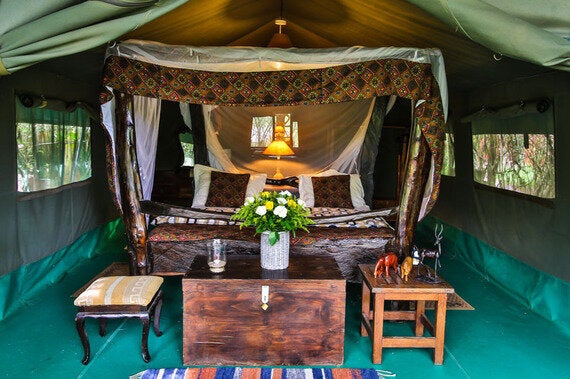 The Mara gates close at sunset, which means by dark we are tucked up on the couches in Aruba Mara's serene bar room. We are impressed at this humble camp, offering everything from self-catered campsites to spacious, comfortable tents with en suite. We opt for the latter - a welcome bit of luxury.
Our time in the Mara is, in all honesty, bitter-sweet. Witnessing the great migration and Africa's wildest predators in their natural habitat is the most incredible, unforgettable experience.
Seeing drivers chase or crowd the wildlife for the benefit of a good view, is saddening. If this continues, we may no longer be able to enjoy these animals in their true element. We are grateful our camp and guide respect this beautiful ecosystem. It has never been more important to pick a safari experience carefully.
A 'Big' Tent (double) at Aruba Mara camp, including two daily game drives and full board, start from 115 Euros (around £100) pppn. Camping starts from 7 Euros pppn. To book, visit aruba-safaris.com or email Gerdi on info@aruba-safaris.com
Safarilink offers return flights between Nairobi's Wilson airport and the Maasai Mara starting from USD $324 inc. taxes (£260). Book at flysafarilink.com