As the long sleek carriages of The Ghan pull out of Alice Springs station, I wave goodbye to one of Australia's most fascinating towns. I'm on a 936-mile journey across the Northern Territory to Darwin; a journey that will take over 23 hours.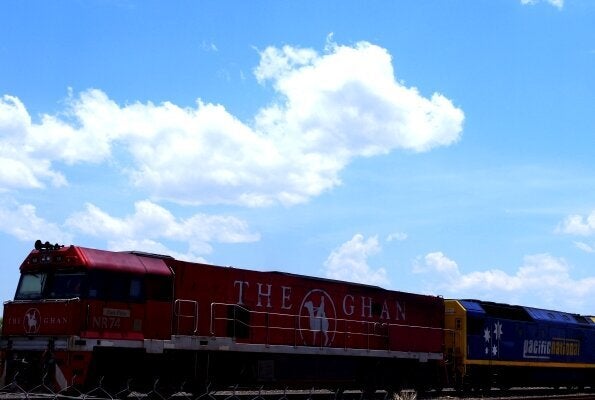 The Ghan is Australia's iconic and well-loved passenger train which crosses the continent from south to north. It was named 'The Afghan Express' initially - after the Afghan camel riders who were brought over to the country to serve as transporters into unexplored territories. Over the years, the nickname 'The Ghan' stuck and new trains were emblazoned with its logo. Today, it runs weekly from Adelaide to Darwin and back again - and I've come to realise just how special this piece of engineering has become to Australia.
When the train pulled into the station four hours before I was due to board, I had just happened to be passing, en route to my hotel. It was a memorable and magnificent sight - small children waved from behind the metal fence as the burgundy engine swept passed slowly, dragging along glistening silver compartments. The parents, too, looked on in awe - an inner child rising to the surface as the great big chugging machine grind to a dramatic halt. The arrival of The Ghan was a special one, and its magic clearly hadn't waivered.
When The Ghan came into use in 1929, it followed the overland telegraph line set up by Aussie explorer John McDouall Stuart. Starting in Adelaide, the railway only ran to Alice Springs at first - meaning travellers would still have to mount camels to complete a journey further north. Unfortunately, the track was badly positioned and when the rains came down, it became unpredictable and dangerous - so in 1980, a new track was built 99 miles west of the former. It wasn't until February 2004 that the final Alice to Darwin line was complete - 75 years after the train began service.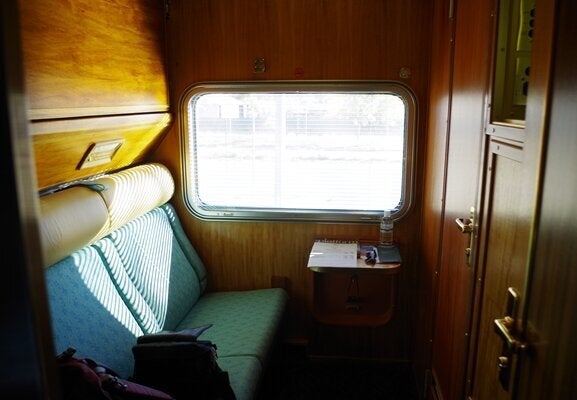 As the dark earth of Australia's Red Centre begins to speed by my cabin window, I sit back and take in my home for the night - a prestigious transcontinental railway train. The green cushioned seats of the Gold cabin are surrounded by dark wood panelling and I see they can be converted into a lower sleeping berth. Above me is the fold-away upper berth, which could be pulled into action if there were two of us in here. There's a private bathroom with toilet, hand sink and shower and a speaker somewhere to my right is playing soft classical music, soothing me into the gentle sway of the train.
Rather than beginning my Ghan experience in Adelaide, I've joined at Alice Springs, located just north of central Australia's MacDonnell Ranges and 290 miles away from the famous Uluru Rock. This place was once just a simple telegraph station - now it is one of the country's most culturally and environmentally fascinating towns, with its deep red sand, rugged gorges, dry creeks and great mountain ranges. When you arrive in Alice, you feel like you've truly reached Australia's outback.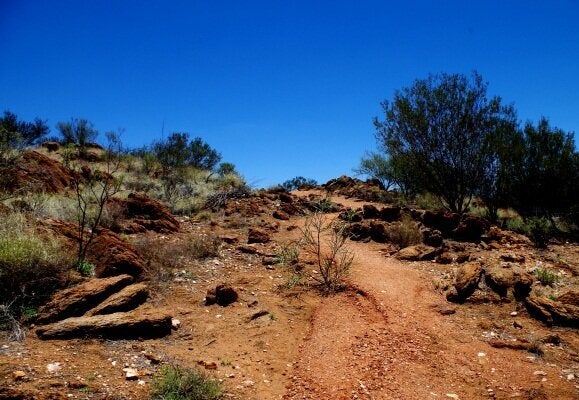 The population is around 30,000, with a multicultural mix of Australian, European, Asian and indigenous inhabitants. Along the main strip, bespoke galleries display hundreds of indigenous canvas paintings, while an old didgeridoo shop welcomes new enthusiasts by putting on weekly concerts. Cafes spill out onto the pedestrianised Todd Mall, while music quietly plays from within. The 'Page 27' coffee shop was my favourite with its hidden alley location - it was the perfect respite from the hot sun, especially when I had an iced chocolate smoothie in hand. However, my highlight here, was trying to choose between a Thai green curry, Nasi Goreng or peanut butter crepe for lunch at the bustling Sunday market.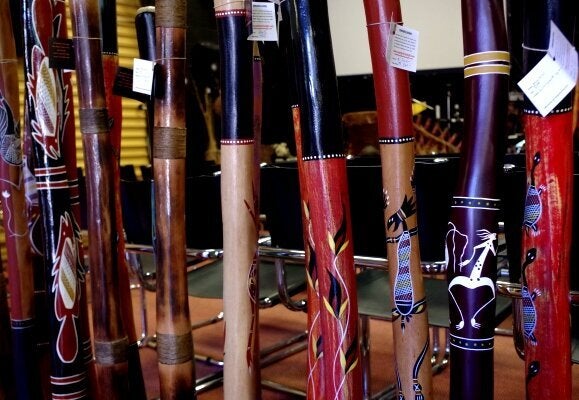 One of the guides I met told me about the town's Henley-On-Todd Regatta festival, which takes place annually on the Todd River. Apparently thousands of people descend upon the town centre for the famous race, while scores of locals sign up to take part. However, as the river famously only flows twice a year, the regatta is held on its sandy bed - with bottomless boats and barefooted crews running to the finish line with their lightweight boats around their waists. What a great sense of humour and community spirit!
There's plenty to do out of town too. Five minutes away are the remains of two ghost gum trees famously captured in paint by indigenous artist Albert Namatijira. They were recently found burnt through vandalism, but their significance to the locals lives on. Further down the road, the Larapinta Trail allows experienced hikers to travel 139 miles along the West MacDonnells - known as one of the world's most challenging and beautiful walks. Locals and visitors often just trek small parts of this trail, while the less strenuous stroll to Ormiston Gorge and its pretty waterhole is often rewarded with a pleasant and refreshing chance of a dip. Nearby, the Desert Park offers an educational insight into the Red Centre's thriving plant and wildlife, while a sunrise hot air balloon ride is the perfect opportunity to spot kangaroos and wallabies hopping across the plains.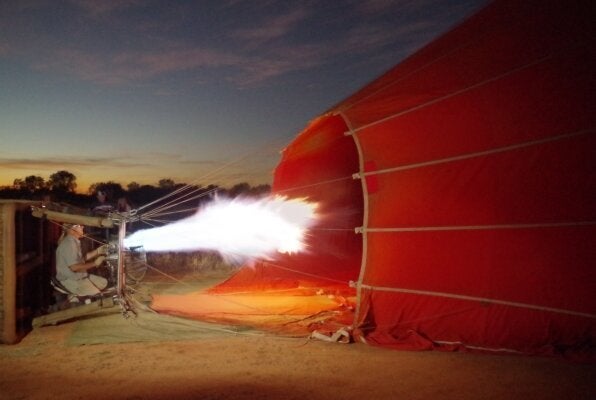 The School of the Air, a correspondence school which provides both primary and secondary education to kids who live in remote areas of the outback, used to broadcast 'lessons' over the Royal Flying Doctor's shortwave radio service when it opened in June 1951. However, in 2003, it was given enough funds to operate online, providing students with computers and internet access. Classes are now broadcast live from a studio in Alice Springs and this completely extraordinary service means hundreds of children, who would have otherwise not had the facilities to learn, have the chance of a good education.
From the desert to the tropics...
As The Ghan hurtles its way towards the north, I am beginning to see the changing landscape. The sun is beginning to set and the earth has faded from its rustic red to a dusty brown. The sparse old gum trees are being replaced by an increasing amount of fresh-leaved bushes as we hurtle away from the desert at great speed and enter the tropics. It's clear we will be waking up to a completely different world.
At dinner, I head to the all-inclusive Queen Adelaide restaurant, where everything from barracuda, beef cheek and kangaroo loin are on the menu. It feels tranquil on this train, with mainly an older crowd enjoying the sit-down dinner. Further down, I find the Matilda Café serving lighter meals to the younger travellers. Feeling relaxed and comfortable in my fast-moving temporary home, I opt for a glass of red wine as a couple of Trilby-wearing guests entertain the lounge with their best Kenny Rogers and Johnny Cash renditions. Then I head back to my berth and am gently rocked into a deep slumber.
The next morning, we arrive at Katherine - a riverside town, 200 miles south of Darwin. We have four hours to explore here, so while most of the passengers decide on a boat trip along the beautifully rugged Katherine Gorge, I opt to get to know the locals by signing up to a cultural class with a man named Manvel.
My lesson takes place at the 'Top Didj' estate of Alex and Petrena Ariston, who encourage visitors to interact with the Jaowan and Dagoman communities who have lived here for thousands of years. Having been picked up from the station by a welcoming Petrena, we travel through the tiny town of Katherine (it has just one set of traffic lights), before arriving 'home' and meeting Manvel. Under the shade of an old tree, I sit with him as he tells me about the great significance of symbols in painting and which folklores have led to his community creating their artwork with parallel lines. Together, we paint a picture of The Ghan using this technique. He also teaches me how to spear and start a fire. While cuddling the family's new pet baby kangaroo, I realise there was no better way to spend my four hours in Katherine.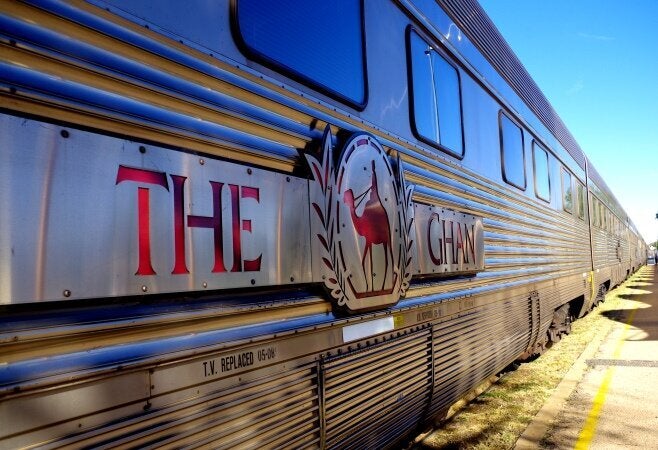 Saying goodbye to Manvel, I feel a little sad to be leaving - but it is time to embark on my final few hours of this journey. As soon as we set off, the concrete of Katherine gives way to a sea of mango groves; their lush leaves filling the vistas for miles, while booming grey clouds loom overhead threatening to unleash a short-but-ferocious shower.
As we finally pull into Darwin station, the air is full of humidity and there's no doubt we have reached the tropics. I say a little goodbye to the great long silvery machine that has taken me 936 miles across the desert - not only have we reached the end of the train line, but also the end of Australia. According to my map, the sea isn't too far away.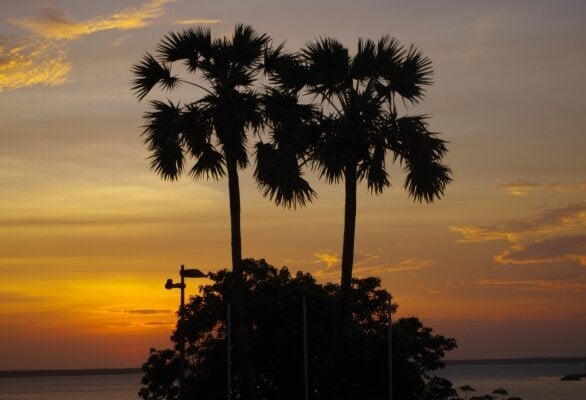 Set on a natural peninsula, Darwin is best known for its huge range of diverse restaurants and is always a must-stop for foodie lovers. Before finding my dinner spot, I walked to the port to see the final drips of the orangey-yellow sun disappear into the serene water. Then I stroll five minutes to Mitchell Street where travellers have seemingly taken over the buzzing bars and cafes. Away from the crowds on Knuckley Street, I make my final stop at the Moorish Café - which I'm pleased to say lives up to its name and provides the most delicious couscous I've had outside of Morocco. This Mediterranean and North African eatery is also loved locally for its Egyptian Dukkah dish, which is a mix of fresh herbs, hazelnut and spices, served with toasted pitta. My last supper here in Aus' is certainly a great one.
Looking back, this is a journey that could have been made by plane - for a fraction of the time, but every second was worth it when you are able to witness the Northern Territory's hugely diverse environments come alive in front of you.
This has been an adventure I'll never forget. And hopefully, one day, will do all over again.
From 1 April, The Ghan is offering guests travelling in Platinum and Gold service cabins an all-inclusive package - which will include standard drinks, a new dining menu serving regional produce and off-train tours in Alice Springs and Katherine. Head to greatsouthernrail.com.au for full details.
Qantas fights to Adelaide start from £1,100. Book at qantas.com
PICTURE CREDIT: KAREN EDWARDS