Soft white-sand beaches; endless blue skies; a warm turquoise ocean - and a bar, stocked with cocktails. What more could you ask for?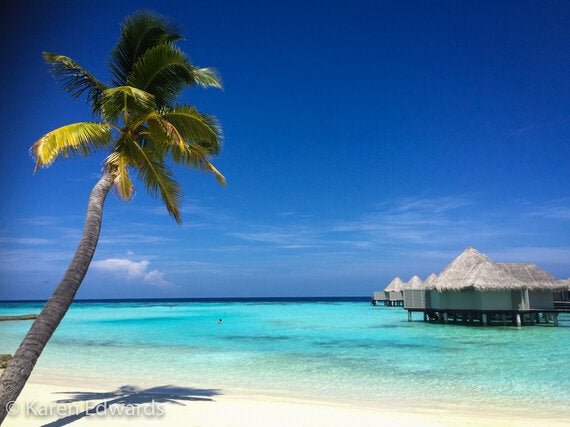 As the sun begins to set and the sky mellows from a cobalt blue to shades of pastel pinks and purples, I walk out towards the Indian Ocean for one last dip. The evening breeze has set in, but it's still comfortably warm. The silky white sand threads through my toes. Around me, there is silence - and I realise this is the most peaceful I've felt in a very long time. I take a deep breath and dive under the crystal clear water.
We are in the Maldives - on a tiny island called Thelu Veliga. Our retreat for the next five days is Drift - a laid-back luxury resort nestled among the palms. Located in the South Ari atoll - a marine protected area - we are surrounded by miles of turquoise lagoons and beautiful natural reef - and I'm very aware there is a lot of underwater exploring to be enjoyed here. But for now, I reach over and pick up my fresh passion fruit Mojito. 'Doing something can wait,' I think to myself.
Paradise in the middle of the ocean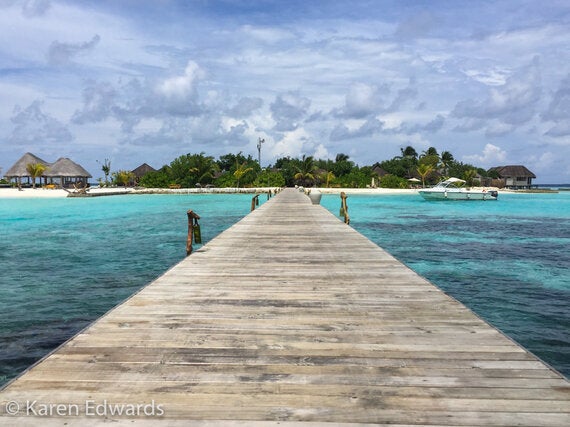 Made up of 26 natural atolls, and 1190 islands and sandbanks, the Maldives covers an incredible 55,923 square miles of the Indian Ocean - of which just 185 square miles is land. Surprisingly, 187 islands are still uninhabited here, while 106 have been transformed into luxury resorts for sun-seekers, divers, honeymooners and everyone in between.
At just under three acres, Thelu Veliga may be a small island but my partner Brad and I are in our own little haven; from our stunning water villa with a balcony that opens up onto the ocean, to a cosy restaurant and beach bar. With just 30 beach and water villas, the resort never feels busy, more remote and exclusive.
The friendly staff can't help but greet you with a warm, beaming smile each day. On our first morning, the delightful head Chef Charminda, takes note of my (not-very-easy-to-manage) dietary requirements and somehow produces a feast for every meal.
After two days of absolute relaxation, we decide it's time for an underwater adventure. Luckily for us, the South Ari atoll is the perfect place for this, because during the months of June to November, this plankton-rich area becomes a feeding ground for Manta rays. So together with the team from the in-house dive resort, Extra Divers, we head out to sea in search of these beautiful creatures.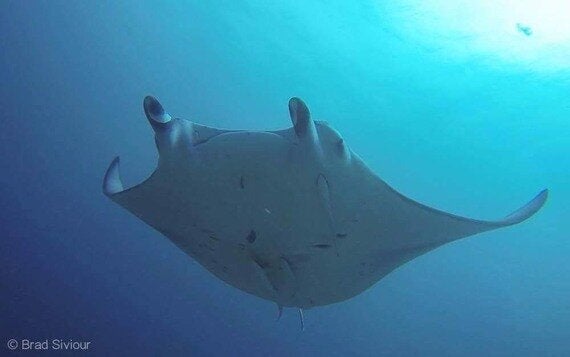 It's not long before we're ready to jump out of the boat and into the water at the local feeding platform aptly named 'Manta Point'. After a safety briefing, we pull on our masks and head straight down into the water, re-gathering at 15 metres. And then we see them: the regal Manta rays with their impressive three-metre wingspans, gently gliding around us. They come within a few metres and we watch in absolute awe. We spend nearly an hour observing as six individuals elegantly swim and feed. To be so close to them is wonderful.
The Maldives is made up of three per cent of the world's coral reefs - and is home to over 200 species of fish, Whale sharks, turtles, Moray eels - and even Scalloped Hammerhead sharks.
Unfortunately this year, the region has suffered record-breaking high temperatures and as a result the reef has been heavily affected by coral bleaching - a sad and inevitable result of climate change. Over 60 per cent of the coral colonies assessed earlier this year had been bleached, according to the Maldives Marine Research Center (MRC), the Environmental Protection Agency (EPA) and the International Union for Conservation of Nature (IUCN) - but experts hope the majority of the reef will recover. Only time will tell.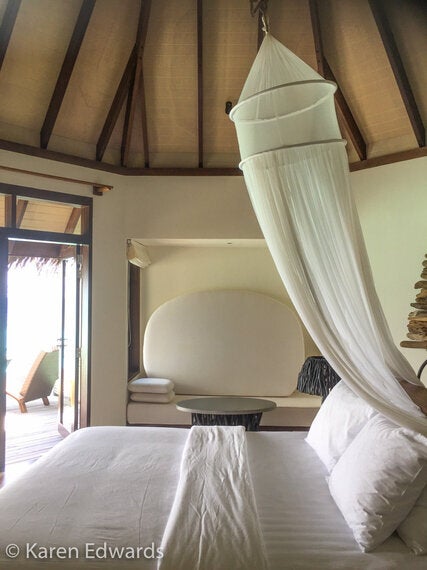 We end our stay at Drift Retreat with a delicious beach buffet - and are seriously impressed when Chef Charminda and his team offer to prepare our meal in front of us. We choose which ingredients should go into our salads and pasta dishes and watch, as they toss veggies and condiments together to form the perfect blend. A delicious Maldivian curry follows, before our thoughtful Chef concludes his masterpiece by bringing out a surprise chocolate birthday cake for Brad.
We enjoy our last mojitos at the bar with the waves lapping around us, and then head back to our water villa for one more night in paradise.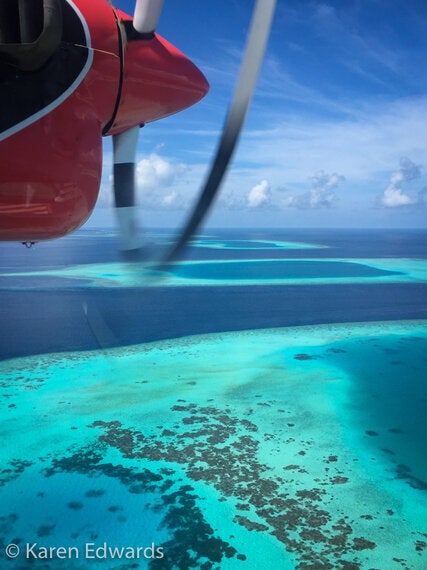 Seven night stays at Drift Thelu Veliga Resort start from £799pp. More information and reservations, visit Angelfish Travel at angelfish.travel or call +44 1580 712690.
Sea plane transfers with Trans Maldivian start from £330pp.
Return flights to Male with start from £550pp.
This post has been published on The Huffington Post's blogging platform. The views and opinions expressed in this blog are those of the author and should not be taken as those of The Huffington Post. The Huffington Post does not allow bloggers to acquire products, access or accommodation for review in the site's name.