The turquoise sea glistens under the afternoon sun as I stand knee-deep taking in my surroundings. A shoal of Blennioidei shoot past my feet, before a flash to my right indicates a lone flying member of the group has glided out of the water and is now diving back in. Behind me, my friend Jo is immersed in her novel, stretched out across the golden powdery sand. Its a sizzling 28 degrees here and she's swapped the shelter of a beach umbrella for the protection of impressive metre-long palm leaves. I'm lapping up every ray while I can.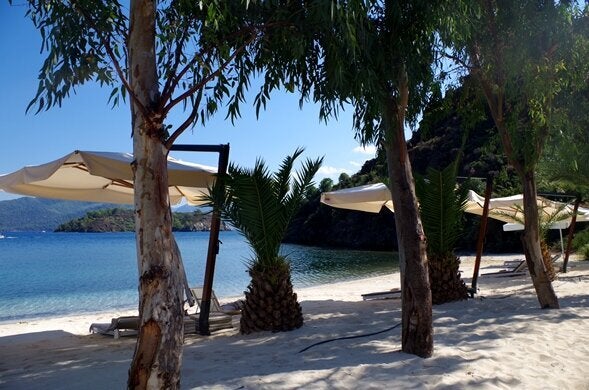 We're in Turkey, visiting the famous Muğla Province - an area situated in the far south west of the country and home to an incredible 680 miles of pristine coastline, which includes the country's much-loved Datça Peninsula and tourist hub of Marmaris. Our research tells us exploring this area is going to be quite an adventure. I had visions of wandering through port towns, jumping on and off fishing boats and climbing through ancient ruins whilst listening to stories from long ago. But now that I'm here, I realise it's not going to be as simple as strolling along the sand, flip flops in hand. In fact, walking looks like a complete no-go thanks to the huge dusty red mountains and steep cliff faces around us.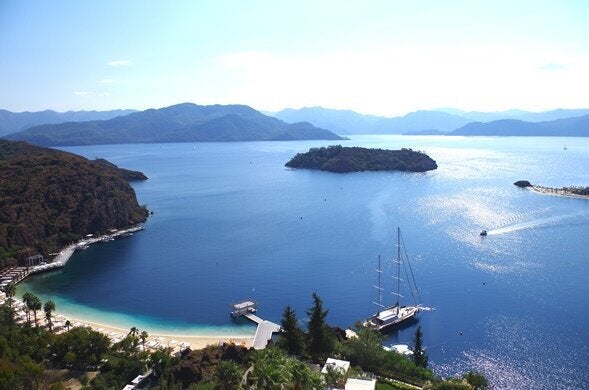 Local maps tell us there are a few secret paths down to the silky blue waters, but finding them won't be easy and getting back up would be near impossible. In fact, the secluded beach we're on required a rather splendid wooden cable car ride from our hotel, which now towers above us on top of a volcanic hill. However having talked to the friendly staff here, we have found the answer to our adventure. We're going to do our exploring by sea.
Just 90 minutes away from Dalaman International Airport, the D-Hotel Maris resort proudly sits high on a rock, overlooking the beautifully calm Aegean Sea. The nearest town is 35kms away, meaning the sound of gentle waves is all you can hear for miles - and there's not a McDonalds in sight. But should you wish for some Muğla charm, it's just a half hour trip to the nearest town.
The D-Hotel matches its environment well and exudes a peaceful ambience through its cool decor; colour-schemes are gentle pastel shades, there's marble flooring, the walls are dark-wood in colour, two deep blue indoor pools await you in the ESPA Spa and the grounds are vast and grand. You'll find a gym with incredible views over the blue, three restaurants serving everything from Ottoman and Asian-fusion cuisine to seafood splendour. There's even a cinema packed with comfy sofas, should you fancy a late night film. Down at the coastline sit four protected beaches - one for every kind of visitor. The list includes the Café Del Mar-loving, bar-friendly one and the silent 'no kids allowed' one (both require the house speed boat to get to).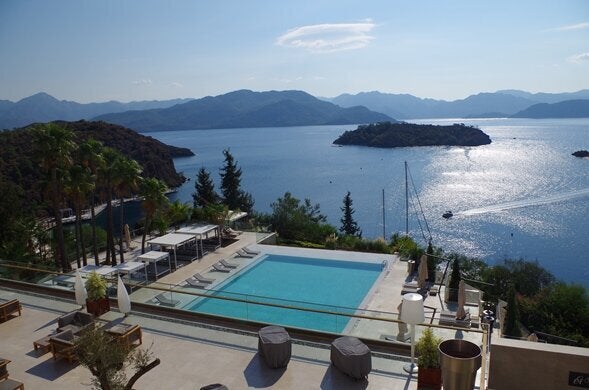 The view at breakfast certainly deserves a mention - it's hard to resist a strategic dive into that infinity pool, but it's a long way down. Instead, it's best to walk there, slip your bag into a cabana, then dissolve into the inviting waters.
The best thing about the D-Hotel Maris, however, is that staff encourage you to go out and experience the dramatic coastline. And they do this by running a fantastic water-sport facility around the nearby bays and coves. Jet-skiing, snorkelling, diving, surfing - they have the equipment whatever your wish, and can provide lessons for beginners. The particularly brave can hire a boat for a solo adventure, or you can do what we did, and hire a captain and one of the hotel's three yachts.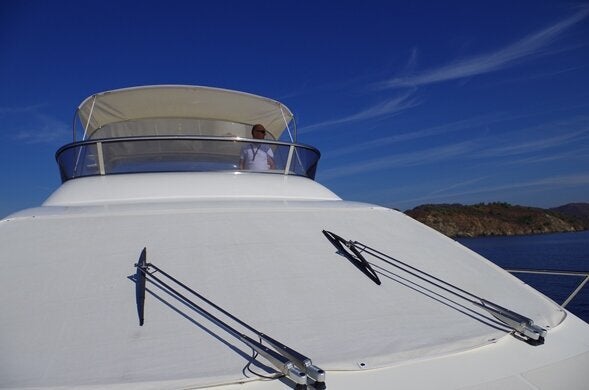 We sail between the ports of Marmaris, Datça and Bodrum - stopping off every half an hour to cool down with a bay-side swim in the warm water. For those who have more than a day to dedicate to the sea, the local Blue Cruise company offers overnight and even week-long trips. Some even go as far as the Greek Islands. Sailing these seas is a real treat with the typical Ottoman dinners on-hand. Think warm pitta bread soaked in mild aubergine curry and delicious seafood served in lashings of garlic and sweet chili.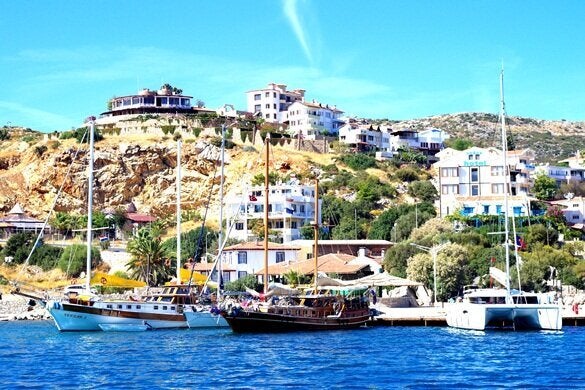 Our first land stop is Bodrum, a small-but-famous place thanks to it being the setting for one of the Seven Wonders of the Ancient World - the Mausoleum of Mausolus. Bodrum Castle, which was built back in the 15th Century, now houses the Museum of Underwater Archaeology. Nearby, the ancient city of Iasos still stands in parts and acts as a shelter for local fisherman setting up for market in the morning sun. Be here early and choose your dinner while the catch is fresh and don't forget to carry an ice box to store it.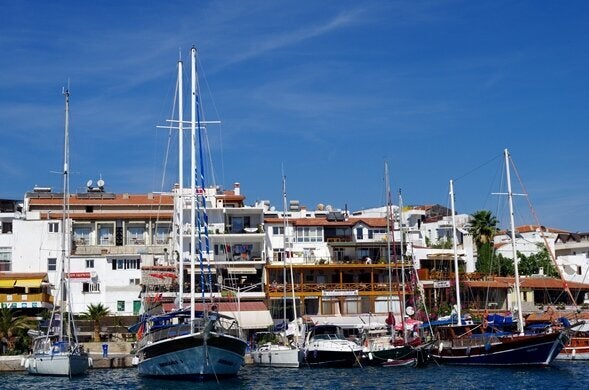 In Datça town, we meander along lanes towards the indoor bazaars, planning our afternoon. It is now late morning and the temperature has risen into the mid-20s. We know the nearby Kizlan windmills are not to be missed, while the Hellenistic ruins of Knidos - which lie high on a hill about an hour from town - is worth discovering for the sheer sight of such history and for the mesmerising view over a misty blue Aegean Sea.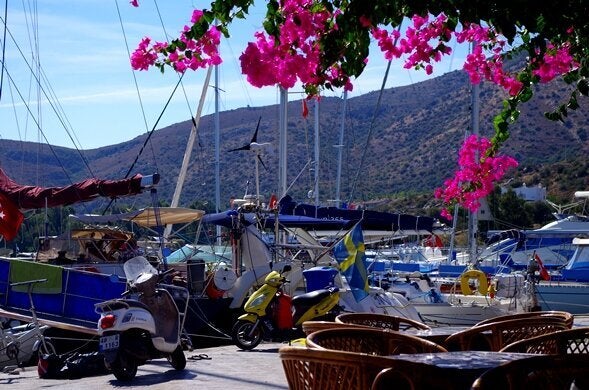 Around us, delicate pink bougainvillea decorate every doorway, hiding the old yellow stone houses that lay behind; on the street, tradesmen sit on tiny stools under their stall canopies as they keep cool from the hot sunshine, while young boys perch on their mopeds and playfully flirt with passing girls. Old couples in long-sleeved tops stroll together - letting go of the other's hand only to pick up fresh citrus for their families. Visitors marvel over trinkets and jewellery, as we marvel at the endless stalls of dazzling brassware, pottery and embroided rugs. Clothing stores hang out their linen lines to capture the breeze. The scent of sweet honey and spicy aromas fill the air as we pass the food stores; sacks of turmeric and saffron are positioned neatly, enticing those with a love for the exotic to step inside.
Of course, it's important to be aware of a county's political situation before travelling - and as I write this, there are parts of Turkey that are flagged as volatile destinations by the Foreign and Commonwealth Office (FCO). However, the Muğla region is considered safe to visit and remains very popular with UK and European holidaymakers. Just remember to check for the most up-to-date situation before you go.
Flights from London to Dalaman with EasyJet cost approximately £197, depending on time of travel.
Sea-view rooms at D-Hotel Maris start from approximately £147.50 per night, including VAT and a buffet breakfast. For more information visit dhotel.com.tr or to make a reservation, email reservation@dhotel.com.tr or call + 90 252 441 2000.
For more information on Turkey and safe travelling, visit the FCO website.
PICTURE CREDIT: Karen Edwards