I hadn't skied in 20 years.
So during my recent return to the slopes at Vail, Colorado, I awakened, like Rip Van Winkle, to find some startling changes.
The first thing I notice is the difference in ski apparel. Last time I skied, ski pants were tight and had stirrups. Ski jackets were short and fitted, sometimes with clear pockets to display lift tickets. Since my old ski pants and jacket still fit, I literally dusted them off and donned them, believing I was back in the game.
So imagine my sense of wonder when I spot both men and women wearing bulky, insulated ski pants that flare out over their ski boots. Huh? No cute fitted jackets, either. Most everyone sports oversized shell jackets in vivid colors.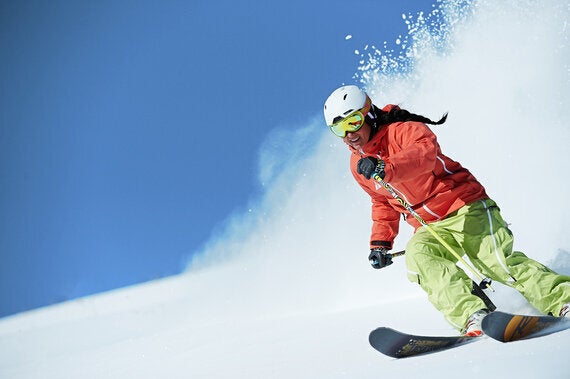 Image: Jack Affleck, Vail Resorts.
What is wrong with these people? Clearly I'm in denial, not ready to admit I'm a fossil. But my next clue comes when the folks at Vail Sports equip me with skis that reach just above my chin. At one time, during the golden age of rope tows, skis were taller than me. The last time, they came to the middle of my forehead. The next time, I'm convinced I'll be schussing on something the size of snowshoes.
And everyone wears helmets now. I think of Natasha Richardson and say yes.
I store my ski equipment at Vail Sports, though I notice a lot of "ski concierges" for guests of high-end resorts, kind of like valet parking for one's ski equipment.
Instead of a ski pass that I wear around my neck or place in my clear arm pocket, I am issued a plastic card with a magnetic strip. My information is stored on this card, and I discover it contains the EpicMix RFID system--the kind of technology that tracks luggage.
As I approach a lift line at the base of Vail Village with my instructor Betsy, I try fishing the card from my pocket for scanning. "Oh, no," Betsey says. "You don't have to do that. Just leave it in your jacket." Wow.
Next, we step onto Gondola One, which opened a few years ago. We place our skis in outside containers and sit in the 10-passenger gondola, the fastest, single-cable gondola of its type in the world, I'm told.
"Feel the heat?" Betsey asks. Wait, the seats are heated, and, not only that, there is free Wi-Fi access. I need a moment.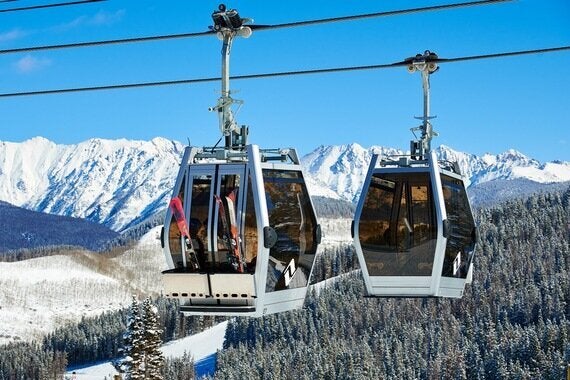 Gondola One. (Image: Jack Affleck, Vail Resorts.)
In 7.5 minutes, we're whisked to mid-Vail. As we make our way down green runs, Betsey points out photographers taking pictures of guests--the way they do on cruise ships or zip-line excursions. The photos automatically show up on your EpicMix smartphone app, where you can opt to buy them.
We reach another lift that has a "magic carpet," a kind of conveyor belt that places us in position for the high-speed chairlift. How...convenient!
I tell Betsey my boots are a bit loose, and she attempts to tighten them. That's when she informs me that pants and long underwear don't belong inside ski boots. She also sees that the elastic strap on my goggles isn't snapped into the back of my helmet. There's a snap back there? She wrestles with it. That's when I fully accept I'm a relic from the past, complete with a short, brown down jacket and shiny ski pants with a swirly design--and stirrups. The shame.
Still, the mountain vistas are breathtaking. The sun is shining. The snow is phenomenal. That part was the same. The new stuff just takes some getting used to.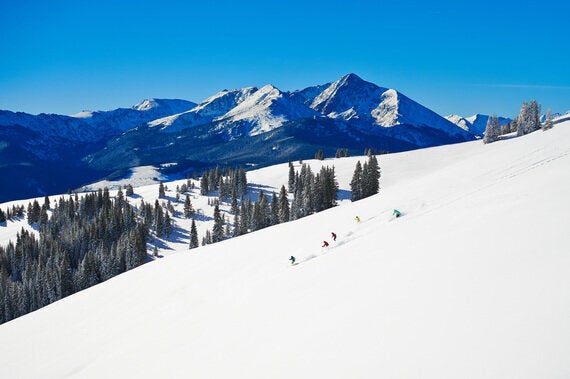 Image: Jack Affleck, Vail Resorts.
Of course, the menus at the on-mountain restaurants now have plenty of gourmet options. I remember plain old hot dogs, hamburgers and hot chocolate. Now there are things like wild mushroom risotto and sesame crusted ahi tuna. Ah, progress.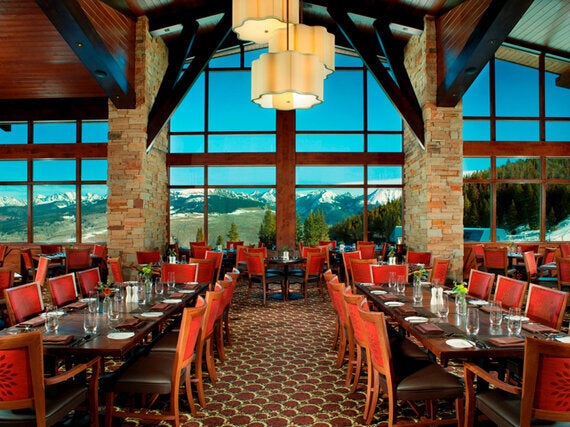 The 10th Restaurant on Vail Mountain. (Image: Ric Stovall, Vail Resorts.)
I check out the EpicMix app. I can see snow conditions, view web cams and trail maps and even compare lift line times. I can track my progress, see where other friends are skiing on the mountain and, naturally, share my achievements on social media. Because taking selfies and posting one's activities are now a part-time job.
No, that's where I draw the line. I want to be in the moment, not document it. It's the one part of the past I'm holding on to.
Related