In the lush green of the Peruvian province 'Madre de Dios' ('mother of the gods') lies Manu National Park, a protected area of 20,000 square kilometres, rising into the last strings of Andean Cordillera in the West and plunging into the Amazon lowlands in the East. This UNESCO World Heritage Site is considered one of the most pristine areas of rainforest in the world.
Here lies the rural town of Salvaciòn, where women still wash their clothes on the banks of the river Madre de Dios. There are some stalls catering to the basic needs of rural life, one small internet cafe, a school and even a small swimming pool. The traffic rules are simple: buses and playing children have right of way before free-roaming chickens and dogs; and passing somebody without a greeting of "Buenos Dias" is a no-go.
Along the road is Chaskawasi, ("House of the Stars" in the Andean language Quechua) a dwelling that serves as a school-term home for 15 children from various isolated communities within Manu. It was built in 2004, so that these children can attend school in Salvaciòn.
10 of the children belong to a group of indigenous communities known as Machiguenga, communities who live peacefully in the deeper jungle, generally inaccessible to outsiders. Many travel a considerable distance to reach Salvaciòn, and some had to persuade their parents to let them do so.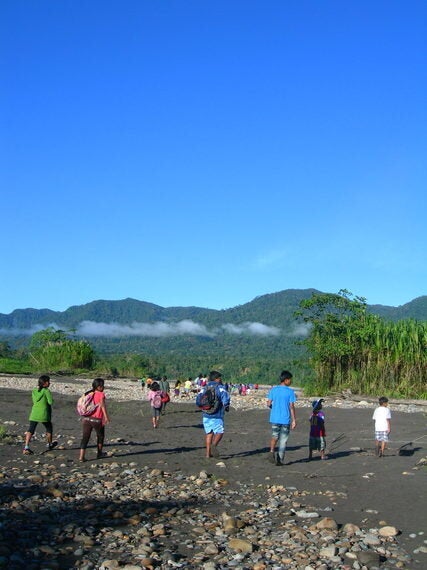 - Walking towards the river for an excursion -
5 children are from campesino families, non-native peoples who reside in more urban areas. Tending to move around a lot, their children often have various familial problems. The majority of these children are enrolled later in school than is the norm, which makes integration in the educational system difficult.
Chaskawasi comprises a large complex of buildings: a kitchen, an eating porch, two gender-separated sleeping quarters, bathroom huts as well as an impressive 'biohuerto': a garden to grow produce such as tomatoes, yucca and bananas. The entire complex dozes beneath a parrot-beflown sky and is bordered by jungle, from which the sounds of monkeys and other animals are often heard.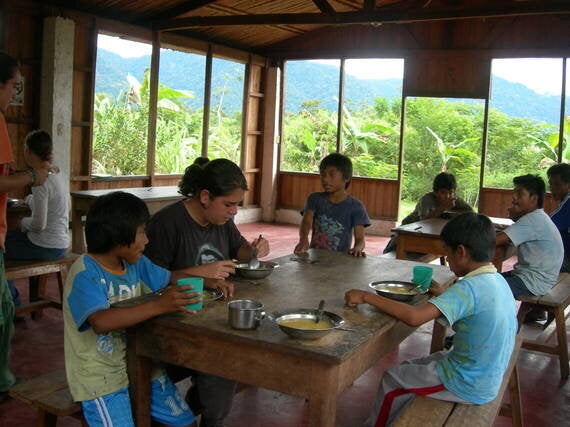 - Having soup on the eating porch -
Life here is led with a strong conscience towards nature: The food is rich in home-grown vegetables such as yucca and plantains, and poor in meat. When the children gallop around 'la cancha', a small pitch designated to football and volleyball, they are reminded not only to avoid poisonous snakes in the grass, but also to not harm the ones that aren't.
There are two classrooms, where after school children do homework and other studies: In La Primaria the younger kids up to the age of 11 are learning to read and write; and in La Secundaria, the older ones up to 16 study Maths, English and other subjects.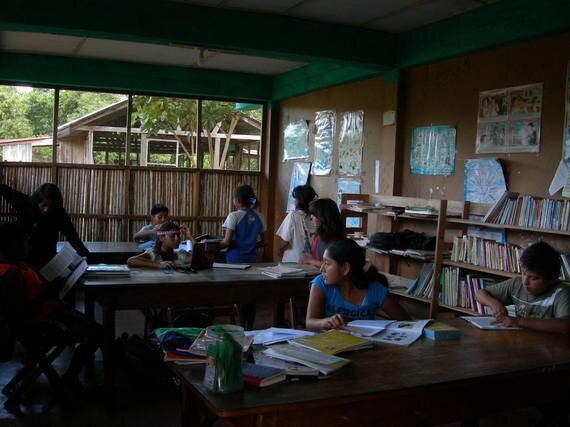 - The children study in La Secundaria after school -
The seven adults that live here undertake collectively the task of managing everything: the garden, household, the fundraising required to fuel the project, as well as creating a supportive learning environment for the children. The latter is easier said than done considering the children's problematic backgrounds; It involves both a lot of discipline and a lot of love. Maintaining Chaskawasi is an enormous amount of work, and the people there don't do it for a salary.
Nevertheless, the project is fighting many problems, the largest of which is, of course, lack of funding.
Resources are scarce: Acquiring necessities for the children such as clothes, shoes or school materials relies largely on donations. The house only recently acquired a washing machine; before then everything needed to be hand-washed. If things need to be bought, this necessitates a long trip to the nearest city, Cuzco, or one of the neighbouring villages. These don't sound like very large feats, but consider the infrastructure: two-hour trips easily stretch into five due to never-ending road works and only few daily buses commute between the villages.
Even greater are the difficulties organizing anything at all with the rest of the world, due to the meagre phone or internet connection that is only available at the centre of Salvaciòn. These often fall victim to power outages, a consequence of one transformer routinely having to switch between two villages.
Medical care is another issue: When the small pharmacy in town does not suffice, one must either undertake the long and costly journey to Cuzco, or wait for the annual visit by a team of American doctors. For one day in the year the whole village queues for hours in hope of doctors' advice for a variety of ailments. At the last visit, four of the children were unable to see a doctor regarding eye problems that hindered them in reading because the system works on a 'first come, first served' basis.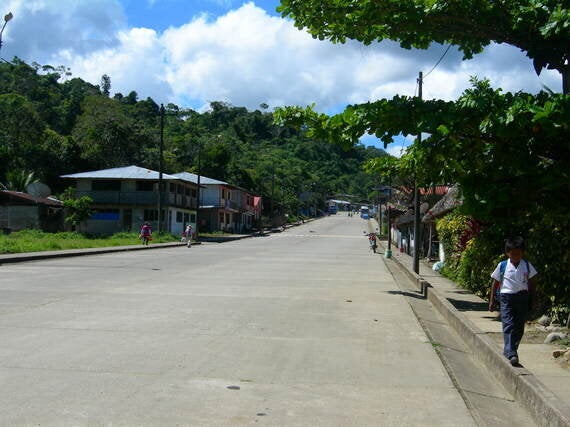 - Walking home from school in Salvaciòn -
Lastly, environmental problems also take their toll on the town: Once virgin rainforest, Salvaciòn today is succumbing to the ever-growing pressures of urbanization. Goods imported from Cuzco bring with them plastic packaging, from 'Inca Cola' bottles to bags used to sell home-made drinks in. Where this debris goes at the end of the day, remains unclear. There is no infrastructure that would cater to recycling in a world in which the transport of any item means cramming it into an over-crowded bus.
Despite such issues, it is really admirable that Chaskawasi manages to insist on its sustainable approach towards nature. It is truly an inspiring project that gives children access to what their own communities cannot give them: education. Chaskawasi enables them to become part of an ever more globalizing world, while simultaneously strengthening their core: respect towards nature.
The future of Chaskawasi very much depends on outside support. Please see Chaskawasi's facebook page or their website if you would like to support the project with your interest or possibly even a donation. Even a little bit goes a very long way!