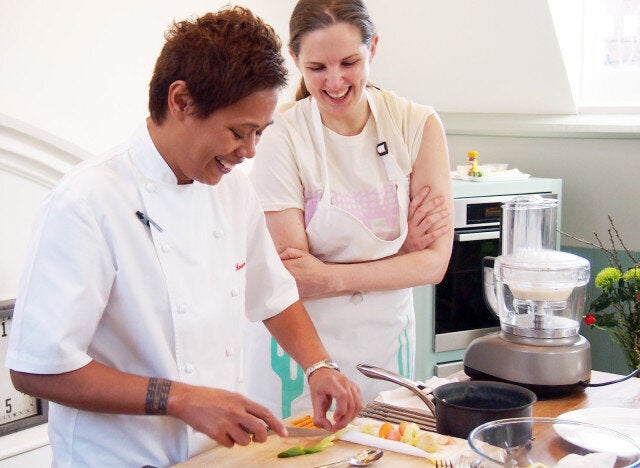 My favourite episode of last season's Masterchef: The Professionals was the one with the sea urchins and the skills test. How sorry I felt for those poor contestants as they endeavoured to prepare an ingredient that, for some, may as well've been ET's direct descendent. And, if that's not daunting enough, the professional punters were required to complete the task under the intense gaze of judge Monica Galetti.
At worst, shells were smashed and inky innards were served, while, at best, delicate edible morsels were either blinded by other dominating flavours or mashed into an origin-belying paste. Monica was having none of it - pulling her renowned facial expressions as the chefs toiled and verbally venting her dissatisfaction once they'd presented their creations. As both the sous chef at Michel Roux Jr's two Michelin starred Le Gavroche and Masterchef gatekeeper, she's both committed and uncompromising - and I adore her for these qualities in equal measure.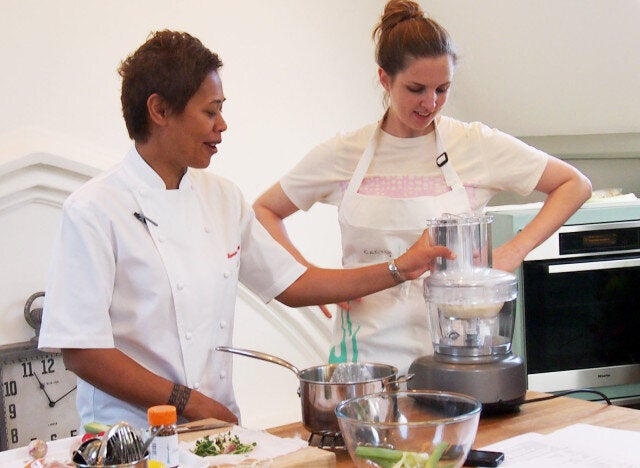 There are other reasons I love Monica, which I found out when I recently had the opportunity to meet - and cook with her - at Cactus Kitchens in Clapham. She's warm, inviting and side-splittingly hilarious. The fact that she's an Antipodean (Samoa-born, New Zealand-raised) like yours truly (an Aussie, through and through) and understands what it means to have a French mother in law? Well, that was just a bonus.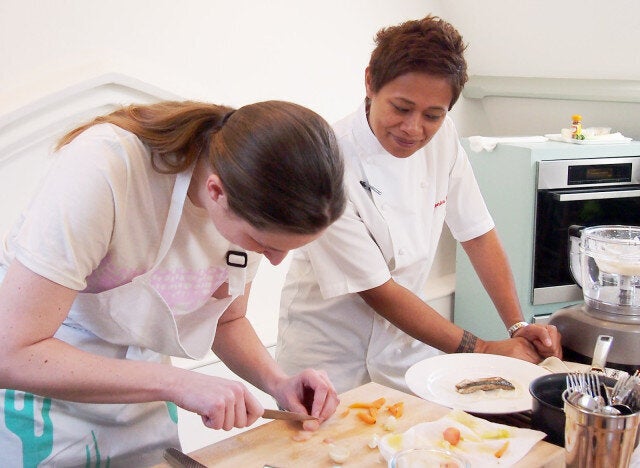 Not that it was all fun and games. We had a serious mission on that nippy Friday morning in February. Over the next month, Monica is hosting a couple of all-day cooking experiences at Cactus Kitchens, and I was invited along for a sneak peak. Mackerel with Cauliflower Puree and Vegetables a la Grecque was the concoction of the day. We pureed. We giggled. We blanched. We laughed. We Sliced. We teased. We fried. We slapped thighs. We plated up. We swapped stories. And by some divine magic, this happened...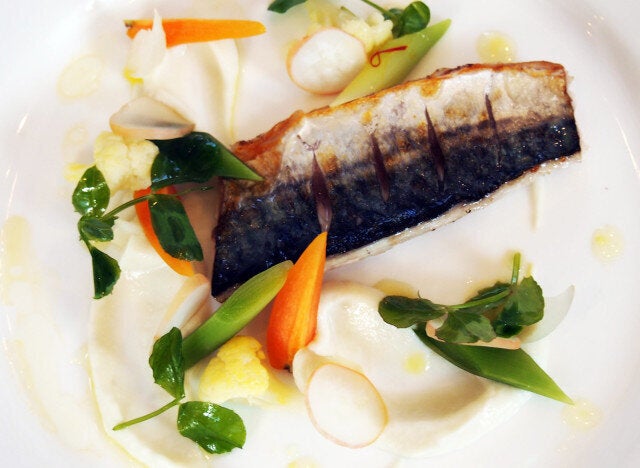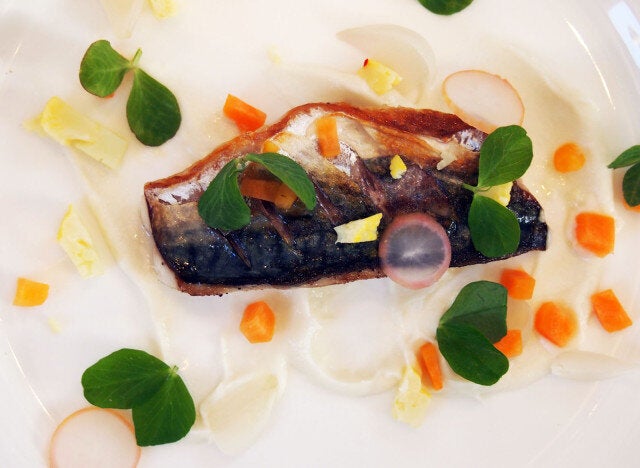 Any guesses as to which is mine and which is Monica's? I'll give you a hint: while I was dishing up, I believe I taught the master a thing or two, including my hold-veggies-high-above-plate-and-drop-to-evenly-disperse method. I'm guessing it's already been implemented at La Gavroche. You're welcome, Michel Roux Jr.
Jokes aside, I had a great time with Monica and learnt loads. If you'd like to have this thoroughly-recommended experience too, all the info you need is at the bottom of this post. And if you'd like to try making the mackerel yourself, here's the recipe.
Mackerel with Cauliflower Puree and Vegetables a la Grecque
2 Fillets of Mackerel, pin boned
1 Small Cauliflower
2 Breakfast Radishes
2 Baby leeks
2 Baby carrots (Heirloom) or Chantanay
2 Baby onions
1 put Pea shoots
150ml Double cream
Garlic Clove
10 sprigs Thyme
2 sprigs Rosemary
1 tbspns Coriander seeds crushed
1 Clove
60ml Water
Juice of 1 Lemon
200ml Dry white wine
1pinch Saffron strands
Prepare the Mackerel fillets and trim, set aside
Remove 2 medium florets of cauliflower and slice thinly - about 1mm thick and set aside
Roughly chop the remaining cauliflower and blanch in boiling salted water until soft
Drain and place in a blender with the cream until smooth
Blanch the remaining vegetables keeping them al dente, and add to cauliflower slices.
Place the water, lemon juice, wine and saffron in a saucepan add the muslin bag and bring to the boil
Pour over the vegetables, leave to infuse 5 minutes before serving.
These should be served warm or at room temperature
Season the mackerel fillets with a little salt and pepper and place under a hot grill for 1-2 minutes
Serve on the cauliflower puree with vegetables arranged around and a drizzle of the cooking liquor
Monica is hosting the Monica Galetti Experience and the Michel & Monica Experience at Cactus Kitchens. To book your place and for more info about all the Experiences on offer, please visit www.cactuskitchens.co.uk
by Monica Galetti (Quadrille) is available to buy now.
PS. Monica told me that people rarely cook for her, so I've bravely offered to make her something for Last Supper Diaries. The recipe is a secret at the moment - and the two practice runs I've done haven't proven at all successful (gulp!) - but I promise to reveal all soon.
Recipe © Monica Galetti 2013 (reprinted with permission)
Related