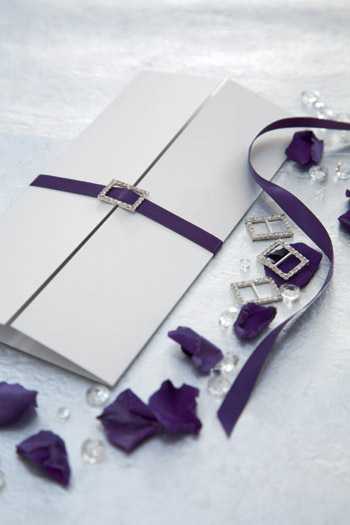 What does your perfect wedding look like? Perhaps it features Robert Pattinson/Cheryl Cole/your fiancé(e) (delete as appropriate) in sumptuous luxury at a seven-star Dubai hotel, a sophisticated evening soiree at the London Ritz, or sand in your toes on a sun-drenched private beach. What we want, however, is often quite different to what we get, as compromises have to be made to keep in budget. Instead of ending up at the local snooker hall with a tray of scotch eggs, be clever, juggle your budget and cheat your way to that dream wedding. Here's how...
Invitations
First impressions count so make sure your invitations look amazing. You don't have to spend hundreds on professionally printed wedding stationery, when you can create your own amazing and professional looking invitations (without them looking like a small child glued some coloured ribbons onto a blank card and then went wild with the calligraphy pen.) When you find out how to create your own, you make them completely unique, reflecting your own personal style.
Wedding Cake
All-singing, all-dancing cupcakes are the answer! Place pretty cupcake stands in the centre of each reception table and pile high with cupcakes for each guest. Ice each one with the name of the guests at that table and bingo! You have a wedding cake, centrepiece, favours, place cards and dessert all in one! Sell the cake stands after the wedding for a cheaper than cheap cake-favour-place card-centrepiece solution that looks as stunning as it is clever!
Make or buy a plain fruit cake and then go on a 'decorate your own wedding cake' course. Alternatively, get your mum/talented auntie/baking bridesmaid to make your wedding cake for you.
Have that seven-tiered wedding cake if that's what you want (see a list of wedding cake suppliers), just have one of the tiers (the lowest one) made of real cake. Your photos will be stunning and not everyone likes wedding cake anyway...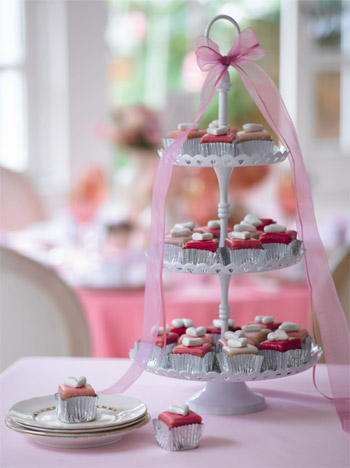 Timing
Get married on a weekday as rates are often at least ten percent lower than at weekends.
If you hold your wedding later in the day, you'll only have to feed your guests once. Suddenly no one wants to get married at 2pm on Saturday when it's ten percent cheaper to do it at 5pm on Friday!
Food
Arrange your own wedding breakfast by putting on a buffet using a party platter service from a supermarket or your local bakery. It will cost a lot less than a seated three-course meal with waiting service.
For intimate weddings on sunny days, a 'bring your own' posh picnic is lovely and very cost-effective indeed. Find a large, scenic setting and simply ask a small number of close friends and family to bring along a dish or two while you provide fizz and some blankets and cushions.
Venue
Your wedding venue is important. Decorate a local village hall instead of paying grand venue hire rates. Even the plainest of halls can be transformed with some imaginative lighting and decoration.
Many pubs and restaurants have an upstairs function room with its own bar and sound system that you can book free of charge. Bring in your own catering, plug in your iPod, make sure your guests know it's a pay bar and you could entertain fifty people for under £500 and they'll still go home full of food having danced the night away!
Flowers
Don't raid the graveyard or steal from the florists - the first is not nice and the second is illegal. Instead, go for flowers that are in season as they'll always be cheaper.
Invest in everlasting silk flowers (a must if you suffer from hay fever!) and then keep one as a reminder of your special day and flog the rest online to make some money back!
Dresses
If you're handy with a sewing machine - make your own wedding dress, and if you have great legs, go for a short, slinky strapless design as it'll cost even less on material!
If you've got your heart set on a designer dress but you don't have the money to match it, go to a sample sale. It's the best way to get a designer gown at a knock down price.
Hit the high street and check out off-the-peg wedding dresses in Monsoon, Debenhams, BHS Bridal and your local bridal boutiques.
Buy a 'pre-loved', second hand wedding dress at Oxfam Bridal or your local charity shops or online at the Confetti For Sale Forum or on eBay.
Ask your bridesmaids to contribute to, or better still, buy their own dresses. If you let them choose a high-street summer dress then they can wear it again so they won't mind you asking.
Photography
Hire a professional photographer for just 2hrs and have those essential photographs at your ceremony and reception put onto a disc, then make your own photobook album.
Cars
Borrow a cool VW camper van for some serious retro style wedding wheels and you'll be able to transport the entire bridal party in one go!
If you're getting ready close to your reception venue - walk. Take a pretty bridal brollie though, just in case.
If you're an eco-warrior with a love of bikes then invest in a tandem that you can arrive on with your dad (wedding dress permitting!) and leave on with your groom. These are wedding wheels that you and your partner will use together long after the wedding.
And finally, just remember that your dream wedding should have one essential ingredient - the right bride/ groom for you. Everything else is just icing on the cake, because when the party's over, all you need is love.