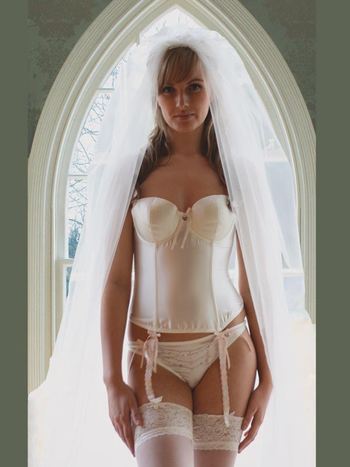 Image supplied by Honeymoon Collection.
Get married and you'll never have sex again. That's what they say anyway. Perhaps that's why so many of us now wait till later in life to tie the knot. Do we fear that once we do it's the beginning of the end? For those practicing the 'no sex before marriage' rule it's the beginning of the beginning, but for most of us, marriage is a way of cementing our current long-term relationship. And oh, but doesn't 'living in sin' have such deliciously naughty connotations?
We all secretly hope that by taking the plunge into matrimony we don't change too much, settle down into the dreaded 'pipe and slippers' existence of our parents and start saying we're too tired for love.
Men, the girls have spent the last year organising the wedding day virtually single-handedly, now it's your chance to wow her with romance on your wedding night. Girls, you don't need to wow him with any such thoughtfulness, just take your clothes off and he's happy...
The wedding night is the perfect time to start as you mean to go on, so make it a night to remember with some special little touches to go with all your - ahem - special little touches...
Carry her over the threshold, if you can. It's traditional and symbolic and the only time you get to do this, so go for it! Grooms with bad backs paired with gorgeous plus size brides, please be careful!
To make it truly memorable, your wedding night (or morning after) is the perfect time to give your new husband or wife a love letter, telling them just what they mean to you. If you're not good with words then a card with a simple "I love you" will be just as wonderful, or for a special wedding keepsake get something sparkly or shiny engraved with a special message, or your initials and the date!
Follow up the meaningful and heartfelt romantic letter moment with a striptease, girls, and show off your gorgeous new bridal lingerie to rapturous applause! Wear it with stockings and heels for the full effect. Men, make sure you tell her she is as wonderful as she looks. Flattery will get you everywhere, especially on your wedding night.
It's a cliché I know, but scattering soft, scented rose petals on the bed is also quite a statement.
Have a candle-lit bath for two that YOU run instead of expecting him/her to do it for you. Relax and talk and laugh together without any distractions. What better way to unwind after your long day?
Bring a bottle of sensual massage oil to help you both relax even more before the acrobatics commence!
If you're too tired (or too drunk) after your epic day of celebration, then make it a memorable morning instead. Enjoy a leisurely breakfast in bed, opening wedding presents and cards and making love, whispering, "you're MY wife now!" in a creepy voice in her ear between breaths to make her laugh. That's what my husband kept saying to me anyway... Who says romance is dead?