UK Fashion is a £21bln a year industry with fierce competition between brands for share of the market, brand perception and innovation. It's no surprise that in order to stand out brands need to turn to Tech to keep innovating and gaining an edge over competitors.
Enter Decoded Fashion - the event started by Liz Bacelar in NYC and exported to UK for a day at the Royal Society on 1st of November. The event embraced the booming fashion entrepreneur activity in UK and brought together an impressive panel of Tech and Fashion leaders from Facebook, Tumblr, Refinery29, Business of Fashion, EDITD, ASOS, Net-a-Porter, TopShop, M&S, Westfield and others.

The key outcome of the event is an inspired positivity about the future of ecommerce and reassurance that fashion leaders are at the forefront of forward thinking. Retailers are not resting on their laurels and brands are actively investing into innovation and clever array of mechanisms that control our style consumption on an hourly basis. From the fashion's frontlines, the emerging tech ecosystem ensures that the customers of the immediate future have an integrated, connected and positive shopping experience.
At the heart of this joined up microcosm is Facebook. Tracy Yaverbaun, Head of Retail at Facebook says:"80% of our conversations are with the same 5 people. 70% of the time it's about other people". The vast majority of consumers is either directly influenced by social media or as in the case of an older generation, influenced through the newsfeeds of the younger family members. In each case, social media and fashion go hand in hand and peer to peer endorsements have never been stronger.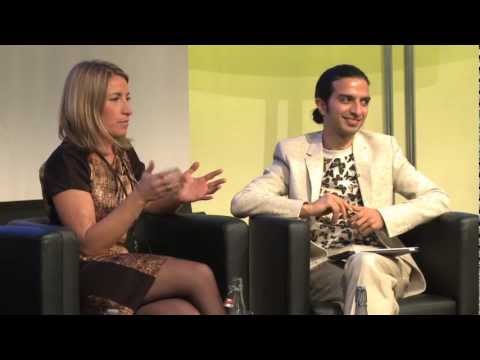 Topshop's innovative LFW collaboration with Facebook is a great example of a fully integrated experience answering a whole array of consumer needs. The page not only streams the catwalk show in real time, but also customises the product line up, available to buy immediately and introduces the affordable element through the matching beauty and makeup carousel. It allows fans to instantly download catwalk music and draws the twitter fans into a competition. It's an experiment, a fascinating one and one that obviously worked, as according to its CMO Justin Cooke, the page was extremely successful not only for engagement but selling the collection.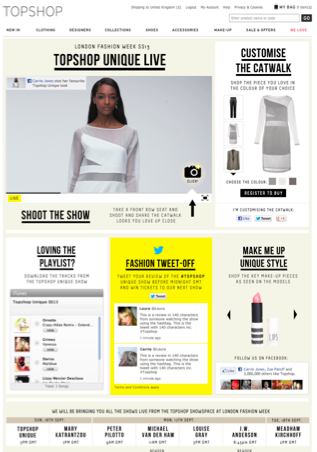 Customers love being engaged and increasingly, they want to be in the driving seat of the curated economy. Moda Operandi success relies on removing the 'buyers' from the consumption chain and letting the customers decide which catwalk looks they will order, pre-pay and get into production. With an average order value of $1,300 it's a luxury most can't afford, but where luxury goes, the rest will follow. It'll be an interesting model to see develop.
For most part, the current challenge for brands is to join up the etail-retail gap and to create customer experiences that support the purchasing journey. And that's a tough job. In the words of Christina Plakopita, founder of Netrobe .com "There used to be a day we dedicated to shopping. We knew what we needed and where to get it from. Now we are bombarded with information and make impulsive buys to then realise that they don't fit our wardrobe and our style, let alone the matter of size'. Netrobe's mission is to digitise wardrobes to enable better, more considered styling and purchasing decisions - a happier experience and a better fit.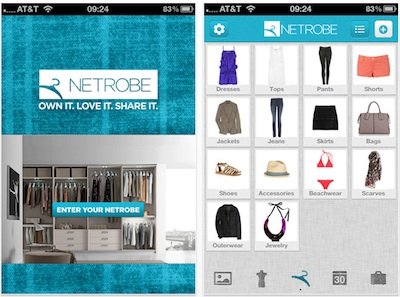 The Fashion Pitch, established to promote and support the budding fashion tech entrepreneurs included a number of bright pitches, most prominently for augmented reality and smart search:
@Snapfashion got the $65,000 prize from Index Ventures and M&S to support the growth of its visual smart search. Jenny Griffiths the charismatic founder and self confessed geek who has built the core tech behind the startup, has confidently charmed the audience and the judges and can add this prize to her CISCO Big Award 2012.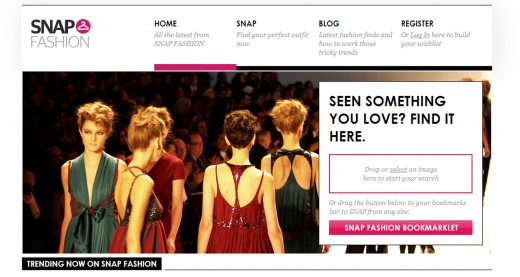 @Perch, a curious interactive retail surface, which allows customisation of individual product spots to feature colours, sizes, multimedia and other fun things to play with in store, received the special recognition award. Judging by the McQueen experimental shop in Mayfair, brands are increasingly investing into getting people through the door for an engaging, shareable experience. One to watch.
Say Duck and TriMirror presented their augmented reality tech wizardry. Both look like a fun social experience on the premises of one's room.
Finally, to round up the day, in swayed the glamorous, inspirational godmother and pioneer of the online style world - Natalie Massenet, the founder of Net-a-Porter, to receive the special inaugural achievement award, presented by the British Gvernment's GREAT campaign.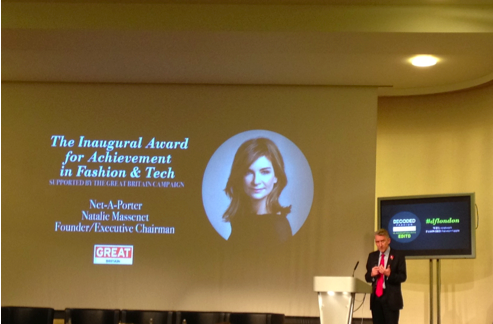 To whoever doubted that fashion and tech is an explosive combination: our mobile devices are with us everywhere and 'Always On' and as Diana Vreeland said 'style is a way of life, without it we are nothing'. We are in for an enjoyable 3.0 adventure.