In a stylish corner of London, a stone's throw from Fortnum & Mason, Cartier and Louis Vuitton, lies a collection of rifles, revolvers, bullets and hand grenades. But this isn't a police warehouse, an army storage unit or even a street gang's secret cache - it's an exhibition by a Mozambican sculptor who turns weapons into works of art.
Maputo-born Gonçalo Mabunda, 37, moulds, solders and welds deactivated AK47s, land mines, tanks and other armoury left over from his country's 16-year civil war into chairs, thrones, masks and statues. He may even throw a soldier's old helmet or boot into the mix.
Some of Mabunda's newest sculptures - chairs with arms made of rifle butts and masks of contorted faces with bullets for eyes - are on display in a solo exhibition at the Jack Bell Gallery, SW1, until March 17.
And while the rusted pieces make for fascinating viewing, their impact could be greater than you think.
"Every time I destroy a bullet I save a life," Mabunda told me in Maputo late last year as he prepared for the London exhibition. "An active bullet can kill someone, it can go through someone. By disabling it, maybe we're stopping someone from being killed," he said in the back yard of his home, surrounded by scraps of metal and the remnants of war.
Mozambique is still recovering from decades of violence - a war of independence followed by a bloody civil war - and the southeast African nation remains one of the world's poorest countries.
While the civil war ended in 1992 and a peace accord was signed in 1994, the legacy of years of fighting continues to blight the population. Both sides hid or buried weapons, fearing a return of violence, and those arms, including unexploded landmines, are scattered across the country. Farmers come across them in their fields or village children stumble on them on the way to school.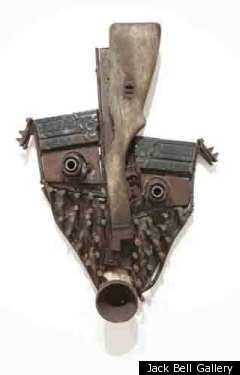 Since 1995, however, the Christian Council of Mozambique, a body of local churches, has been scouring the country and collecting weapons from individuals and communities. Some pieces are destroyed while others are deactivated and given to men and women like Mabunda to sculpt into art. Crucially, they're never given to the army or police.
Some 800,000 weapons have been collected since the council launched its programme, called 'Transforming Guns into Hoes'. The name, the deputy director of the council Nicolau Luis told me, is inspired by a Bible verse from the book of Micah: 'They will hammer their swords into ploughshares and their spears into pruning hooks.'
In a country where 75% of people live on less than $1.25 a day, it's not surprising that many want to hold onto their guns to stay safe or as a source of income should the going get rough - guns are easily bought and sold within the country and across its porous borders. But through the programme, which is backed by international donors, thousands of Mozambicans have voluntarily exchanged their weapons for useful tools, materials or grains.
"When someone hands over a gun, we give them a zinc roof or cement so they can build a house, or we give them a bicycle, a sewing machine or tools for farming,' said Luis, who works closely with Mabunda and the artists' cooperative - Nucleo de Arte - he belongs to.
For Mabunda, his art helps to promote peace in his country by encouraging people to hand in their guns but his sculptures also make a broader statement about the futility of violence and the value of democracy around the world - Mozambique's arms-into-art initiative is also being copied in African nations that are at war or recovering from it.
"By turning bullets into art, I can change something dangerous into something beautiful," said Mabunda.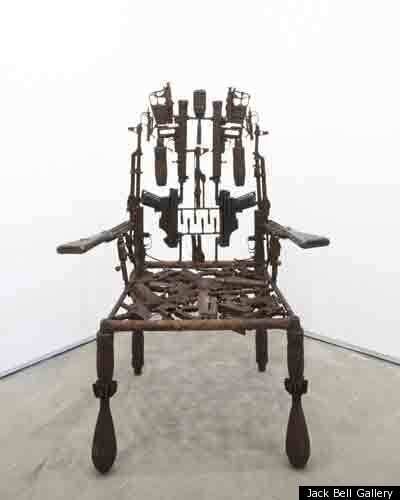 His masks, of which there are many, represent the dark interior that can be hidden by a pleasant exterior and the false image so many people hide behind. "You get gangsters who look really good - they wear a tie and aftershave - but that doesn't reflect who they are inside."
Mabunda's chairs, or thrones as he calls many of them - fused out of rifle butts, revolvers and pieces of shrapnel - make a statement about those leaders, particularly on his continent, who have used force to obtain or remain in power.
Nobody knows how many weapons entered Mozambique during decades of war or how many are still buried or hidden, but Mabunda hopes his art will make people in his country and across the world think twice before taking up arms or resorting to violence.
Gonçalo Mabunda's solo exhibition is at the Jack Bell Gallery, Mason's Yard, London, SW1Y 6BU, until 17 March, Tues-Sat 10am - 6pm.