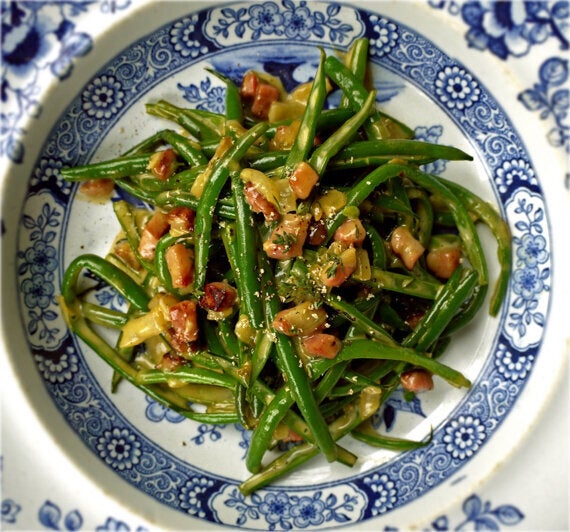 I will eat green beans with anything. I adore them. But even I get slightly over-whelmed by them come August. It's been a very slow start to the bean harvest thanks to our erratic English weather. However, now the sun's arrived, they have shot up! And I have a huge glut of green beans as a result - at least a kilo every couple of days.
I made this green bean carbonara for supper the other night (from The Gluts & Gluttony Cookbook and Growing Guide) and, because I was feeling brave, I had a crack at filming it. Apparently it's what the cool kids do these days - film themselves doing everyday things. But don't worry, I won't be inviting you to join me on snap chat next or buying a selfie-stick, both of which are strictly for the under-30s and, frankly, unforgivable.
Anyway, to the veg! This is one of my favourite because is hearty and filling and the beans are the hero of the dish. Any bean is good here - French, bobby, runner, even broad (as you'll see in the video, I'm quite keen on that last option). If you've got them, throw in some peas and mange-tout as well - all legumes welcome. It happens to be carb' free and is perfectly filling as it is, but you can, of course, add pasta at the end if you like.
Boil a pan of water then pop the beans in for 3-4 minutes before plunging into iced water to keep them green. Drain the beans and split down the middle longways along the seam to create bean ribbons. When cooked, you will find the beans easily come apart in your hands.
In a deep non-stick frying pan, brown the pancetta over a high heat whilst you finely dice the shallot and garlic. Add these to the pancetta with the thyme, turn the heat down and sweat until soft then add the beans and leave everything to muddle together over a low heat for a couple of minutes.
Meanwhile, beat the egg yolks, cream and parmesan together in a jug and season to taste.
Remove the frying pan from the heat then pour in the egg mixture and stir vigorously. The egg will cook in the heat of the pan so keep it moving or you'll have scrambled eggs. Loosen with a little water if needed and check the seasoning. Serve with a glass of something crisp and cold whilst overlooking your tangle of French bean wigwams.
Related