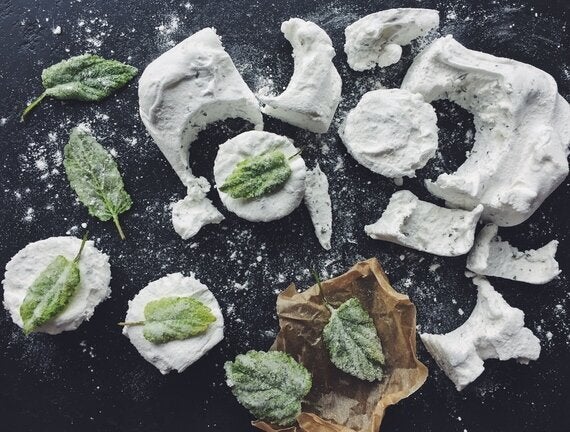 You know those days when you are really up for a bit of a faff in the kitchen? When you want to enjoy some time gratuitously wasted in tinkering. To decadently fritter away a couple of hours making something wonderful but totally pointless. Well, that was me yesterday.
I was thinking about marshmallows (which is not as uncommon occurance as you might hope) and gazing out the kitchen window when I noticed that the lemon balm was taking over the flower bed. Something must be done. Quickly. It has had thoughts of flower bed domination before (see previous recipes on my blog Lemon Balm Drizzle Cake and Lemon Balm Sorbet) and I learnt enough from those incidents to know that immediate action is required to prevent it taking over since it grows at a similar speed to Japanese Knotweed. Unsurprisingly given my marshmallow daydreams, that action became a recipe - lemon balm marshmallows with candied leaves.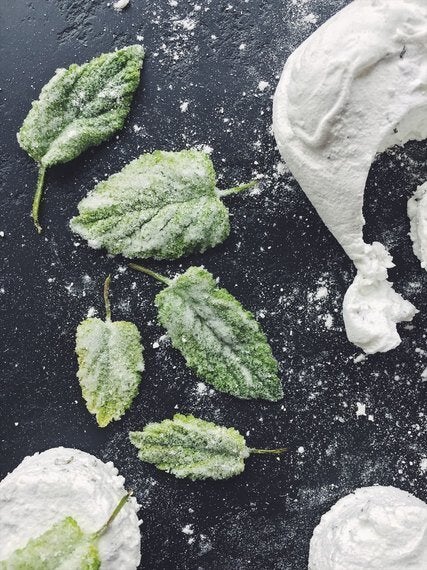 Now, marshmallows are quite easy to make but do require a certain amount of faff, mess and precision. But, as I said, I was feeling like a faff. Also, marshmallows like something crunchy to accompany them - it somehow accentuates their voluptuousness - so I set about making some sugared lemon balm leaves as well. Which involves a paint brush - ultimate fussy cooking: perfect. And a final note, lemon balm smells like Jif diluted in limoncello when picked, but it becomes, fortunately, more mellow with cooking.
Lemon Balm Marshmallow With Sugared Leaves
25g leaf gelatine (about 15 sheets)
Whip the egg whites to stiff peaks in a free-standing mixer like a KitchenAid fitted with the whisk attachment. (Don't use an electric or hand whisk as the rest of the process requires the mixer - sometimes you just can't get away from the tech I'm afraid.)
Put the sugar in a pan with 250ml cold water and add the lemon balm and lemon zest. Dissolve the sugar gently over a medium heat.
Once the sugar is dissolved and the liquid is clear, turn the heat up and boil the syrup until it reaches 122ºC. This will take 5-8 minutes and you will need a sugar thermometer to be sure you get the right temperature.
Whilst the sugar does its thing, soak the gelatine in cold water until it softens (about 2 minutes).
When the sugar is ready, and taking great care (sugar burns are memorable to say the least), remove the leaves and slowly pour the sugar syrup into the egg whites with the beaters turning on a slow-medium speed.
Squeeze all the liquid out of the gelatine and add it to the egg whites and sugar mix too.
Leave the mixer on and beat the mixture for 6 or so minutes until glossy and thick. When the bowl is cool enough to touch it should be ready.
Meanwhile, mix the icing sugar and cornflour together. Grease a baking tray with the oil then coat the inside with a little of the icing sugar & cornflour.
Tip the marshmallow mix into the prepared baking tray and leave to set at room temperature for 2-3 hours.
When set, slice with an oiled knife and toss in the remaining cornflour mixture. It will keep in an air-tight container for several days.
For the sugared leaves, whip the egg white until frothy then brush a lemon balm leaf with egg white and sprinkle with sugar. Pop the leaf on a sheet of parchment to set and repeat. The knack is to make sure the leaf is wet all over with egg but not dripping as this will overwhelm the leaf and make it droop. When dusting with sugar, don't just plonk the leaf into a bowl of sugar as this will make it clump together. Instead sprinkle with sugar whilst holding the stalk of the leaf. Leave to set for 5 hours, or ideally overnight then serve the marhsmallow with a leaf on top.