On Thursday a young woman standing before a judge to plead to be able to live in the same country as her family.
Dorinder Lindor and her immediate family all live in the UK. She has a mother here, and three brothers aged 19, 16, and eight. Unlike Dorinder, they all have British passports. The Home Office has notified Dorinder that it intends to deport her.
Dorinder, 21, looks after her littlest brother, Rollino, while her mother works long hours as a cleaner. The two siblings dote on each other. And now she may not see him for years.
Her mother, frail and helpless, spent Monday afternoon at Dorinder's lawyers office. At certain moments the severity of the situation strikes her and she curls over and cries. Through no fault of her own her family is being divided, the lawyer tells me.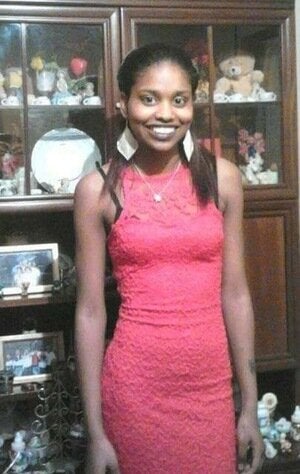 Dorinder Lindor, 21, is in detention at Yarl's Wood
Dorinder's family hail from the Chagos Islands, a British overseas territory in the Indian Ocean. They were all born in Mauritius, however, since they were not permitted to be born on their ancestral land.
The British government expelled the people of the Chagos Islands almost 50 years ago with the purpose of allowing the US to build an airbase on the largest island, Diego Garcia. It has been host to America's largest overseas military base ever since.
The forced eviction was as cruel as it was crude. Many families were chased out of their home at gunpoint by the British army, forbidden to return.
Dumped on the docks of Mauritius and the Seychelles, the Chagossians were forced to live in slums and animal sheds. No help came from the country that had made them homeless.
The Chagossians faced great economic adversities in the Seychelles and Mauritius, and were looked-down upon by the locals. When the financial crisis took hold in 2008 many lost jobs and decided to move to the UK in search of a better life.
Dorinder arrived in the UK when she was seventeen and settled in Crawley, which has a newly-established community of Chagossians. Her mother had saved money for years to be able to afford to bring the family here. She dreamed of a better education for her children.
Around the time of Dorinder's 18th birthday she applied for indefinite remain to leave in the UK. Her application arrived at the Home Office two days late, and on these grounds it was refused.
The teenager was given a right to appeal, which she didn't exercise right away. Barely able to speak English, the documentation intimidated her and it was difficult to understand. She didn't know of it's importance, and now she's paying a devastating cost. She faces imminent deportation to Mauritius.
Throughout the last three years she has been required to register weekly with the Home Office in Croydon. Then, on August 20th, out of the blue, she was arrested during one of these sign-ins, and whisked away to Yarl's Wood Detention Centre, where she's remained until now.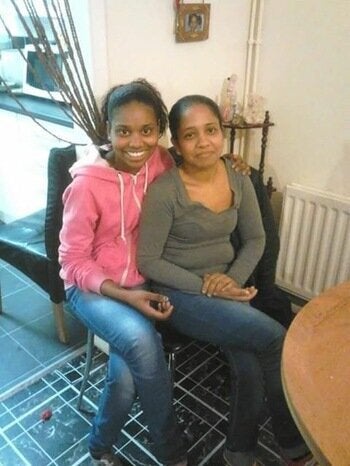 Divided: Dorinder and her mother, Corine
There are fourteen British Overseas Territories, which are territories under the jurisdiction and sovereignty of the UK. They include the Falkland Islands, Gibraltar, the Cayman Islands and Montserrat. Queen Elizabeth is their head of state.
A citizen from one of these territories are classed as British by descent, but they cannot pass on their citizenship to their children if they are born outside the UK or a qualifying territory. The fact that children of Chagossians are born outside their motherland is no fault of their own, but the result of their enforced exile.
The Chagossians cannot have their children in their corresponding British Overseas Territories as they are not even permitted to set foot there.
The Home Office allows Chagossians born in exile between 26 April 1969 and 1 January 1983 to become British Citizens by descent upon registering. But they cannot pass this citizenship onto their children, unless they are born in the UK.
Instead, the younger Chagossians are forced to undergo the difficult and expensive process of paying for long-stay visas until they've lived here long enough to qualify for a passport. These can cost around one thousand pounds each, a vast sum for people working long hours on minimum wage, or not working at all.
The majority of Chagossians do not speak English when they are arrive, which makes the paperwork a nightmare. They are left wrangling in red tape that they do not understand, and get little support with.
If Dorinder is deported to Mauritius she will have no place to live there and no close family or friends to support her. She does not know where she'll go or what she'll do.
"Dorinder is part of our community. We need her here," says Rena Ernest, one of her Chagossian neighbours in Crawley.
The Chagos Islanders born in exile should be registered as British citizens. They are being penalised through no fault of their own. The UK has caused pain and suffering to these people for over half a century. This country should be working hard to make amends, not utilizing bureaucracy to split vulnerable families apart.