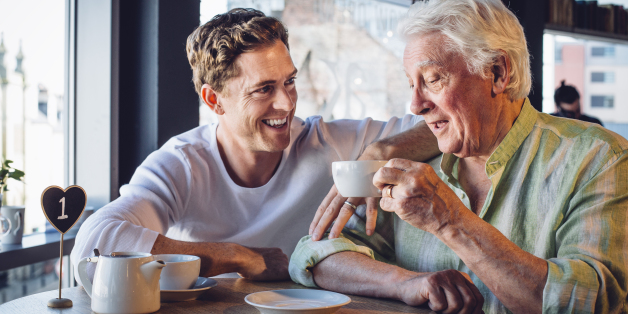 SolStock via Getty Images
Being a new Dad is hard and the numerous postnatal support networks on offer to new mums just aren't there for fathers. Having suffered from postnatal depression twice following the births of my two children, I have learned a lot about how to cope (or not) as a new Dad. I've put together these five actions to keep at the forefront of your mind:
1. Mark the little wins. Re-adjust your expectation of what is a win. This could be the baby sleeping for an hour longer, laughing with your partner, listening to music that gives you a boost, taking the dog for a walk, or receiving or giving a compliment to your partner. Simple things that you previously took for granted, but if you value and notice them, you will feel like you're winning.
2. Take time to catch up with your partner. 7pm was always a time we aimed for and it gave us chance to catch up on the day, have a cuppa and work out who was going to do the late shift that night. Laugh as much as you can and re-establish a shared interest that you can take up at home - watching a series on Netflix, for example.
3. Learn to be flexible. Remember that having a schedule for the baby and sticking to it hour by hour works for some people, but there are times where you need to adapt and work around it. It's not the end of the world if you're 10 minutes over on the scheduled nap time.
4. Find a work/life balance. The boss. I get it, you don't want to rock the boat, but if you don't ask you don't get. If you're struggling with workload, speak to a colleague. Can he/she take on added work to help you out? Can you work from home one day a week? I'm sorry to say this, but your male pride needs to be suppressed a little at this point. You need to care for yourself and, of course, your family. A boss - female or male - who doesn't give you some slack, isn't someone you want to work for long-term anyway.
5. Don't be afraid to ask for help. 10 years on from the birth of my first child and my first bout of postnatal depression, and the support system still isn't there for Dads. My advice would be to talk to Dads you know, ideally those who are six months to one-year post-birth. Even if these people aren't the 'type' to talk openly, I bet that after going through the experience of labour and the newborn days, they will be a lot more open and a lot more willing to talk about how they felt and what they learned. If you would like to talk to somebody confidentially - pre-birth or post-birth - I run The Gentlemen's Dads Club. I'm not a counsellor. I'm not a doctor. I'm a Dad who has been through the mill with parenting and has years of recruitment experience, so I know how to approach the work/life balance dilemma and what happens if you don't get the relief. And I'm non-judgmental, which is hugely important.
Finally, you are doing a good job. I promise you are.