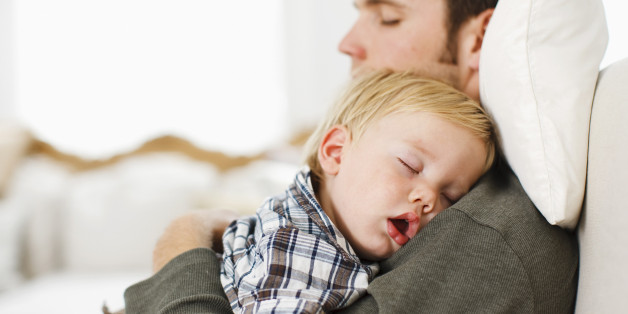 Daly and Newton via Getty Images
I run the Gentlemen's Dads Club and I'm part of The Parenting Chapter as a dad expert, I had a life that looked perfect on paper, but after the births of my two children I struggled to cope. Here, I explain how I overcame postnatal depression and why it spurred me on to help other men in the same position
March 2013: I'm sitting on the sofa holding our two-week-old son with tears streaming down my face. What have I gotten myself into, again? I'm a second-time parent and know all too well what I'm about to go through. A lack of sleep, and financial and emotional pressure will soon follow. I'm dreading the next few months and don't know if I can do it. Right now, I'm experiencing so many conflicting feelings - one minute I'm confused and in tears, and the next, I'm full of love for this beautiful innocent child and want to do everything I can to protect him. But I need to sort myself out, man up and get on with it. I'm the 'provider' financially and need to remain strong for the sake of my family. I can't do it though. I really can't.
My name is Kevin. I have a beautiful wife, two lovely children and a successful career in recruitment. I also play bass in a band. On the face of it, I have it all. Except I feel the complete opposite. This was me four years ago when I was suffering with Postnatal Depression, for the second time. I went from feeling overwhelmed by the experience of having another child, as many parents do, to considering doing something to myself that would've been irreversible. I've detailed my struggle with getting help from our care system, which is mainly geared around supporting the baby and mother and identifying mental illness in her, but not the father. Something needs to change.
It's fast approaching 11:00pm and it's my turn to do the dream feed. Everyone talks about how this is the feed that Dads take on and how it gives them a chance to bond with their baby, stare into their eyes and look at them in amazement. Except this isn't what I'm thinking right now.
Son, please take the bottle. Please stop crying. Please hurry up. I just need you to go to sleep so I can put together that urgent report that work is chasing me for. My boss knows that we've just had a baby, but he doesn't seem to be giving me any slack. I have a music track that I also need to learn for the band that I play in. My gut is getting bigger as I've not exercised in weeks. I feel overwhelmed and a mess, a failure even.
Would anyone notice or care if I just ran away? I could just pack a bag, jump in the car and drive. Drive where though? I map it out in my head - pack my bag, leave my phone on the side and run. Actually, would I need to pack a bag? Not sure. Christ, I can't even make decisions any more! What has happened to me?
I suddenly think back to when my wife attended a support group for new mothers after our first-born arrived, as she was struggling with how much her life had changed. I started wondering whether such a thing existed for blokes? But actually, would I want to sit with a group of blokes discussing feelings, crying and hugging one another? No thanks. What I really needed was somebody I could talk to one-on-one, who had been in the same situation recently. Somebody who knew how I felt, could offer advice on how I could deal with my increasing workload, better manage my time, help me to bond with the baby and find time for exercise, because that always used to make me feel better. I didn't want to see a counsellor and couldn't afford to pay for one anyway. Nobody seemed to offer what I needed.
I'd asked our midwife if there was anyone I could talk to about how I was feeling and was told she would look into it. I then talked myself out of the idea anyway (which I tended to do with anything positive at the time). I didn't want to talk to a female doctor and have the inner fear that she's judging me. I imagined her thinking: "It's ok for you, but think about your poor wife who carried the baby for nine months and then had to go through a pretty traumatic birth." I constantly struggled with the societal 'norm' surrounding men and dads, and how blokes just don't seem to talk about suffering postnatally. I searched on the Internet for experts who specialised in helping dads-to-be or new dads adjust to family life, but couldn't find the right help.
Sadly, this story doesn't have a happy ending with me meeting somebody who removed me from the darkness. Instead, and over time, I got on with life. I brushed it all under the carpet. It was only when I decided to quit my job in recruitment and retrain as a coach that I realised I wanted to specialise in helping dads by preparing them for the parenting journey and guiding them through it. During this period, I came across similar people who had experienced and been diagnosed with postnatal depression, and I recognised that I had been through exactly the same. I can't say it felt good to have a label, but it gave me some degree of closure. Dads, if I can get you to change anything, it would be not to bury things under the carpet, as it will rear its ugly head at some point in the future.
The other thing I want to tell is that you're not a failure. Being a parent is challenging and nobody gets it 'right', whatever right looks like. If you recognise the same feelings in yourself, talk to somebody. I'm here. Prevention is better than cure, but if you're living through this right now, there is light at the end of the tunnel. Although it doesn't feel like it at the time, and everyone keeps saying that things will get easier but it feels like the complete opposite, with help it honestly does.
Finally, you are doing a good job. I promise you are.
Gentlemens Dad Club http://gentlemensdadclub.com/
Parenting Chapter https://www.theparentingchapter.com/