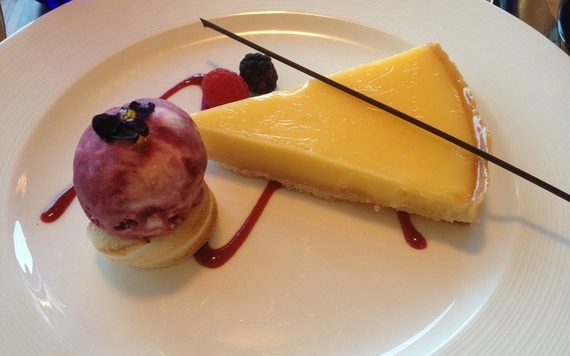 (Lemon tart at Chelsea Riverside Brasserie)
I love London, almost as much as I love food - luckily for me, the two go hand in hand. In fact, the best thing about living in London is the sheer unparalleled variety when it comes to dining out. Rarely do I ever turn down the offer to try a new restaurant or pop-up. Nor will I turn my nose up at the more unusual choices either. Anything from a trendy new eatery, to a random back street dive, to fine dining in the more established restaurants to be found around London, I get around (when it comes to food that is).
Don't get me wrong, I am no disillusioned Londonphile. The queue for hotdogs and champagne at Bubbledogs is ridiculous; the sour dough pizzas at Franco Manca (although good) are not good enough to tolerate the shortage of seating and the idea of crocodile, wildebeest, garlic crickets or scorpion at Archipelago is a step too far, even for me.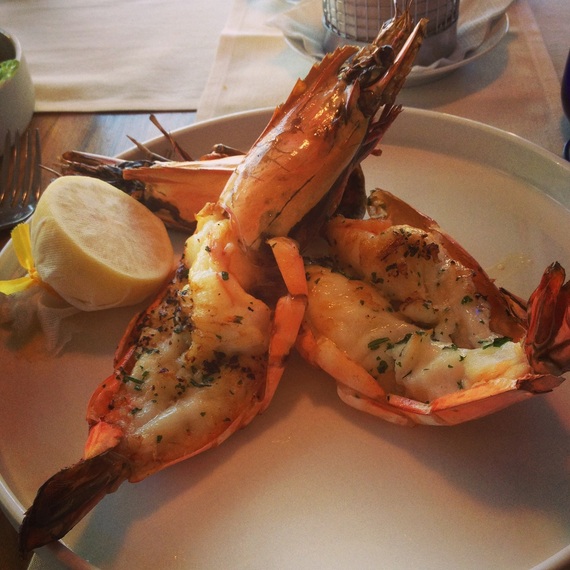 (Prawns at Chelsea Riverside Brasserie)
Yet, in a place where we are all spoilt for choice when it comes to delicious food, I continue to be grateful.
Oh, wait...that is until I am asked to recommend somewhere.
The truth is that after eating in so many London restaurants, I find it extremely difficult to recommend just one (first world problems), because there are just too many variables. Ask me where to get great tapas and I can give you 5 good suggestions, but in order for me to suggest just one, I will need to know more than you just 'adore tapas!'. Are you going with friends or on a date? Do you like contemporary or traditional family restaurants? What is your budget? What about location? Do you like attentive waiters or do you prefer to be left alone? What day and time will you be dining? etc.
In short, it's a hassle.
So, with this in mind, I have put together an easy guide to eating out in London. These places may not tick every single box, but they are good options for anything from chocolate cake, to tapas to a working lunch...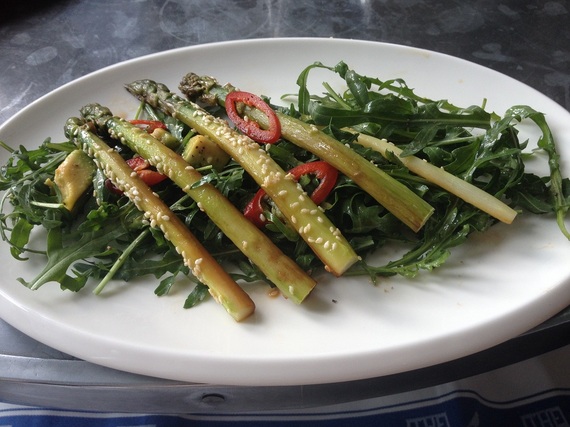 (Asparagus starter at The Pearson Room)
Best all rounder:The Chelsea Riverside Brasserie
Part of the Chelsea Harbour Hotel, this classic brasserie has a fantastic menu - if slightly pricey. A great view of the harbour, first class service and exceptional food makes this place a must visit.
Best for working lunch and dinner:The Pearson Room, Canary Wharf
A real gem in Canary Wharf, the food here has an unpretentious quality and is exceptionally good - as is the wine list. An ideal option for client schmoozing. Check out a full review here.
Best for a posh breakfast:The Botanist, Sloane Square
A swanky restaurant and bar that is bright, airy and super stylish. A perfect place to grab breakfast or lunch, serving eggs Benedict to kill for.
Best for dessert (post shopping trip): Cafe Godiva, Harrods
Words cannot describe...this is the ultimate chocoholic's fantasy. Chocolate cakes, drinks, biscuits and so much more. The perfect post shopping pick-me-up and literally the only chocolate cafe in London.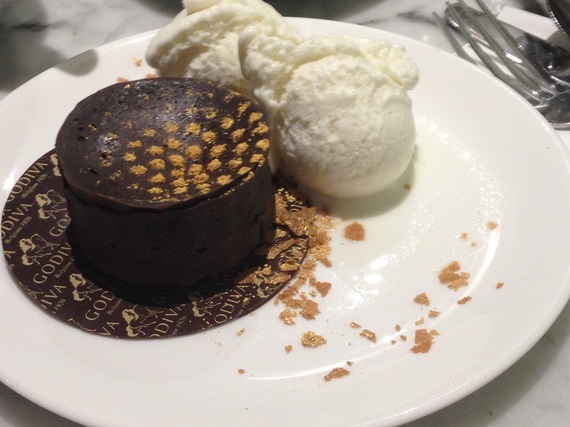 (Chocolate cake at Cafe Godiva)
Best for tapas:El Pirata, Mayfair
Some of the very best tapas to be found in London. This place is busy every night with a loyal customer base who keep coming back for the delicious food and great family feel. Excellent service too.
Best for tasty and affordable tandoori:Spice Village, Tooting
Delicious, affordable Indian and Pakistani food in a refreshingly unfussy environment. Always full of Indian and Pakistani families (a very good sign).
Best for huge portions of Caribbean food:Cottons Rhum Shack, Shoreditch
Literally enough food to feed an entire family on one plate. Well seasoned, authentic Caribbean food served in an urban cool, Caribbean themed environment (Boxpark). Check out a full review here.
Best for pub lunch and dinner: The Well, Clerkenwell
Pub lunch and then some! One of the best pub menus around, serving lobster and desserts that will make you giddy. Great vibe and chilled out friendly service. Check out a full review here.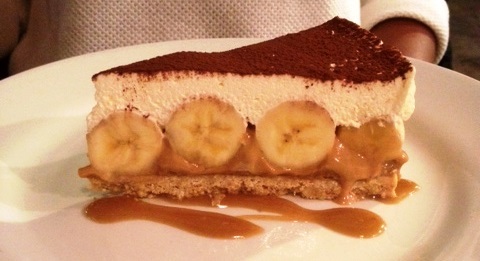 (Bannoffee Pie at The Well)
Best for (simply) fish: Simply Fish, Shoreditch
Deliciously fresh fish, cooked with bags of flavour. Situated at the top of Boxpark, the vibe is super fun and there is a great bar attached too.
Best for fresh, seasonal British food:Bumpkin, Notting Hill
They use fresh seasonal produce which you can really taste. Every dish is uncluttered, with good portions and perfect taste combinations - all beautifully served. The sticky toffee pudding haunts me to this day. Check out a full review here.
Best for lunchtime sushi:K10, Moorgate
If you are based anywhere near Moorgate, get yourself down to K10. This is truly excellent sushi, in what appears to be a fast food restaurant. Don't be fooled, I am yet to eat better sushi anywhere in London. Busy at lunchtimes so be prepared. Check out a full review here.
Best for Burgers:Buckowski, Brixton
Top of my list for burgers of any kind. Buckowski is my go-to for Saturday afternoon burger love. That is all. Check out a round-up of best veggie burger eateries here.
Best for accessible Latin fusion: Las Iguanas, Spitalfields
Do not be put off by the fact that Las Iguanas is part of a chain. The food is a delicious fusion of accessible Latin dishes and they serve the most perfect plantain. Make good use of the happy hour as the cocktails are immense.
Best for vegetarian meals:Mildreds, Soho
Vegetarian food - but not as you have ever known it. If you are a veggie or you are taking a vegetarian out for a meal, you will be mad to go anywhere else. They do not take bookings and are usually pretty busy.
Best for Sri Lankan eats: Priya Maamala's, Walthamstow
A wonderfully homely place, with exceptional service and the most amazing Sri Lankan food. Every single dish on the menu is prepared with flavour in mind, another must visit.
Best for Doughnuts:Dum Dum Donutterie, Shoreditch
Baked rather than fried, these doughnuts are apparently healthier. But who cares? They are so good, a half cake half doughnut hybrid. #amaze
Best for Sunday dining:Chapters, Blackheath
Based opposite Blackheath common, Chapters resembles a large continental cafe or brasserie. The food and service are fantastic with something for every palate. Chapters is perfect for Sunday lunch, when a local pub just won't cut it. They also do a venison burger which is noteworthy.
I will be adding to this list with more suggestions, so feel free to share your best experiences in the comment box below.
For more food reviews go to: http://www.styleable.co.uk/socialista/
All photos: Kiesha Meikle