You no longer need to climb Everest to see the views from the world's highest peak or get yourself to a race track if you want to be the next Lewis Hamilton. This technology is even being developed so you can travel light years to space without stepping outside of your home. All you need is a VR headset such as the Oculus Rift or a cave automatic virtual environment.
It may have started out as a form of entertainment but now it's become a vital tool that can change the lives of many people including the disabled children I teach.
I'm an assistive technologist for the disability charity Scope and I'm planning to use VR to help my students live independently.
VR allows disabled people to not only practice things that can help them with life skills, but it can also give the user an opportunity to experience something that they wouldn't normally be able to due to their impairment.
A virtual environment is an ideal way of teaching particular skills in a safe space before they try them out in the community. So far the technology has been extensively tested on people with autism and has demonstrated it can help them to develop the skills necessary for independence.
One example is a virtual reality system developed at The University of Haifa, Israel. It featured a number of scenarios which were all designed to teach autistic children how to cross a road safely. Researchers Prof. Naomi Josman and Prof. Tamar Weiss from the university's Department of Occupational Therapy, found that a month-long program of virtual reality training could help the children dramatically improve their ability to cross the road safely.
Experiences like this will massively improve young disabled people's self-esteem and give them the confidence to engage in basic everyday activities.
For young students in an educational setting, this technology can be used to prepare them for life after school when they are living in their community. It can make basic everyday experiences they are not used to much easier, when they next need to do it alone. Simple things most people take for granted like exploring an area they are moving to or navigating a busy street or shopping centre.
Virtual reality can also eliminate safety concerns people have when learning to manoeuvre a wheel chair in traffic or other potentially dangerous situations.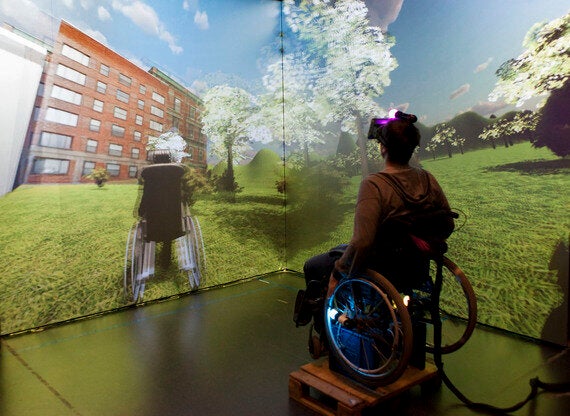 Undeniably it is very impressive technology, but it doesn't come without its critics.
Even though VR has been talked about for a long time, the technology is still in its infancy and some researchers wonder whether long-term use might cause permanent changes, especially in children, whose brains are still developing and therefore are more easily modified than those of adults. Some people also worry that steady exposure to virtual reality could alter the way people perceive the real world.
Concerns have also been raised about the effects of people mostly communicating with others online. But on the other hand the internet and VR-enhanced communications can also be a great way of bringing people around the world closer together and enable disabled people with restricted mobility and independence, to interact with a wider network of people.
Opinions may still be divided on VR but undoubtedly this is a market that is predicted to grow as fast as smart phones and the more companies and developers that get involved, the more accessible and cheaper VR will become.
If you fancy checking out virtual reality but don't want to fork out on something expensive then check out some of the cheaper alternatives such as Google Cardboard.
For more information on VR in SEN check out
For more information on the International Conference on Disability, Virtual Reality & Associated Technologies visit: http://www.icdvrat.org/
The disability charity Scope is working in partnership with Virgin Media to transform the lives of disabled people through digital technology, this includes funding for new virtual reality equipment in Scope's schools.
HuffPost UK Tech is running a two-week focus on our Tech For Good campaign, which aims to highlight the technology that is driving social change and making a positive, long-lasting difference to our world. If you'd like to blog on our platform around this topic, email ukblogteam@huffingtonpost.com with a summary of who you are and what you'd like to blog about.