I am a tortured woman. I adore clothes, I love fashion and I look forward to updating my wardrobe with a few choice items every season. Autumn/Winter is my favourite! Not this year though. Nope, I am with child. Up the duffaroo. Now before you tell me off and say something daft like "But there are so many options for pregnant women these days", stop right there. You're clearly deluded. The lack of choice is bitterly disappointing, even if it is better than it was ten years ago! Yes, fashion is the more frivolous side to pregnancy but it still matters.
Sadly, just as your body confidence hits a low point, the message that you are no longer attractive enough to wear the latest trends is hammered home by most of the major retailers. What the hell is going on with maternity wear and why exactly are women forced to choose between frumpy, dull or just plain tacky? I don't want to wear horizontal stripes, dungarees or floaty floral maxis, thank you. Honestly, as a first time mum-to-be it's all come as quite a shock to me. I had higher hopes. Perhaps many brands believe that being pregnant means that you want to spend every single penny on pushchairs and baby grows; that you've effectively given up on yourself?
I resisted maternity clothes until I hit the six month mark and then s**t got real. I literally tore my wardrobe apart trying to find something to wear that didn't make me feel like a mammoth whale. My poor husband was lost for words as I stomped around the house in my knickers, mascara gushing down my cheeks. Miserable! Few of us manage to feel sexy or beautiful during this special time in our lives but buying yourself some nice maternity bits and pieces (if you can find them) does makes the physical process of pregnancy a little more bearable.
So with Christmas fast approaching and the temperatures dropping, there are some things that you'll need if, like me, you have a bun rising in the oven. I'd like to stress that I have searched high and low to find maternity clothes that I personally think are practical and look good. Of course, this is all completely subjective, although I really do hope it helps you.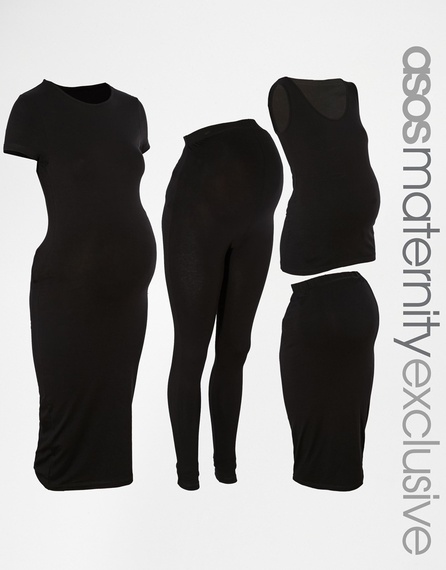 ASOS Maternity Essentials Pack, £45
Starting off with the basics (don't avoid buying these, trust me!) ASOS and New Look have fantastic packs that are affordable and include the essentials to dress yourself and your growing bump. You'll definitely want maternity leggings (several pairs), a long vest and a bump band is super handy too, helping you transition between 'normal' and maternity wear (it also smooths over your belly button). I love the fact that ASOS include a black maternity dress in their pack. This has been a staple for me; I've worn it under cosy sweaters and I've dressed it up too. Money well spent!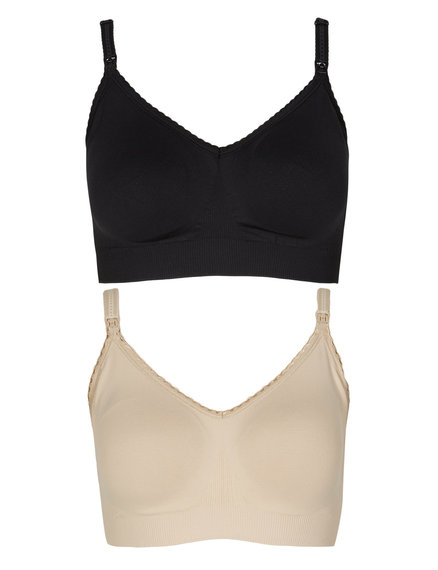 M&S 2 Pack Maternity Bras, £23.60
When it comes to underwear, prepare for a battle! The ladies are likely to be expanding at a fairly decent rate, so your sizing will be all over the place. Going to the shops for a fitting every month is unrealistic. Do yourself a favour and buy a few sizes online, then post back the ones that don't fit. You will need support but comfort is key here too. My favourite bras have been these from M&S. Although hardly pretty, they have saved me. I also bought some cute nursing bras from Heidi Klum's range, which are practical and don't make me feel matronly.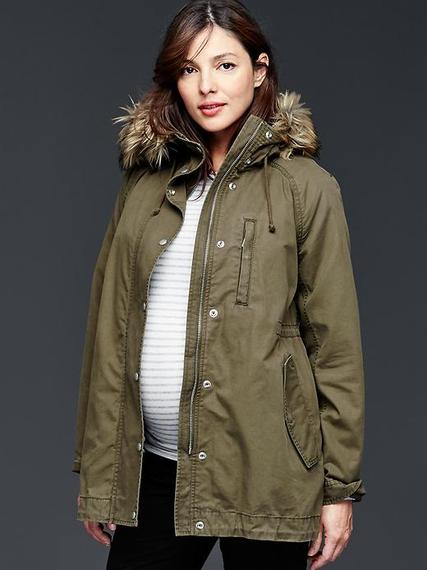 GAP Cotton Parka, £99.95
It's getting cold outside and if you're struggling to close your winter coat over your stomach you'll need to address this. Don't adopt the ostrich approach. You will need a coat if you want to leave the house over the next few months and not freeze to death. For everyday wear, a good parka is affordable, comfy and works with nearly everything. I found this one (see above) in GAP. It's got a detachable fleece lining, an incredible soft faux fur hood and adjusts to your ever changing waist size, so you'll get real longevity out of it. The fabric is excellent and it's a fair price, I think.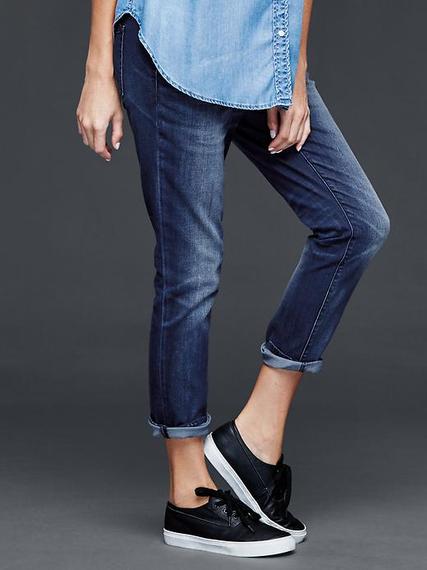 GAP Girlfriend Jeans, £44.95
FYI I've been really impressed with GAP's maternity range, especially their basic tops and joggers. If you're after jeans, you really don't need look anywhere else. There's a style to suit every mum-to-be. These full panel girlfriend jeans are my favourite; they're 87% cotton, so they feel super soft and I think they're a really good deal (online only). Do upsize though, for comfort.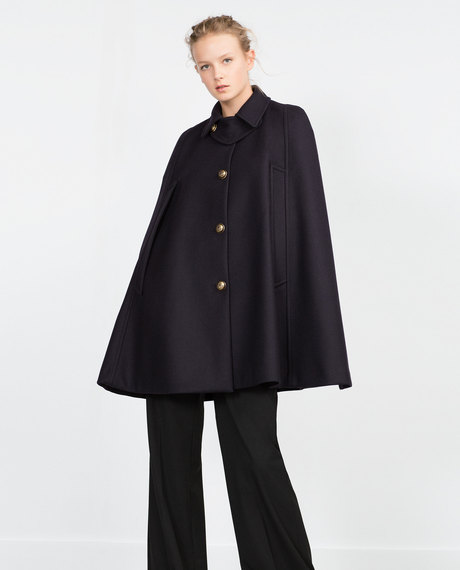 Zara Metallic Button Cape, £89.99
There is one trend this coming season, which every pregnant woman can embrace. That is the return of the cape! It's a fantastic way to dress up a look, keep you warm and give your bump solid coverage, if that's what you're after. H&M and Zara have the best selection on the high street, in my view. I bought this one, which is 75% wool and honestly, it's been one of my best buys yet. I'll be wearing this throughout my pregnancy and beyond.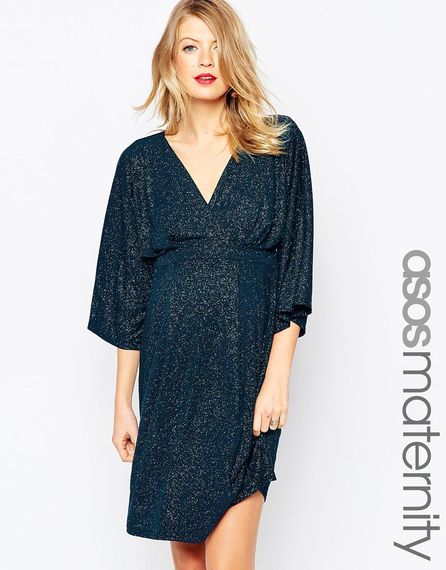 ASOS Kimono Dress, £35
Dressing up for an occasion is really tough and I've truly struggled to find options that aren't ageing, dull and/or overpriced. ASOS offer up the biggest selection online but to be honest I'm not a huge fan of many of the styles. For me, simplicity is the key. This kimono dress is flattering though and is a good glitzy option for the festive season.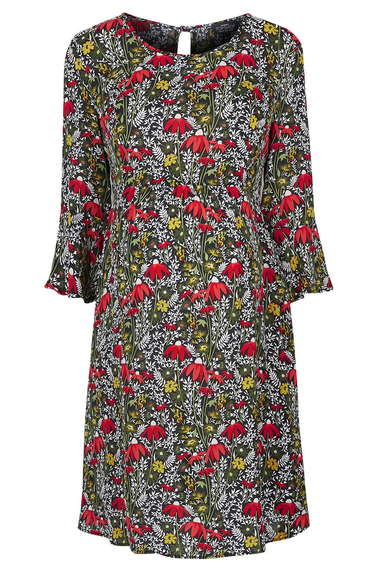 Topshop Maternity Poppy Print Dress, £48
I also found this sweet poppy print dress in Topshop, which I love. I've been a little underwhelmed with Topshop. My expectations were much higher; i thought there would be a bigger maternity range available. Saying that, I have picked up a few nice pieces and this dress is one of them. I wear it with biker boots but it looks super with heels too. If your feet will allow it.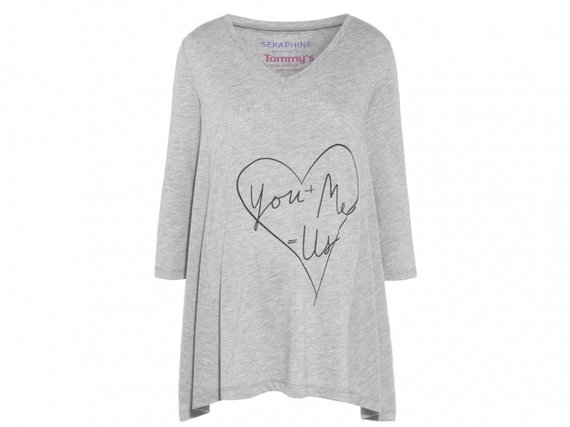 Seraphine Love T-Shirt, £29
Finally, many maternity slogan tees are cringe-worthy ('hands off the bump' or 'no-one leaves baby in the corner') but online maternity retailer Seraphine has a much classier option. This is the love t-shirt, featuring an adorable little slogan! All proceeds go to the baby charity Tommy's, which is dedicated to preventing stillbirths and miscarriages. I think it's pretty irresistable!