"We really need help to stay warm this winter," says Ibrahim* (10) who lives with his family in an Aleppo shelter after they were displaced from their home in Aleppo city by the ongoing conflict in Syria.
"I know my mum has no way to provide us with winter clothes. Our situation was quite bad last year but this year we have just no money in the house," says Ibrahim.
During my recent mission to Aleppo city, in northern Syria, I visited a large shelter hosting children and families displaced by the ongoing conflict. The conversations turned inevitably to their worries about winter. Like young Ibrahim, millions of conflict-affected children and families in Syria are bracing themselves for the descent into freezing winter temperatures. With more than 6.4 million people - including 3 million children - displaced from their homes, many live in temporary shelters that can provide scant protection from the cold and limited heating and availability of hot water for bathing.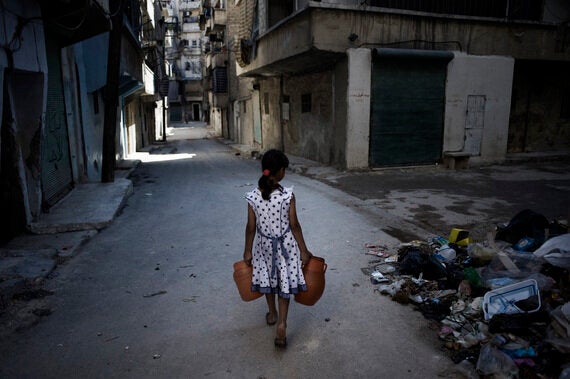 A girl, carries jerrycans of water down a street in Aleppo. © UNICEF/NYHQ2012-1293/Romenzi
Often these shelters are no more than open, unfinished buildings, without doors or windows, and sometimes lacking even external walls. Families make do with polythene sheets to cover holes and to try to stave off icy winds. Up to eight people can be squeezed into one or two rooms. In the northern regions of Syria, temperatures regularly plummet to sub-zero levels, exposing children to the risk of respiratory infections and other communicable diseases. With health services in the country stretched to the limits, the risk for sick children of being left unattended during the long winter months is present and clear.
Approximately 4,000 families are living in the shelter I visited in western Aleppo and many are already beginning to experience the harsh realities of winter. With night temperatures having dropped appreciably across northern Syria, these families are ill-prepared to protect their children from falling sick or worse. Most families, having migrated from the eastern side of the city, are in desperate economic straits and coping with the worst living conditions imaginable.
One family I met, who live in an incomplete building whose sides are open to the elements, are dreading what is ahead.
"This winter is going to be unimaginable," says Monaf*, a father of three children aged between 7 and 11 who all live in an Aleppo city shelter. "I shudder to think how my children will survive this winter."
Lina*, who lives with her three children the shelter I visited, has limited means to prepare for the winter ahead: "Being prepared means winter clothes for my children, warm bedding and heating in the house," says Lina. "This is how we used to prepare before the war forced us to leave our homes. As a single mother, and without work I cannot afford to look after the needs of my children. I worry all the time if my children will survive this winter."
Rawia*, 9 years old, told me she wanted to be help her mother in every respect, from cleaning the house to fetching water. "I also want to play but without proper winter clothes my mama does not let me go out of the house. I wish I had some winter clothes to be warm".
In order to help the most vulnerable children, UNICEF plans to provide 400,000 winter clothing kits for the most vulnerable children, across all 14 governorates in Syria. A fourth of the kits are planned for delivery in Aleppo alone. When I wrote this, some 8,000 of those kits have already arrived in Aleppo for distribution.
Each kit includes a winter jacket, woolen sweater, warm winter trousers, woolen hat, scarf and gloves, woolen socks, and winter boots for one child. The kits will be particularly targeted to the priority governorates of Homs, Tartous, Aleppo and Qamishly. Close to 220,000 kits have already been procured from local and international suppliers, thanks to donors in Canada, France, Hong Kong, Ireland, Kuwait, Norway, Sweden and many others. But additional funding of $7.2 million is required in order to reach a further 182,400 children.
I hope that we can reach these and more children with winter clothing this year. Each kit costs just $40, which seems a small amount to protect a child from winter. It would be great to be able to provide millions of kits to make a practical difference to the lives of children in Syria.