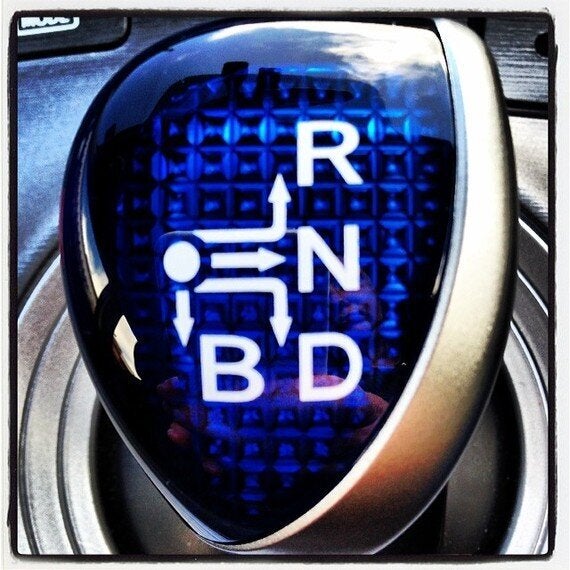 One of my secret ambitions is to cover the United Kingdom with round little stickers, showing where I have photographed or interviewed someone. So when Creative England asked me to photograph 80 locations in Gloucestershire, I was happy that another county would be complete. Sticking the 'dots' on my map to co-ordinate the route, I realised I wanted to not make any dots for real on our countryside.
I would need a car that was kind to the environment and to my pocket to cover all of the territory. As a photographer I often carry a substantial amount of equipment and this would be a perfect opportunity to show the space available a variety of cars.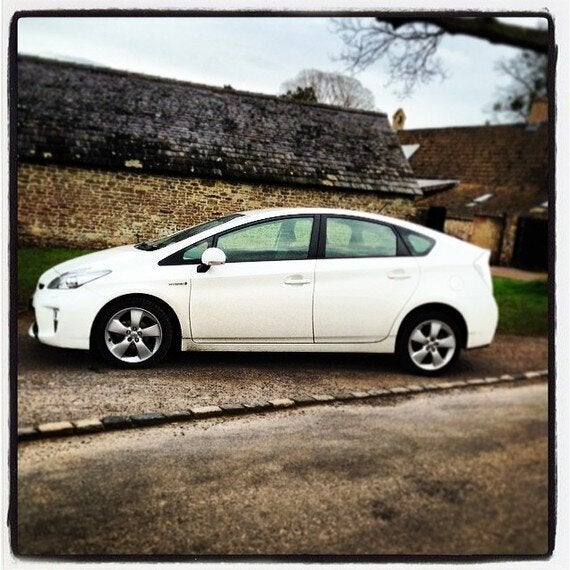 For the first week of locations, I took the Toyota Prius with 72.4 mpg this car certainly ticked the fuel economy box. Quiet as a mouse, with an utterly new interior 'dashboard' layout, for me anyway, it was the first time I have driven a car that I could honestly imagine bringing us into the next century. I felt particularly quirky using my old 'skool' map with sticky dots- whilst I watched the internal drive train working on the visual display. I often found myself gazing at where the power was being generated, from the battery or from the engine and totally perplexed at how my fuel consumption could be so low. Exterior design-wise, the car looked neat with superb lines. The split window at the rear however, was more suited to a taller person as the headlights of the cars behind would often blind me through the diffusion of the boot strip. The range starts from £21,000 and for the safety (whiplash lessening seats, vehicle stability control, brake assist) Toyota Touch and go multimedia control system, this Prius really is worth a look. It enjoyed starting and stopping for quite often minutes at a time and jumping in and out of the car to take photographs, I soon learnt safety is on the forefront of this Prius. It held well on hills (when I didn't put the handbrake on whilst I stole a photo from the side of a road) and was extremely easy to park. I found people staring at me - or the car - as we drove off in utter silence, which I found hilarious.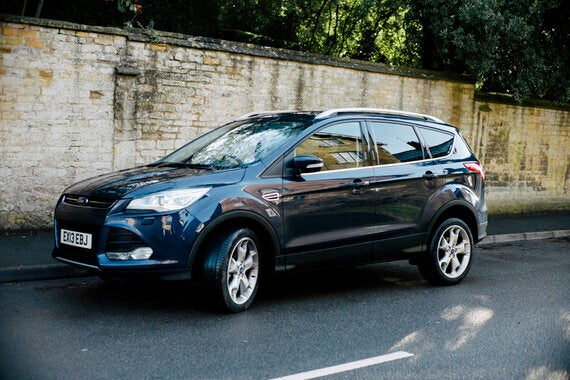 The next week I had the joy of the Ford Kuga, priced the same as the Prius, although this car is not a hybrid, it is good on the fuel at 48mpg. With a host of intelligent technology: 10 way power activated seating, ultra high strength steel safety cage, as well as the electronic stability control, traffic light recognition and the fun part - if my keys are in my pocket and all my camera gear in my arms, I just waved my foot under the car and the boot opened. Being me, I did this a few times I tried when I didn't have my keys just to make sure and that's right: The car knew. I utterly love this function as I have always got both hands full. Ford have come up with a good sized 4-WD here. I felt really safe and loved the sound system as I trundled though village by village. I got out the car to hear if my music was annoying the quiet streets with my base turned up - and the result was super, complete silence on the outside. Then reverse camera worked really well for parking and all my kit fitted in the boot.
Having one week in my own car which I would rather not talk about (felt like driving a couch compared to the Kuga and Prius), next I had the sheer joy of driving the new Geartronic Volvo V60 D6 AWD Plug-in Hybrid. A 2.4 litre engine with CO2 48g/km, the electric motor in Hybrid has a range of up to 560 miles. At £41,000 it is almost double the other two, but this car is indeed rather special. Crafted leather seats from Bridge of Weir, I had the top model.
If I was thinking the Prius was a spaceship, then this V60 was even more so. When I pressed 'POWER' I enjoyed a powerful performance car, with a 215 hp turbo diesel engine taking me to 60 under 6 seconds. The HYBRID button used both diesel engine and electric motor giving me a balanced environmentally conscious ride with 155mpg with emissions as low as 48 g/km. The 'PURE' button provided a silent electric ride and certainly economical allowing up to 31miles of driving, if I didn't accelerate. I must admit, I started to get petrol station nerves as I know that diesel cars must not see that orange light!
I enjoyed watching as the display showing the two-stage braking system working to recharge the car's battery pack and I enjoyed even more the neighbour's expressions as I plugged in my car to the kitchen window. It took me about 3 hours to charge the car- from the kitchen plug. It wasn't empty though, about third full.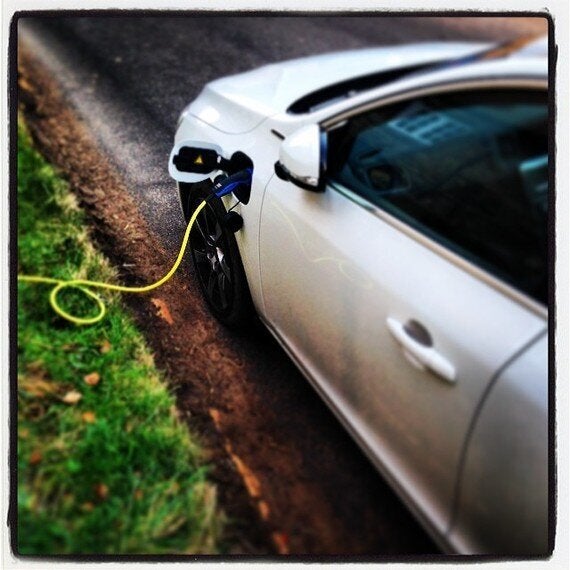 The plugging in scenario works well if you have a plug at your home or office, it makes it easy, I suppose more and more shopping centres are now providing plug sockets and with the duel fuel system, this car is a great development. It was the heaviest of the cars - even the Kuga was slightly lighter I seem to remember, however, it found it the most entertaining, having to look after the car even when it was at standstill.
My photographic commission ended in Gloucestershire and I handed the cars back. Let me see if I can now place little stickers on another county with some more cars to wave my feet under.