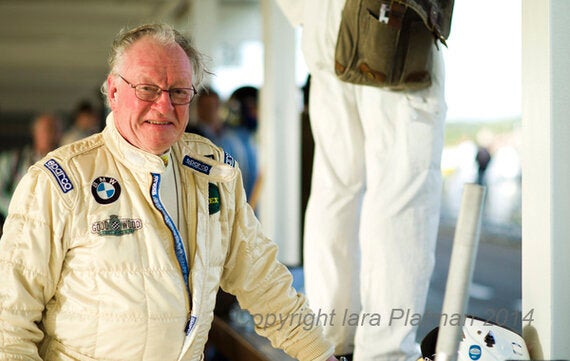 "It is all about balance and weight distribution" says Rauno Aaltonen, World Rally Champion throughout the 1970's, "it is like dance, you have to feel completely the back-to-back spot weight distribution and balance", 'left-foot braking' Aaltonen continues.
We are sitting in the newly refurbished Race Control building at Goodwood during the 2014 Revival meeting in the Sussex autumnal sunshine, discussing the clutch of a motor car, but we could be talking about a camera and lens and in fact we are, our informal chat over a cup of tea moves towards the relationship between driving a car and shooting a frame, particularly with a Leica M rangefinder which I am holding tightly in my hand.
I love the serendipitous meetings that occur at Goodwood Revival and indeed any of the motor sport events at Goodwood, paired with a quiet out-of-the-way hospitality enclave, brilliant supplied by Credit Suisse, delightful and intense conversations can happen without the furore of the bounding of engines (which really, I do love), and addictive odours of methanol.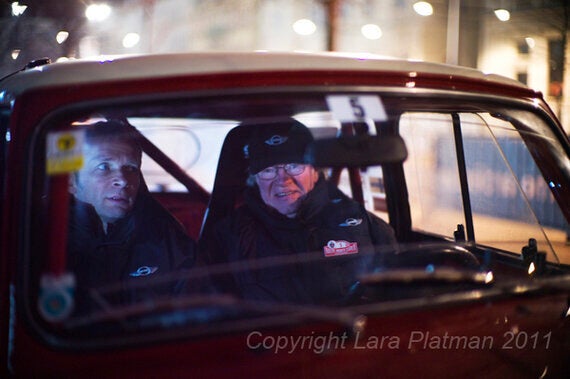 I met Rauno Aaltonen at 3am in Valence, France, during the Monte Carlo Rally Historic a few years ago and have been friends ever since. He knew me as the girl with the Leica Noctilux lens who braved the snow to shoot the start of the rally stage. However, here with Rauno, whose hands are moving in the air to describe the weight ratios to show me how I can adjust the clutch in the 1971 MG Midget race car, we talk about dance and being in total control of the car. I nod with agreement as I find a similar action when shooting with my M, I am at 'one' with the camera body, and my subject can be stolen with one click, I look to the next scene; "You advance to the next corner," Aaltonen continues, "around the race track, you find your next space you keep your line."
Our conversation moves to the art of high performance ice driving (of which he and his son run master classes) and how this really is the testament of any driver, if they can control the car under those extreme circumstances. We both now sway from side to side explaining our point of view and for me I am holding my camera to my eye and explaining how I grip the body without a gap between my skin to camera, "at a total 'one' with the metal" I say, "at 'one' with the car" he agrees.
We had all just appeared out of the beautifully refurbished race control building from a press conference about 'Dream Teams' something, which Credit Suisse have instigated, to allow conversations to begin amongst journalists and professional racing drivers. It is food for thought to take with us throughout the playground of a weekend that Lord March provides.
It is my 16th Revival meeting and yet I am still finding new things to photograph and to enjoy, meeting with old friends (cars and people), discovering the dance tent for example I remember my commissions with the Royal Opera House stopping to let my eyes and Noctilux play for a moment. The dancing is a little different here, Rock and Roll surrounded by cream teas.
The motor races are sublime and my Pit Lane welcomes me with sunshine, driver changes and quick decisions. The Settrington Cup, a race for children in miniature cars is something of a spectacle, with anxious parents providing last minute tactics. Tears, smiles and hugs as they come to the finishing line where, Sir Stirling Moss awards the winner with a lasting memory.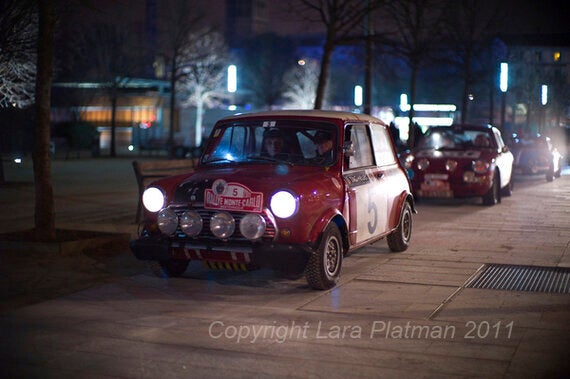 The St Marys Trophy, the race with possibly the 'cheapest' cars with the most experienced drivers, such as Rauno, provide eye to eye contact by the chicane and for the audience a thrill never to be forgotten, the TT Trophy on the Sunday afternoon, with Ferraris versus Aston Martins and Cobras, all fighting it out with red mist.
Goodwood Revival is in September however, we have the 73rd Members Meeting next weekend with an 'old skool' feeling to the event, with a wider range cars racing, this really is a dream for any motorsport enthusiast, along with the Festival of Speed hill climb in June, my Leica M and Noctilux lens that Rauno Aaltonen knows me for will have time to play once again. I am going to venture with the video function on the M this year (still not turned on that button) and with my 24mm lens, I think 'something moving' will my motto for 2015.