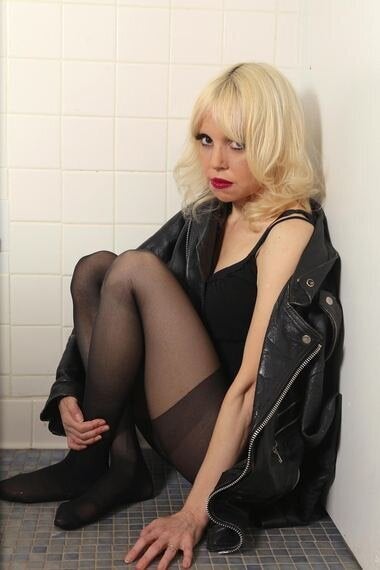 Tammy Faye Starlite as Marianne Faithfull Photo: Bob Gruen
Marianne Faithfull will forever go down in the annals of rock 'n' roll history as the nude girl wrapped in a fur rug when the Rolling Stones got busted for drugs in Swingin' London.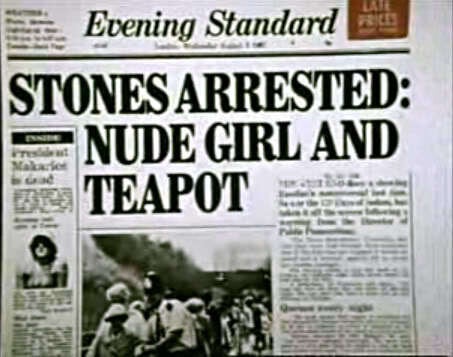 It wasn't easy being Mick Jagger's girlfriend, if you ask Tammy Faye Starlite, who paid homage to her Sunday night at Joe's Pub in New York in a show called 'Marianne Faithfull Exposed' as a politically incorrect, but proud rock 'n' roll survivor, warts and all. She makes no apologies for her "Vagabond Ways," incidentally the autobiographic opening song of the set.
A few years ago, Starlite, a terrific mimic, comically channeled Nico, another rock icon, thanks to her early association with the Velvet Underground. Both Faithful and Nico started out as blonde folk rock/pop princesses, the Taylor Swift of their day, and later became much darker chanteuses. Faithfull, unlike Nico, is still very much alive even if she's currently recovering from hip surgery in Paris.
Faithfull was a bit more mainstream than Nico, as the result of Jagger and Keith Richards writing for her at the Stones manager's urging "As Tears Go By," which she recorded first.
Starlite went through Faithfull's Wikipedia career highlights, but managed to give the presentation some authenticity by drafting Faithfull's longtime songwriting partner Barry Reynolds to back her up on acoustic guitar, as did Kevin Salem, in this unplugged show. Reynolds plays the good sport, as Starlite flung barbs at him the entire show, challenging his songwriting claims and bedroom prowess.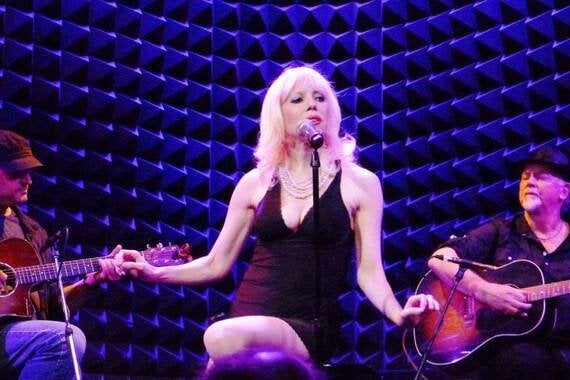 (l-r) Salem, Starlite & Reynolds, Joe's Pub Photo: Siobhan Weiss
What's not in dispute is Reynolds helped craft Faithfull's best recorded work, the 1979 album Broken English, a well received comeback that holds up without ever sounding dated, after she spent much of the previous decade in a drug-induced stupor.
Starlite played that album's best track "Why D'Ya Do It," which she called an anthem to all scorned women, and explained its lyrics originated from a poem by Heathcote Williams. In any case, having Reynolds on stage, cooking with Salem on "Why D'Ya Do It's" reggae riffs made you realise that this was more than a mere cover band.
A few years ago, I saw Faithfull perform at New York's City Winery. While Faithfull was a bit of a raconteur, she didn't riff on current events. That didn't stop Starlite from commenting about what it means to be a woman today after consulting with her new friends "Caitlyn and Rachel," or her hilarious recommendation that the audience stay away from the Broadway show Beautiful about Carole King because it's absurd to go to a show whose star is pretending to be someone she's not.
Nor did Faithful when I saw her, unlike Starlite, badmouth Jagger, or his acting ability. Starlite bitterly complained repeatedly about how she wrote "Sister Morphine," among other Stones songs, and how she really preferred Keith, settling for the singer.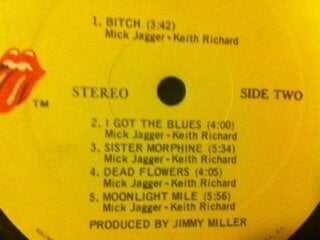 Original Sticky Fingers label
Crawling all over the stage, Starlite captured cathartically all the drama drenched in this ode to narcotics. (And Faithfull might have a new slew of royalties forthcoming, due to last week's re-release of the Stones' Sticky Fingers.)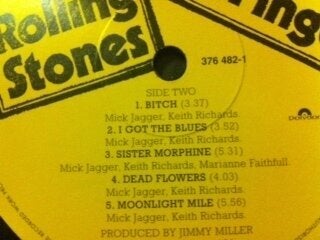 Sticky Fingers Reissue with Faithful co-credit on "Sister Morphine"
At the December 2011 City Winery gig, Faithfull did say that one of her biggest mistakes in the 1960s was admitting to her mother that she did drugs, which resulted her being locked up in a mental hospital. "I had to call Mick to get me out," Faithful told the audience, so perhaps she really isn't that bitter, or at least knows what not to say publicly.
Meanwhile, the uncensored Starlite claimed she and Tom Waits telepathically connected, resulting in the ballad "Strange Weather," which does sound like it was tailor-made for her smoky voice. Starlite questioned how could Waits's wife Kathleen Brennan end up with co-writing credit. In any case, both Starlite and Faithfull made the song all their own.
Starlite also patted herself on the back for recording the song "Ireland" in 1983, co-written incidentally with Reynolds, and being so happy the country finally recognised the need for anyone to get married.
She also repeatedly made reference to New York Jews, and insisted she could -- because [Faithfull's] maternal grandmother was half Jewish. She lauded the Jewish songwriting triumvirate of Bob Dylan, Lou Reed and Leonard Cohen, whose "Tower of Song" was the next-to-last song, before launching into "As Tears Go By," which early on she said she wasn't going to play, as a slight to Mick.
Oh well, it was her prerogative to change her mind, and neither Starlite nor Faithfull have forgotten what put Marianne on the map.
Starlite moves the 'Marianne Faithfull Exposed' show to Los Angeles at McCabe's July 19 when she'll perform the Broken English album in its entirety.