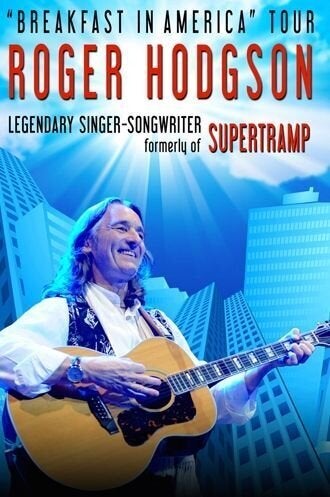 With the continuing feuds between Waters & Gilmour and Plant & Page recently in the news and likely derailing forever any full-scale Pink Floyd and Led Zeppelin reunions, it's easy to overlook another successful '70s British rock band's dispute.
Supertramp are not quite in Floyd or Zep's rock icon's league, but for a while they certainly had a lot more successful singles circa 1979 than the latter two bands.
So it's under that backdrop that Supertramp's former lead singer and chief songwriter is on a North American tour called "Breakfast in America with Roger Hodgson, The Legendary Voice of Supertramp." I caught the show 11 November at the fine live music venue The Paramount at the NYC suburb of Huntington, Long Island, his last US show this year; the tours ends with two Canadian dates.
During the time that Hodgson led Supertramp, the band sold more than 60 million albums. Breakfast in America alone sold more than 20 million copies, and in 1979 it was the top-selling album worldwide.
Hodgson, who hails from Portsmouth, England, quit Supertramp at the height of their global arena rock success in 1983, deciding instead to focus on family life in Northern California and being a parent, which is he what he has told interviewers and concert audiences then and since.
Meanwhile, Supertramp's other main songwriter and singer Rick Davies periodically has carried on under the band banner with two other original band members and some new musicians, the most recent being a Canadian tour in 2011.
On the official Supertramp website there's a May 2010 "A Message from Supertramp" stating: "In June of 2008 Rick Davies went to meet with Roger Hodgson to discuss the possibility of a reunion with him. After fifteen months of discussions, last fall Rick and Roger did not come to an agreement as was hoped. Roger decided to continue his solo career as he has since leaving Supertramp twenty-seven years ago."
In any case, as with the aforementioned Waters & Gilmour and Plant & Page, we'll probably never really know the crux of the current dispute between Hodgson and Davies, whom together co-founded Supertramp in 1969.
Apparently Hodgson and Davies have had a gentleman's agreement to not play each other's songs, which is how Hodgson explained it from the stage Tuesday night when an audience made a particular request mid-show.
Hodgson's site offers some insight: "Although Roger shared writer's credit with Rick Davies, they wrote and composed separately. They continued to share writer's credits much like Lennon and McCartney did."
From the opening familiar piano chords and harmonica phrase of "Take The Long Way Home," it was clear that Hodgson could take the mostly baby boomer audience on a nostalgia trip to rekindle "fond memories" from three decades ago when Supertramp ruled US radio airwaves.
In concert, the 62-year-old Hodgson exudes an affable personality and a warm hippie-era ethos. He easily fills a two-hour show with enough touchstones to put a smile on your face. His voice hasn't deteriorated any despite the years, and his crack band has no problem conjuring note for note the trademark sounds, such as sax solos, that made Supertramp famous. (I wouldn't be surprised that Davies & Co. does the same with his hits (e.g., "Bloody Well Right," "Goodbye Stranger.")
Hodgson on keyboards and acoustic guitar is supported by current tour members: Aaron Macdonald - Saxophones, Harmonica, Keyboards, Backing vocals; Bryan Head - Drums; Kevin Adamson - Keyboards, Backing vocals; and David J. Carpenter - Bass, Backing vocals. They're all great players, but Macdonald in particular, gets most valuable player status. More than a few occasions, they entered into Beatles-like harmonies.
The hits hold up, despite being from another time. Interestingly, Hodgson said as a prelude to launching into "Breakfast in America" that he wrote the song when he was 19, yearning for superstardom and the "girls of California."
If that's the case, one wonders why it took Supertramp so long to put such an infectious tune on an album. (The album Breakfast in America was their sixth; the first came out in 1970 and their first breakthrough wasn't until 1974.)
Despite the commercial success of "The Logical Song," Hodgson's lyrics convey a sardonic self-assessment worthy of Donald Fagen. Yet Steely Dan from that era always earned more of a "thinking person's band" crown, perhaps unfairly slighting Supertramp.
The show ended with the audience tossing around hundreds of multicoloured balloons amid the encore "Give A Little Bit," one of Hodgson's most endearing tunes that could get even the most cynical hum along, despite mulling over whether it might be a bit twee.