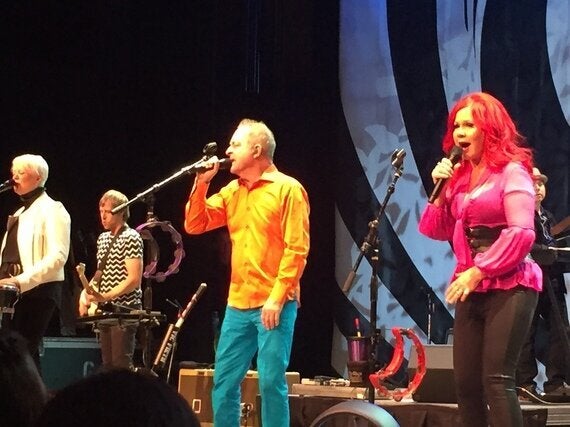 (B-52s v. 2016, L-R: Cindy Wilson, Fred Schneider, Kate Pierson. Photo by Larry Jaffee)
In Martin Scorsese's new HBO series Vinyl about the music industry in the early 1970s in New York, there's a scene in which the record label mogul gives his entire A&R staff two weeks to discover - or get fired - a song that would make any listener want to call a radio station and find out the name of the artist.
The B-52s' debut album and particularly its lead single "Rock Lobster" in 1979 had that kind of effect on an audience already groomed on "new wave." The screechy vocals and infectious organ and guitar riffs reportedly prompted to bring John Lennon back into the recording studio with Yoko.
Thirty-seven years later, the trio of original lead vocalists - Fred Schneider, Kate Pierson and Cindy Wilson - supplemented by four new musicians still entertain a rainbow audience of babyboomers with their solid catalog of hits, most of which were played last Friday night at The Space, in Westbury. Its original guitarist Ricky Wilson (Cindy's brother) died of AIDS in 1986, while its original drummer-turned-guitarist Keith Strickland gave up touring with the band in 2011. Pierson last year married her long-time girlfriend.
To their fans, the B-52s always have been the ultimate feel-good party band, combining a campy girl-group sound with lyrical offbeat sci-fi adventures. They weren't really considered to be a gay band (and not that it mattered), but it's no wonder one of their early hits "My Private Idaho" inspired the 1991 Gus Van Sant film of the same name about two male hustlers played by River Phoenix and Keanu Reeves.
As a fan of the movie posted on imdb.com, "The tragedy at My Own Private Idaho's core is so universal, it really becomes completely secondary whether it's about and between men, women, homosexuals or heterosexuals." The same could be said of The B-52s' music, although with the exception of the loss of Ricky Wilson, tragedy doesn't come to mind when considering the importance of the group, which no doubt belongs in Rock 'n' Roll Hall of Fame.
Dancing away to groove-laden hits including "Strobe Light," "Dance This Mess Around," "Planet Claire," Love Shack," and "52 Girls," The Space crowd consisted of the same Long Island outsiders who faced the strange and feel a huge loss from David Bowie's recent death. It should be noted that Long Island historically votes Republican, which made the B-52s' visit all the more foreign yet welcome to those who turned out.
There's still plenty of politicking to go until November, but The B-52s unlikely would be on the playlist of any of the current slate of Republican presidential candidates, whose "wholesome family morals," such as being against gay marriage, contradict basic compassion for fellow human beings. GOP frontrunner Donald Trump bullies from the podium those who disagree with him, and many of his followers are haters. Thankfully, they're not the kind of people who would attend a B-52s concert.
Trump thought he was a Neil Young fan until the musician threatened legal action when he learned the candidate had usurped without permission his "Rockin' In The Free World" for campaign rallies.
It'll be interesting to see if Vinyl tackles any political statements, as the Watergate scandal is about to topple the Nixon administration.
My friend Tammy Faye Starlite, wrapping up her "Marianne [Faithful] Cabaret" residency at the East Village nightclub Pangea March 3 and 10, also deals with Manhattan circa the early 1970s, as she chronicles her rise to fame as the girlfriend of a young Mick Jagger, who happens to be co-executive producer of Vinyl.
Garnering a rave review (http://tinyurl.com/homa6cq) in The New York Times, Tammy portrays Marianne as a personal mess who's been wronged by the powers that be, but one whose non-judgmental heart is in the right place.
One musing particularly rang true about the horrid state of Manhattan circa 1973: to see the rainbows created by oil slicks in gutter rain puddles was the best thing that happened that day.