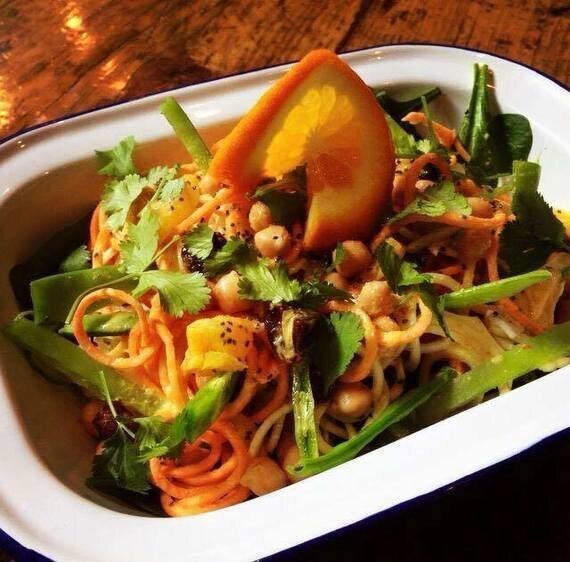 Photograph: Rawr Juice and Superfood Bar Ltd
Like most people I love the idea of shopping locally. The thing is it has to provide additional benefits other than just a warm fuzzy feeling. I expect good customer service, I like to find products that I can't find in the big box shops, and I don't mind spending a little extra to find something unique. A great example of how a town can be turned around to support quirky, small independent shops can be seen in Leek, Staffordshire. http://totallylocally.org/leek/.The way in which they've embraced the Totally Locally concept, and made it work for them is nothing short of brilliant. The flip side of miserable High Street shopping was eloquently expressed in this article by Nicola Ranson for Standard Issue.
As a small food producer I looked into what online promotional support was available locally when I relocated my business from Cheshire to Staffordshire. Previously I'd been a member of Taste Cheshire which was a great experience. They promoted local businesses and also provided networking opportunities, I expected that Taste of Staffordshire would be similar. Wrong. My first clue should have been that the Cheshire website has almost 60 food producers listed, whilst Staffordshire has none. Instead the Staffs site lists a handful (five) retailers, I'm not including the Stone Food Festival as while that's a brilliant event it's only on for 3 days. More importantly Taste Cheshire is a stand alone site that just focuses on food and drink, but the Staffs is part of Visit Staffordshire and seems to be there as an afterthought. When you include the fact that the Cheshire group costs a third as much of the Staffs one you can see why I didn't bother to join after relocating.
It's an exciting time to be in Staffordshire as Stoke-on-Trent is a contender for the UK city of culture 2021. This is a brilliant opportunity to simultaneously promote our food businesses along with our cultural and artistic offerings. Take a look at the World of Wedgwood, it's got history, (factory) shopping and a truly astonishing choice of tea that you just don't expect to find in the middle of the Staffordshire countryside. I went for lunch recently, and was very impressed with both the value and choice on a rainy Monday during half-term. I'll be going back (without the kids) for afternoon tea in the tea room.
We even have some unique local foods such as the oatcake, not to be confused with the nasty Scottish cracker of the same name, which are deeply entrenched in the psyche of any true Stokie. I'm a bit fusion (red onion, avocado, tomato) with mine which is horrifying to people who've never deviated from bacon, cheese and brown sauce. I digress... Our local food producers deserve better support than they are getting. Can Taste Cheshire pop over the border to sort it out? Or, what about those very talented people at Rawr (see foodie photo above) who are on a mission to improve the health of anyone who steps into their juice bars. They are already at the forefront of the Staffordshire foodie scene. They've single handedly brought raw food to Stoke. It's like we're in Manchester, or Birmingham or that other city that begins with L. We need to showcase our enterprising locally produced food and support those businesses that go the extra mile to provide innovative products which are just as good, if not better, than those found in the major cities.