One thing I've always hated hearing from professionals is how old Brody is cognitively. It's not something I need to hear. So, if I can - I avoid it. After all, he is who he is - a beautiful, happy boy. His cognitive age doesn't change that.
I've watched since his arrival four years ago, children close to us tick off milestones that he has yet to meet. I've watched the developmental delay grow wider - from six months to a year to a number of years. I've known deep down roughly where he was sitting on that age chart. And I've told myself age is nothing but a number.
But Brody's peers that he has grown up with are now at an age where they are starting to notice he is different. A lot of things must click when you turn four. Why is he in nappies? Why doesn't he talk? Why does he have a wheelchair? I admit I don't always know the right thing to say. Sometimes it catches me off guard. But the lovely thing about children is they are so accepting. They just accept Brody for who he is. They are just curious after all - and there is nothing wrong with that.
Last year, Sydney entered our world - our equally beautiful daughter. Watching her grow has been just as brilliant as it has been watching Brody at her age. But the experience has admittedly been very different. Things that Brody struggled with just came so easily to her. Rolling over. Sitting up. Eating solid food. Standing up. Walking. And now - she is starting to talk.
I've been waiting for this day. I knew it was coming. I was relieved it was coming. I am so grateful for all of these neuro-typical milestones. Because I know they shouldn't be taken for granted. But it's oh so bitter sweet at times and a whole host of feelings have paid us a visit.
Amazement that a 15-month-old child can do what she can do.
Relief that she doesn't appear to have any disabilities.
Guilt that I feel that relief and that I notice the differences.
Sadness that my beautiful boy had to fight so hard to reach some of those milestones and that he may not even reach some of the ones she has met now.
Proudness at both of them - for being equally amazing in their own rights.
And then there's that number I've been trying to avoid. Syd is 15 months old. And we now know that Brody isn't.
Because Brody was our first child, we have never known the typical path of parenthood. And now we do. Not that the path we have taken with Brody has been any less wonderful - it has just not been as easy.
I've experienced a lot of mummy guilt over the past few years. Had I not done enough to help Brody when he was a baby? Did I not shout loud enough to our doctor about his development? But I've parented no differently with Sydney. In fact, as our second child, she's had far less attention. I didn't have the guts to go to the baby classes that had once at times reduced me to tears of sadness. Because I didn't want to revisit those memories.
A child who is mentally 12-14 months old in a four-year-old's body is normal to us. But it's difficult for others to understand when his disabilities are - at first - invisible. Because he appears to them to be a typical four-year-old boy. I suppose, apart from the occasional what ifs, this is the hardest part. When other people get it, it's truly a real tonic.
I knew this moment may come. It has and now I need to let the moment pass. Concentrate on how lucky I am to have two happy and fortunately healthy children - which is of course the most important thing. I am more than aware of that as a SEND parent.
There's that saying; comparison is the thief of joy. And sometimes, on really tough days it can be. It's natural to compare in life. Of course you wish things were easier for your child and life was simpler. But that doesn't mean that you would change a single hair on their head. That doesn't mean that they aren't exactly who they are meant to be. That doesn't mean that they aren't perfect. Because they are.
We're happy. He's happy. She's happy. No one and nothing has stolen our joy. They are our joy. Both of them.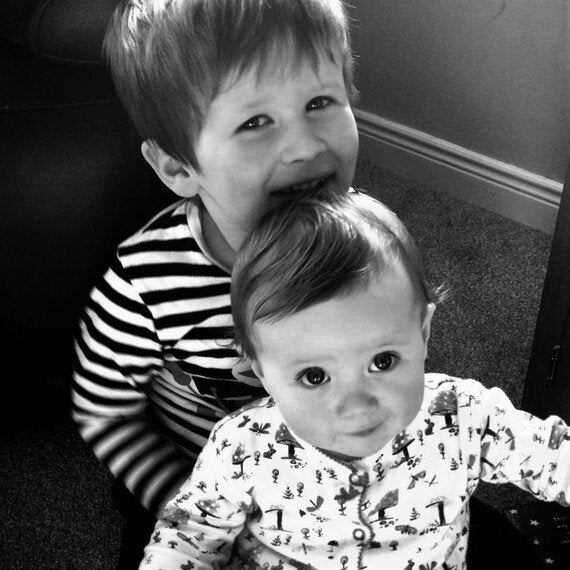 This summer The Huffington Post UK is spearheading an initiative helping families thrive, with a focus on parent wellbeing, the challenges facing stay-at-home and working parents, friendships and navigating the landscape of modern parenting beyond the 2.4. To kickstart the campaign, Jamie Oliver guest edited the site, bringing a focus on feeding healthy families.
We'll be sharing stories and blogs with the hashtag #ThrivingFamilies and we'd like you to do the same. If you'd like to use our blogging platform to share your story, email ukblogteam@huffingtonpost.com to get involved.
Related