Berry is the original JoJo rep in the USA. He found Mark, our head of international sales when we were exhibiting at the Atlanta kidswear mart a year ago and persuaded him that we needed local representation. We had been hoping to sell to East Coast America directly but we realised quite quickly that this is a BIG country and of course we are a relatively LITTLE company. Berry knew the local buyers and already had a fabulous prime location showroom. He represents several other brands and loves JoJo Maman Bebe for all the right reasons: we make good boys wear in a market which is dominated by girls' styles. We make great party dresses at a very reasonable price point, we offer European styling when its all the rage at the moment and we offer a breath of fresh air with our clean design style. He has designated a large section of his very nice showroom to JoJo Maman Bebe and it looks good.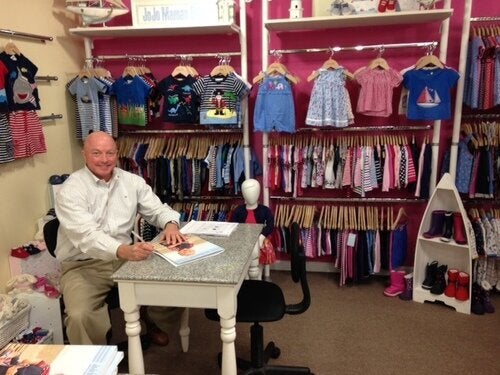 The advantages of selling direct overseas made total sense while our target market was only the New York and New England area. It's quicker for us Brits to reach East Coast America than a great many cross country journeys. Unlike the rest of the states, we tend to understand the customers here a little better - our cultures are less diverse.
There are massive cultural differences in the other states (and from one to the other), for instance Puerto Rico is latino and Spanish the main language, Chicago is chic and understated, while Miami is flashy and fun and San Francisco is low key but edgy. I know I keep going on about it but we in the UK tend to forget how many states there are and much they vary. The Americas are made up of dozens of little countries and cultures. If you are planning to export to the United States you need to pick your geographical and cultural target areas carefully.
The advantages of using good local representatives are:
1. They have the ability to reach the parts we can't - they are out on the road in between market weeks.
2. They take us to the retailer rather than expecting the retailer to come to us.
3. They speak the language - know the lay of the land better than we do; understanding local tastes which we may find ... well, odd.
4. They have years of experience and long term relationships with great retailers. As a result, the loyalty and respect they've earnt is second to none.
5. They offer permanent showrooms - allowing the retailers the ability to pop in and top up mid season if needed.
6. Whilst Reps in the UK fashion industry are no longer common place, over here its the established way of doing business at the moment.
Our JoJo UK team still travel and exhibit at the key trade shows to learn from our clients and help to brand build, but in all areas of the Americas (other than the East Coast) using reps is how independent retailers buy. Who can tell whether this route to market will change, but right now we are benefiting from their deep routed local knowledge and professionalism.
Take Hope, our Maternity Rep in the Atlanta Mart, for example. She is a truly experienced maternity wear salesperson by birthright. She was 'parachuted in' the week before I arrived here because Berry just had too much to cope with the kids collections and suggested a specialist would be better for all concerned. Hope is just that and more. She grew up in North Carolina and spent her childhood helping out in her father's showroom. He was the first maternity wear rep in Kansas City in the 1970's at a time when there were very few specialist lines offering a collection for pregnancy. He would head off on a Monday morning travelling through West Virginia and beyond, visiting stores and staying in little hotels. They moved to Charlotte, where Hope grew up. It was a town of travelling salesmen and they say it was empty of men all week when they hit the road in their cars stuffed with rolling racks of clothing samples. They covered hundreds of miles visiting small towns as far up as the Washington border, 10 hours drive from home.
Life on the road was not suitable for girls according to Hope's Pa, but he was delighted when she joined the business after a stint as a teacher. She was not put off; she'd sat in the wings of the business, working Saturday's from 14 years old, and there was no holding her back. She saw how it was and she liked what she saw. She had a head for figures and a ran the showroom to start but eventually she took to travelling when he was unable. Yet again this was a family business and the original logo is still on display in the Mart - a cross stitch depiction of a stork, lovingly made by her Ma and a legacy to the hopes and aspirations her father must have felt when launching his business 45 years ago.
She is full of stories, told with passion and emotion, even tears at times, and I could listen all day. I love the tales of intrepid sole traders, especially when they are steeped in history as this business is. Her father had been President of the South East Travelling Salesman Exhibitors' Association (they do love their titles) and was a prominent figure in the Charlotte community, used to lobbying Government to improve the rights for the Travelling Salesmen of the day. It conjures up images of a time gone by in the UK and to a certain extent over here now that so many of the small town low end fashion stores have closed down. Thankfully for us the more up-market boutiques survive the march of the supermarkets and internet retailer. Customer Service is the saviour of the independent over here as much as at home and I have seen some impressive examples of great little businesses.
I fear we might sit on our stools chatting when there is still so much to do in her showroom before the start of Market Week in two days. Hope is confident that it will all get done, but I'm nervous. The thickness of her order book at the end of the week will be the judge.
Off to Chicago now at the base of Lake Michigan, expecting it to be cold again. So tricky to pack hand luggage only when you are travelling through time zones and climate changes ... hmmm; Idea for a blog on how to pack for long business trips. Watch this space.
Westin Peachtree, Atlanta
Perfect for easy access to the Trade Mart. If you are doing any other type of business in Atlanta, then find somewhere else. Its very very high rise. Feels a little like working in a large Chinese city though. You can walk straight from the Mart to the hotel, without breathing a non-air-conditioned breath.
Two hours to spare in Atlanta:
With two reps to work with and an early morning next day flight to Chicago, there was only time for dinner with Berry and Hope and a taste of bison steak, followed by a drink in the bar with awesome views.