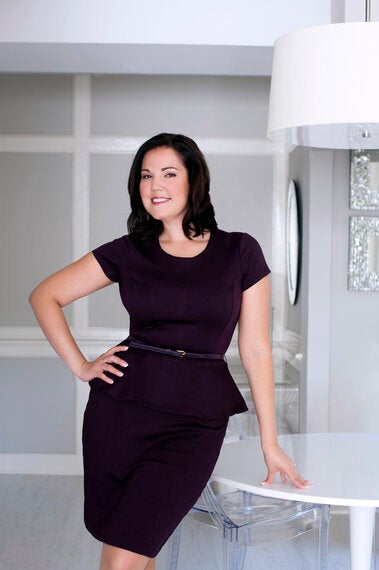 Barbara Viteri is a mother, wife, entrepreneur, writer, brand campaigner, creator of Designerlebrity™ & the |POTENTIALS|™
Establishing her consulting firm, Viteri Style Management™, LLC in 2012, Barbara's talent for developing practical business management solutions for boutique interior design firms coupled with her no-nonsense personality has led her to become a top adviser in the industry.
In 2014, Barbara seized the opportunity to launch her brand, Designerlebrity™. As Creative Director, she is cultivating an innovative platform spotlighting celebrity interior designers, upcoming designers, products and events. She partnered with The Design Network (2014) as the creator, executive producer, and Host of Designerlebrity™ Talk with Barbara Viteri, a cutting edge talk show introducing celebrity interior designers online and on syndicated television.
Expanding her brand into editorial, Barbara became the contributing interior design editor for The Typical Female Magazine (2015). Her columns granted an all access pass to Designerlebrities and started a new platform focusing on up and coming designers she appropriately labeled; the |POTENTIALS|™. Her features have been acknowledged by PopSugar and HGTV.
Besides her roles as CEO and Founder of VSM and building her brands, Designerlebrity™ & the |POTENTIALS|™, Barbara conducts and develops speaking engagements for prominent industry events. She has graced the covers of RISE and W2W magazines and is continuously featured in trade publications and television segments.
Barbara lives in New York with her husband and two children. She is actively involved with several charities.
How has your life experience made you the leader you are today?
My exterior package can fool a lot of people. No one would guess I was born and raised in one of the most volatile public housing communities in Brooklyn, NY. To put it into perspective, my neighbor was Hip Hop mogul, Jay-Z, (Shawn Carter). Watch his "Hard Knock Life" video and you will get a glimpse of what the nicer side of Marcy Projects looked like, but growing up in such a risky environment taught you at a young age the skills to survive. From developing gut instincts, learning how to read people, to mastering the bounce back of disappointment, all are valuable experiences I use today as an entrepreneur. I jokingly like to tell people I got my BA from the school of hard knocks, but honestly there is real value in street smarts as well as school smarts.
How has your previous employment experience aided you to creating your management firm, Viteri Style Management™ along with your brands, Designerlebrity™ and the |PONTENTIALS|™?
I lucked out getting a job at a prestigious antique store when I was 18 that introduced me to the world of interior design. Back then interior designers garnered the same level of respect and attention as musicians. I was enamored by them and had a front row seat to witness their creative genius. Just like musicians can strike emotions within us, you'll be amazed at how a well design space can do the same thing. Even though I did not possess the skills to be an interior designer myself, I knew I wanted to curve out a place for my own talents in this industry. So in a course of two decades I took on jobs as a sales person, office manager, even a design coordinator that gave me a taste of what this industry was made of. I became invested and learned from the ground up, absorbing as much as I could to get the courage to start my own business. In 2012 I started Viteri Style Management™ which was a consulting firm providing practical business management solutions to boutique interior design firms. But in 2014 VSM quickly transitioned into a managing firm for my passion of spotlighting celebrity interior designers, upcoming designers, products and events in a pop culture fashion I branded as Designerlebrity™ & the |POTENTIALS|™. Every job I ever had was rooted in interior design. It helped shape my career to celebrate interior design in a unique style that ultimately made me a boss.
What have the highlights and challenges been during your journey to create a self-made business?
I find the highlights and challenges of developing an idea into a viable business are one in the same for me. From the struggles of creating the industry's first online talk show with no television or hosting experience to being praised for that work on covers of magazines. From contributing editorial articles for a non interior design publication because no industry publisher wanted to take a chance on me to getting nominated for an award as Best Individual Editorial Experience. I get this euphoric high when I'm face with a challenge that ends in a successful accomplishment. Not to say that every challenge has that outcome, but there is great satisfaction when you take on what you think was once impossible and make it possible for yourself.
What advice can you offer to women who want a career in your industry?
Some people have told me I'm so real I make them uncomfortable. Well I'm comfortable with that. I think it can be hard for women to be unfiltered and express effectively what they want out of their careers. I've been there myself. Your confidence can be easily shaken as you don't want to be perceived for lack of a better term "A Bitch". When you are at ease with your authentic self and not try to change who you are to get ahead, you will find that you attract the right people that need to be in your life and career. My advice is to get very comfortable with who you are and how uncomfortable you will make others feel when trying to achieve your ultimate goals. Keep your personality in check and never lose focus.
What is the most important lesson you've learned in your career to date?
I've been a Business Manager for over 20 years, but an entrepreneur for just over 3. I found that no matter what stage you are in your career you should never be the smartest person in the room, but the smartest person sealing the deal. Always strive to learn from the best. Make an effort to get access to the pros you need to gain specific knowledge to help make those all important decisions for yourself and your career.
How do you maintain a work/life balance?
The work/life balance is not really sustainable by its very nature. The scale always tips one way or the other, but prioritizing where you need to be is very important. This is always a challenge for me and I am sure for many working women as the pendulum can go in any direction on any given day. I've learned to prioritize my time and leave room for flexibility. When I am working on my businesses, I try to devote 100% of my attention to the development and growth of my companies. When I am with my family, I do the same. The key factor, at least for me in order to keep my sanity, is allowing room for flexibility. I make sure I block some time everyday for just space, time to breathe or like a reserve fund to use in case of an emergency. This certainly is not a solution to the work/life balance problem we all face, but I have found it to be the most effective one.
What do you think is the biggest issue for women in the workplace?
Every industry is different, but to give an across the board answer I would say being underestimated when given an opportunity. I've personally never experienced an issue in any of the jobs I've had other than the fact of being type cast. I remember I wanted to be a real estate agent. I got my license and spent my entire savings on two new "power suits" that made me look like my male counterparts. I landed an interview with one of New York's top leading real estate agencies and spent the hour of the interview convincing them I was there to be an agent and not a "secretary". This was in the 90's! Because I had no money left to survive on my own for another week, I took a commission paid only job as a "Design Coordinator" for a very well known furniture showroom in the country. I became their first million dollar writer in my first year there. It wasn't real estate but the qualifications of the job were exactly the same. You needed to be great at sales and closing the deal. If I was given the opportunity to be an agent for that real estate office, I would have proven they should have not underestimated me. I'm glad to see that type casting is not much of an issue nowadays. Many women are proving to be great leaders in roles that were once considered to be dominated by men. Fantastic examples are the likes of Ivanka Trump for her position as Executive Vice President of Acquisitions and Development at the Trump Organization, Bethenny Frankel for dominating in the wine and spirits market and Barbara Walters who led the path for many women in journalism.
How has mentorship made a difference in your professional and personal life?
I remember paying $2000 on a business coach to quickly realize I was wasting my money. The best support I ever received was actually free. The mentors I identified with where the ones that shared their guidance through real life experiences. The advice was priceless as it came from a place of unfiltered counsel and encouragement. There is great value in the importance of being accountable, exceeding people's expectations and learning to leverage opportunities without becoming an opportunist. Understanding that all types of relationships both personal and professional have expiration dates as people need to be in your life for a reason even if it is just for a season. This knowledge came from some incredible people I have met in my life that were generous with their time and had no hidden agenda. It's the true meaning of paying it forward and I am forever grateful to them.
Which other female leaders do you admire and why?
To name a small few, my mother would have to be top on this list. For obvious reasons, she was the closest connection I had to love and guidance which molded me into the person I am today. But in regards to women leading the way for me as an entrepreneur, there are so many. Bethenny Frankel comes to mind as I would have never pursued the option of a postnup after 18 years of marriage. Wendy Williams taught me it's okay to be confident and stand by my opinions with conviction. Suze Orman single handily educated me on dealing with finances and my fear of money. Even my female ex-boss taught me a valuable lesson on dealing with insecurities and competition. She was terrible at it and I wanted to make sure I never followed in those footsteps. My list is very unconventional, but the stories and experiences from the many women I have admired and learned from have been my most treasured knowledge obtained.
What do you want your brands to accomplish in the next year?
I'm looking forward to taking my brands Designerlebrity™ and the |POTENTIALS|™ to the next level this year. I want to stay more on brand by remaining in the realm of interior design. It's one of the reasons why I opted out of writing for a female lifestyle magazine and chose to take my distinctive writing skills directly to interior design publications. I'm also looking forward to collaborating with some great industry partners to formulate new brand ambassadorships and creative partnerships. I'm honored to be noticed as a trailblazer for my engaging speaking events and interactive set designs. It's thrilling to see the industry finally taking notice, so I see it time to start working as a brand campaigner for some of my favorite product lines out there. Lastly, I want to get back into producing new innovative shows for networks. There really is no better place to spotlight the best Designerlebrities in our industry than on TV. I'm putting it out in the universe to become the next Andy Cohen for addictive watching interior design shows. Wish a girl luck!