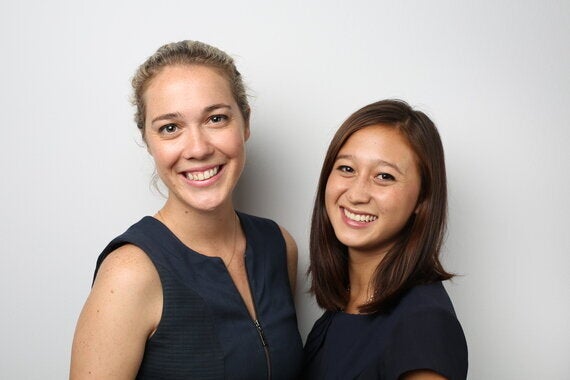 Giorgia Rossi and Renee Robbie met while working together at global management consulting firm McKinsey & Company. They share a passion for innovative start-ups, great design, and 6-weekly haircuts. Mortified at facing a future of booking their salon appointments by phone in open-plan offices forever more, they left their corporate jobs to move to New York to launch LookBooker.
How has your life experience made you the leaders you are today?
Our families are full of people who have started their own businesses, so we grew up discussing how to close a deal, motivate a team, launch a product, and all things business around the dinner table. With families full of business owners and operators, we knew that running a startup would be hard work, constant selling, and learning to thrive while always feeling bootstrapped. For us as leaders, we know how important it is to have a compelling vision that others (e.g., our team, users, investors) can get behind. That vision - to be the online marketplace connecting consumers looking for salons with salons looking for consumers - was compelling enough to convince us to quit our corporate jobs and move continents to launch LookBooker. We've learned from our families as well as business role models, that leadership is walking the walk, not just talking the talk. We expect others to take risks on us, and we've seen how important it is for us as leaders to take big risks too.
How has your previous employment experience aided your tenures at LookBooker?
Prior to LookBooker, we met while both working as management consultants at McKinsey & Company. There, we had the privilege of working with some incredibly smart people to solve problems for some of the world's biggest organizations. Many of the things we learned were skills we now use every day, such as being able to think on our feet, prioritize ruthlessly, and collaborate with others to solve a problem. We've now taken those skills and shifted their application - from Fortune 500 companies to businesses that are a bit smaller (sometimes single-person barbershop or nail salons)!
What have the highlights and challenges been during your tenures at LookBooker?
It's an incredibly exciting journey to help usher in the digital age for a huge industry (there are 1.3 million hair and beauty businesses in the U.S) that still largely runs on pen and paper and relies on a landline telephone to take appointments. To lead this change and help digitize the way that beauty bookings are processed is a highlight every single day. As for challenges, given the size of the opportunity we are chasing (currently less than 1% of appointments are taken online), there are never enough hours in the day. We want to be in all major US cities. We want every consumer to know that they can finally book their salon appointments online, and we want to extend an invite to every business in the personal grooming industry to join LookBooker. Our challenge is always balancing the opportunity to grow quickly with our commitment to delivering real, tangible value to those taking part in the network.
What advice can you offer to women who want a career in your industry?
Know the landscape of the industry you're entering, and that industry is tech, then the odds are not in your favor. When you are aware of the numbers -
What is the most important lesson you've learned in your career to date?
Commit yourself to your current career venture as though you're going to do it for the next decade. Nowadays, it is rare for Gen Y's and millennials to be in the same career for ten years straight, but thinking about your work with a long term view means you'll never find yourself doing something you're not passionate about. When we started LookBooker, we sat down and said "Are we excited enough to be doing this for at least the next ten years?" and when the answer was yes, we knew we were onto a good thing. It also forces you to make decisions that you are happy to live with down the track, and when you make mistakes, you take the time to learn from them, knowing you might come across them again - all things that lead to better operating!
How do you maintain a work/life balance?
We've learned a lot about personal sacrifice and the time it takes to get a startup off the ground. For us, the idea for LookBooker took us from its conception on a mining site in rural Australia to moving to different countries ... twice. When you're on a mission that requires 150% of your thinking space, time, and passion, it can be hard to balance much else. To be truthful, we haven't cracked balancing our work and lives, though perhaps growing up in families full of operators, we became comfortable from an early age with having the two merge. It's a work in progress; we promise we'll sing from the hills if we manage to find the secret sauce!
What do you think is the biggest issue for women in the workplace?
It differs by industry. While we've seen big progress in the corporate world in terms of flexibility, parental leave and alternative promotion paths, in the world of tech there are still great strides to be made. One of the areas that we see this most acutely is the challenge female founders have in securing the funding they need to grow and scale their businesses. Like LookBooker, a business born out of our personal need for the solution, so many of our female peers are building businesses that they or their friends would use. An approach that is entirely sensible when you think about where ideas are born.
However, when it comes to pitching an all male panel of VCs, the product or platform that we and our friends use might not resonate with this demographic of venture partners (who are likely less pained by the inconvenience of booking their blow out or leg wax on the phone during office hours). In a world where so few venture firms even have female representation in their partnership and where the industry has been built on decades of pattern recognition of what a 'typical' entrepreneur looks like, we have quite a way to go before the distribution of capital (>95% of venture capital currently goes to male founded teams) tilts toward greater gender balance.
How has mentorship made a difference in your professional and personal lives?
It's made a huge difference. Many of our mentors from our consulting days became our earliest backers, and they continue to help us think through all sorts of questions we are presented with - how to build a team, how to consider an acquisition offer, how to think strategically about a partnership opportunity. Interestingly, we've both gravitated towards the sort of mentor that helps us and encourages us to make mistakes, a critical part of any startup journey. For us, the most powerful moments in our LookBooker journey are those where mentors have helped us navigate the aftermath of a wrong turn or a near miss. The 'mistakes' we make are often our most pivotal moments, and in a company where we pride ourselves on our ability to fail fast and then iterate, we welcome all help making sense of the lessons we can!
Which other female leaders do you admire and why?
We have such admiration and respect for women who go out and give it a go, and are excited and inspired by a growing number of female leaders who are out there charging through brick walls and taking no prisoners. Some of our favorite female leaders whose stories and companies we love include Diane Von Furstenberg, Sara Blakely (Spanx), Julia Hartz (Eventbrite), Marla Malcom Beck (Blue Mercury), Susan Koger (Modcloth), and of course we are big Sheryl Sandberg fans.
Female leaders are able to bring their natural collaborative nature, intuitive problem solving ability and lateral thinking skills to a company. We are so energized to see the teams they lead and the companies they steer go from strength to strength because of it.
What do you want LookBooker to accomplish in the next year?
So much! Our smart phone app recently launched in October on the iTunes store. It offers some exciting features such as one-click checkout and rebooking, geo location services, advanced search functions, and more. In 2016, we will roll out to more cities on the East and West Coasts, and aggressively grow our network of incredible salons and spas!