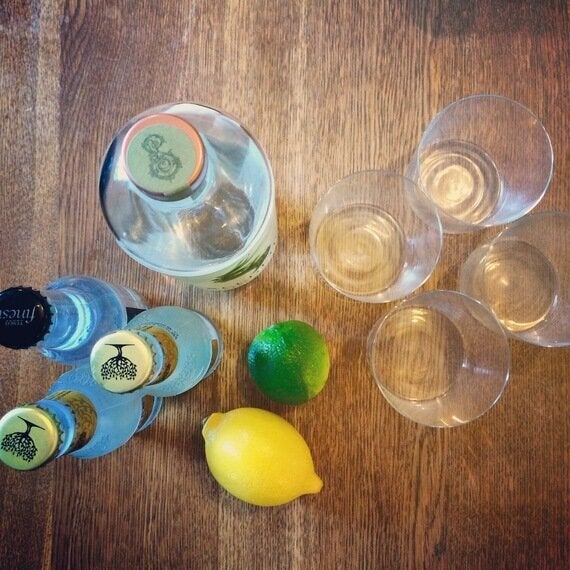 Dry January can be hard enough without weekend habits and well-meaning friends edging you closer to a drink.
Even when it's not hard (when you're enjoying your hangover-free mornings, the extra money in your bank account and your new found extra hours in the day), sparkling water and soft drinks can get boring.
My suggestions are aligned on the wine (and gin train) and for your at home drinking.
If you're not keen on staying in all January (and I don't blame you) Club Soda are doing a great job of encouraging more venue's to stock alcohol free options and you can find your nearest, and partake in a Mindful Drinking pub crawl, with their Club Soda Guide.
There are also lots of alcohol free beers on the market - Becks Blue has been a staple on supermarket shelves for a while & Brewdog's Nanny State is becoming ever more popular - but as I never really drink beer they're not something I've actively hunted out. However, if you're looking for beer's I can't recommend Dry Drinker enough! I met Stuart, the man behind Dry Drinker, at a One Year No Beer event (read more about the awesomeness that is One Year No Beer here) and his website offers huge variety and very reasonable delivery charges.
As we head towards the first weekend of January & you're tempted by your usual, add a bottle of something alcohol free to your basket to temper the urge and let me know what you think ...
For previous prosecco lovers ...
3. DIY: Schloer Low Sugar + sparkling water (great if you only want to pop to the corner shop!)
4. The best I've found is M&S's Alcohol Free White, they don't seem to sell it online so pop in to your local store to have a look ...
5. Eisberg is a more available option but better if you have a very sweet tooth!
Partial to a glass of red in the past?
6. Again, M&S's Alcohol Free Red is my favourite option, as before they don't seem to sell it online.
For the spirit fans who are missing their sparkle:
8. Seedlip. Solving the "what to drink when you're not drinking dilemma". On first glance this may seem a bit pricey, but the bottle lasts for ages and it makes a great dinner party drink. Added bonus - the bottle is beautiful and looks fantastic on your shelf!
It would also make a wonderful and thoughtful gift for your newly teetotal or pregnant friend. Seedlip is my favourite thing to drink at the moment. I like to mix it with a 7up free but the recommended serve is fever tree tonic - also lovely.
9. A new addition to the alcohol free - sort of like a spirit and mixer - market is Thomas & Evans. Served straight, it's a very grown up soft drink & can be found here.
Inspired to drink less and do more? Read my blog: Girl & Tonic
This post has been published on The Huffington Post's blogging platform. The views and opinions expressed in this blog are those of the author and should not be taken as those of The Huffington Post. The Huffington Post does not allow bloggers to acquire products, access or accommodation for review in the site's name.