Compared to last year's Box Office top ten, this year's is a definite improvement. We've moved up from two original titles to four with Gone Girl and The Wolf of Wall Street only just breaking through and The Lego Movie beating off the competition with its little plastic fists. I imagine the studio bosses are currently wading through their mounds of cash wondering what other popular brands they're able to capitalise on.
It seems that cinema goers in this country are still happy to thrust their cash towards anything that they've already read, that is fully loaded with explosives and anything that has already been seen in some format or another a million times already. Even now it's apparent that 2015's Box Office doesn't hold much hope as the campaigns already rolling out for Star Wars VII: The Force Awakens, Avengers - Age of Ultron, Furious 7, Jurassic World... The list goes on...
Occasionally, beyond the ad campaigns, the merchandise and the arrogant multiplex, there is almost always something decent lurking quietly in the shadows. It is in these shadows (although, I may occasionally burst into Cineworld) that I have compiled my annual top ten list of the best films of the year. The contenders are based on quality, substance and ingenuity.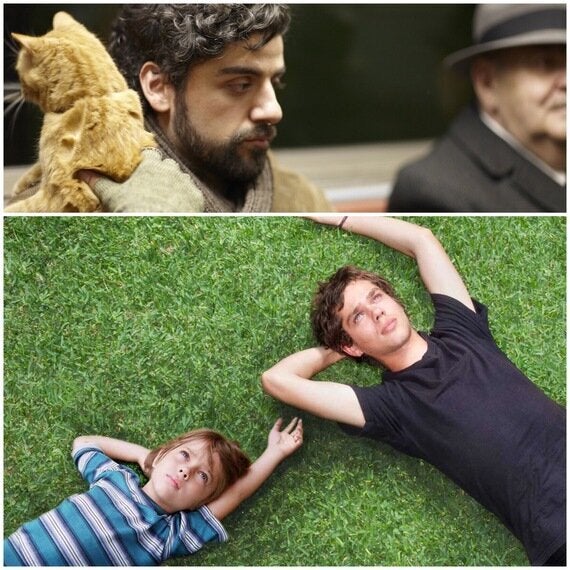 Inside Llewyn Davis (Dir. Joel Coen, Ethan Coen)
Oscar Isaac sulkily trudges his way through the Coen Brothers' folk tale and creates the year's most iconic performance as he goes. This fable of a down and out loser, trying to make it in the world of music is masterfully crafted by the Coens and is accompanied by the year's greatest soundtrack. The film is structured like an LP playing on a loop and contains a couple of sneaky dialogue tricks, so that when the film ends, you will need to watch it again and again to determine where the story really begins. I watched this five times in its opening week and am still none the wiser but feel all the more fulfilled from each and every viewing.
Boyhood (Dir. Richard Linklater)
Richard Linklater's groundbreaking coming of age film in which the characters literally come of age before your very eyes. Having explored natural chronology in his Before... trilogy, here the director goes one further and follows the same fictional family consistently over a 12 year period. It's hard not to develop a pseudo paternal bond with Mason (Ellar Coltrane), who we first meet aged 5. His journey will make you feel nostalgic and also terrified at the fleeting nature of time. A beautiful and enchanting meditation on childhood and even at a lengthy 165 minutes, you will not want this to end.
Bastards (Dir. Claire Denis)
This sickeningly seductive film noir from acclaimed director Claire Denis unfolds in a Paris you're unlikely to find on a picture postcard (unless it's been sent by Irreversible director Gaspar Noe). Vincent Lindon and Chiara Mastroianni pack in the heat as the sexually charged central couple, whose worlds rapidly decompose around them. Non-linear in structure, Denis focuses her attention on character and drip feeds puzzling fragments into the narrative, that when finally pieced together reveal some thoroughly rancid truths. Surprisingly soulful, this haunting and savagely underrated masterpiece is so engrossing that you can almost feel its nails running down your back. Claire Denis at her darkest and most triumphant best.
The Grand Budapest Hotel (Dir. Wes Anderson)
Ralph Fiennes stars as Gustave H., a hotelier who employs a bizarre level of celebrity at the lavish hotel. When one of the wealthy female guests, whom Gustave has "serviced" in more ways than one, is killed under mysterious circumstances, the concierge becomes the number one suspect.
A gloriously sumptuous soup of a film, with comedy, romance, prison drama and murder mystery all thrown into the pot. Creating an indistinguishable genre of its own, the film adds to director Wes Anderson's ever expanding cannon of distinctive offerings. The expeditious dialogue harks back to the slapstick exuberance of the Ealing Classics and it is delivered with delicious grace from Fiennes in an exemplary and perfectly poised performance. An incredible ensemble cast provide gloriously entertaining subplots, all paced with a joyous and frenetic energy. The Grand Budapest Hotel is the high spirited, feel-good film of the year and is packed with so much flavour that you can practically taste it.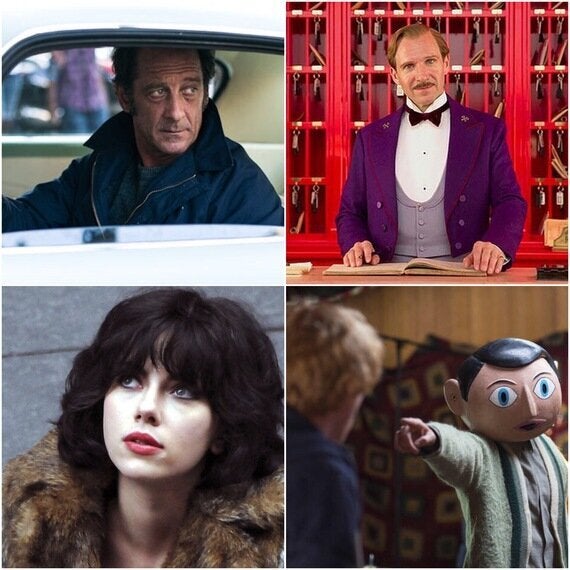 Under The Skin (Dir. Jonathan Glazer)
Based on Michel Faber's mesmerising novel of the same name, Under the Skin divided audiences upon its release. Sexy Beast Director Jonathan Glazer's mash-up of the hyper-real (some scenes were filmed undercover) and the oblique extra-terrestrial creates an altogether unique and bewitchingly stylistic sci-fi experience for the senses, as Mica Levi's chilling score percolates the ear-canal and courses through your veins. Like an enticing nightmare from which you cannot wake, Glazer's vision does exactly what it says on the tin and thanks to a spellbinding central performance from Scarlett Johansson, is unlike anything you have ever seen or are likely to see again.
Frank (Dir. Lenny Abrahamson)
The film is a hugely entertaining fragment of madness and it is accompanied by a beautifully cacophonous soundtrack that lands somewhere in-between My Bloody Valentine and The Fall. Although largely unrelated to what we know of Frank Sidebottom, this is an original exploration of artistry, creativity and ambition. The scene in which the titular character is unmasked acts as a touching tribute to the death of an enigma. Michael Fassbender proves once again that he is (a giant paper-mache) head and shoulders above the rest.
The Guest (Dir. Adam Wingard)
A young soldier pays a surprise visit to his dead friend's family. After moving in and working his charm on them all, it becomes clear that beyond his cheesy charisma and dreamy appearance, something is not quite right. Former Downton Abbey star Dan Stevens, ditches the chub to play the dashing guest in question. The most thrilling, suspenseful and surprising film of the year. Writer Simon Barret's screenplay is packed with black comedy and sharp dialogue that is all brought to life with director Adam Wingard's expertise. With it's John Carpenteresque soundtrack, The Guest has the aesthetic sheen of Drive, the protagonist of The Terminator and a tongue that never fails to leave its cheek.
Nymphomaniac Vol.1 and Vol.2 (Dir. Lars Von Trier)
It's easy to dismiss Lars Von Trier's two parter as another attempt to shock but the hairy palmed brigade will be rather disappointed as there is much more to this epic tale of nymphomania than just oodles of graphic sex. The viewer is lured in through Joe (played by Charlotte Gainsbourg) and her seemingly salacious stories but the shock of reality makes the viewer question their judgement. It's a moral tale that perhaps reveals more about the audience than any of the characters portrayed. Director Von Trier is often criticised for his questionably misogynistic approach to filmmaking. However, Nymphomaniac's overall message determines his position as a misunderstood feminist. A hugely entertaining and provocative soap opera of sorts, the film's most surprising scene features an incredible, yet sadly brief performance from a deranged Uma Thurman, who proves that there is more to her than the Tarantino mimic of recent years.
Guardians of the Galaxy (Dir. James Gunn)
Guardians... does for the Superhero movie what Heathers did for the teen-film. Gone is that irritable glossy self-assuredness that accompanies most films of the genre and instead we're presented with a bunch of misfits, who are largely uncertain of their own capabilities. This refreshing and much needed change of direction is made all the more enjoyable by its sharp and hilarious dialogue, nostalgic soundtrack and brilliantly charismatic leading man in Chris Pratt. The only missed trick here was, following all of the Kevin Bacon references, not including Kenny Loggins's Footloose on The Awesome Mixtape vol. 2 as the film drew to a close. But then perhaps that would've been too tidy for this offbeat effort. Kudos to Marvel/Disney for taking a big risk on a new breed of hero. It paid off. Fingers crossed however that the imminent sequels don't milk this film's commendable qualities bone dry.
Ida (Dir. Pawel Pawilowski)
Set in the 1960s, this Polish entry for the Best Foreign Film Oscar tells the story of a young orphaned nun, Anna who, prior to taking her vows is told to visit her family. Reluctantly Anna meets her auntie, Wanda who informs Anna that she was born a Jewish girl named Ida and her parents were murdered by the Stalinist regime during the war. As the two attempt to discover the burial place of Ida's parents, unexpected secrets are uncovered that form the catalyst of a struggle with identity for both women. Director Pawel Pawlikowski has a sensitive and subtle approach to his characters, often framing his beguiling heroine in the same way as Carl Dreyer framed his in The Passion of Joan of Arc (1928). Style is not the only similarity between the two as, like Joan of Arc, Ida is a touching and thought provoking exploration of piousness, denomination and truth and its affect on the human psyche.
Finally, I'll leave you with an additional top 10 list, in no particular order these are the films that made an impact in 2014 but failed to make the final list...
The Past (Dir. Asghar Farhadi)
Norte: The End of History (Dir. Lav Diaz)
20,000 Days on Earth (Dir. Iain Forsyth, Jane Pollard)
Exhibition (Dir. Joanna Hogg)
The Punk Singer (Dir. Sini Anderson)
12 Year a Slave (Dir. Steve McQueen)
The Wolf of Wall Street (Dir. Martin Scorcese)
Lone Survivor (Dir. Peter Berg)
Only Lovers Left Alive (Dir. jim Jarmusch)