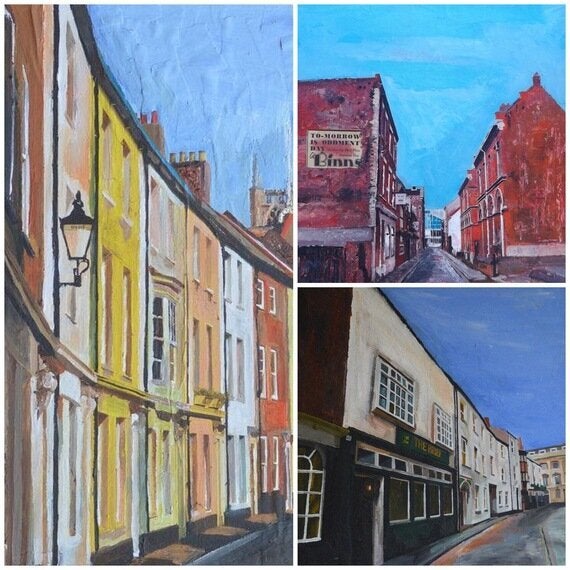 During the summer holidays I took my children to Hull's museum quarter but the weather was far too nice to be inside, so instead of wandering around Wilberforce House or Street Life for the umpteenth time we strolled through the Land of Green Ginger and Hull's old town, looking at the buildings and discussing what life was like in the 19th Century.
As you walk around you feel as if you have been transported back-in-time, thanks to the preservation of the unspoiled listed buildings and cobbled streets, the only thing that spoilt the ambience was a puddle of someone's over-indulgence beside one of the many public houses in the area.
As we turned onto High Street, we were suddenly and rather surprisingly rubbing shoulders with men and women in authentic Victorian regalia whilst mucky children in breeches and flat-caps congregated beneath a sign for a Victorian pawnbrokers. The only suggestion of modern-life was a few cameras and a bloke in cargo shorts, supping on a Costa coffee and shouting something about it being a "closed set".
We made our way out by walking straight through, scanning the characters for any recognisable faces. No such luck, but I did get a glance down an old gated passageway and through it hung washing that was flapping about in the faint breeze. I ballooned with pride thinking that the rich history of our City was finally being represented and celebrated in dramatic form and assumed that with UK City of Culture 2017 looming, Hull's heritage was due to get the exposure it so deserves.
However, that bubble soon burst when I found out that the focus of the drama was Sunderland's female serial killer, Ann Mary Cotton and that the story has very little to do with Hull. The same goes for ID2: Shadwell Army (2016), a football hooligan sequel that filmed in the City last year and A Royal Night Out (2015) a big movie production that used Hull for its significant locations and then pretended that they were in London. Which is all well and good as it proves our great locations, as depicted in these beautiful paintings by artist Andrew Reid Wildman, are being recognised nationally, but when is Hull going to represent itself on TV or film?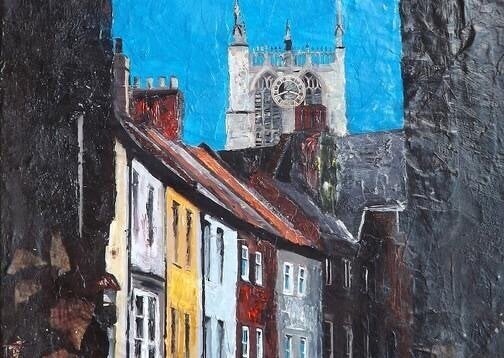 We had Only Fools and Horses here twenty odd years ago and several people in Eastenders and Brookside have run away to Hull never to be seen again. Wilberforce House in the aforementioned High Street was used in the Wilberforce bio-pic Amazing Grace (2006) but you can count on one hand any screen representations that explore the City's illustrious past. So, I'm here to tell you TV and Film production companies to jump on the UK City of Culture bandwagon, get yourself to Hull and make the most of what we've got to offer.
You'll have no shortage of an audience for your productions here. Hull has a strong army of film enthusiasts with Hull's Independent Cinema Project bringing art-house and lesser known films to various locations in the vicinity. The Hull Film Festival has just returned for the second year, a good place to premiere your productions, and last year Hull's LGBT community and its supporters turned out in force to celebrate the inaugural Hull Pride Film Festival. We've got drama schools and independent theatre companies full of enthusiastic and talented performers, who genuinely pronounce Coca Cola as "Kerka Kerla" to bring added authenticity to your projects and there are some fantastic Hull-born actors out there too, ready to attach their names to your productions for extra kudos (please Tom Courtney, if you're not too busy).
We've even got BAFTA winning, Oscar-nominated producer, Chris Hees who very recently has been teaching his pearls of wisdom to 16-19 year olds at the BFI Film Academy, so there's no shortage of budding, behind-the-camera staff for your production there too. So now you need a screenplay, something that brings Hull to life and celebrates its cultural bygone days. Philip Larkin would make a decent subject for a BBC biopic as would Mick Ronson: The Hull Years (we don't want to stray too far). We've got authors who use Hull as a backdrop for exciting thrillers, including David Page and Nick Quantril whose stories would make for a decent "Humber Noir" season on BBC4. But, for prime-time viewing we've also got an award-winning author who fills her novels with carefully researched historical information and gripping fictional characters that brings the city of Hull to life.
Val Wood has written over 20 novels, all based in and around Hull. Her first novel, The Hungry Tide won the Catherine Cookson prize for fiction and the action unfolds around the River Humber (you'll have to photoshop out the Bridge). This novel would make a great 3 or 4 part ITV drama for all the family, preferably for the Downton Abbey audience. Val's best-seller, The Harbour Girl, a gripping drama which takes place around Hessle Road and the once bustling fishing industry would make a fantastic mini-series to satisfy the BBC's Call The Midwife crowd.
In fact, any or all of Val Wood's novels would be perfect for the big screen because she takes a chunk of the City that you thought you knew and she brings it to life with cinematic effect, rebuilding derelict and long gone or badly bombed city streets in vivid detail, filling them with original, yet familiar characters that make Hull the great city it is. With 2017 fast approaching, now is the time for you film and TV production companies to act, pull your socks up and provide us and the rest of the country/world with some original or adapted* productions that commemorate our glorious, beloved city.
*Contact me, I'll happily send you some books.
Paintings used with kind permission of artist Andrew Reid Wildman.