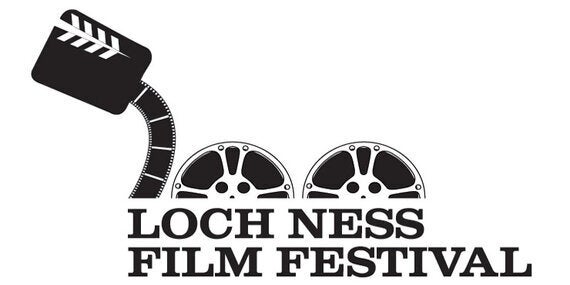 So much can be gained in five to ten minutes, and the The Loch Ness film Festival which begins its fourth annual run at the end of the month celebrates this with a phenomenal range of outstanding short films all available to view for free. The schedule throughout the weekend is incredibly diverse with titles ranging from French sci-fi to Aussie black-comedies. It even includes a porridge documentary.
Loch Ness Film Festival, unlike other more high-profile events is not a competitive film festival with awards and competitions, the difference here is that everyone who makes a film and is brave enough to screen it is celebrated. The festival is now a (SCIO) Scottish Charitable Incorporated Organisation, and is a non-profit festival that covers its own costs through local sponsorship, submission fees and with received contributions. I've been lucky enough to preview a handful of this year's submissions and here, in my humble opinion are ten of the best films on offer...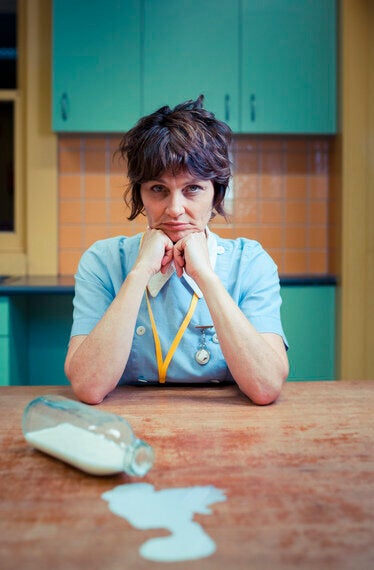 Best Before (Dir. Kaylene Tyler)
This outstanding debut feature from Australian filmmaker Kaylene Tyler (pictured above) takes a darkly comic look at the ageing process. 40 year old Grace works in a nursing home. The tick tock of her biological clock rings loud with her day to day duties, particularly when it comes to her virile patient Gunther. With her marriage and IVF failing, can she find the fulfilment she dreams of or is motherhood perhaps not the solution she imagined? A truly entertaining black comedy that raises issues on social conformity but gives us plenty to laugh about. Packed with wit, wisdom and intelligent parallels. A remarkable debut from Tyler, who manages to coin the art of sausage tossing, both literally and figuratively.
Entity (Dir. Andrew Desmond)
An ambitious, jaw-dropper by French team, Andrew Desmond and Jean-Philippe Ferré. A minute after a technical failure in her spacecraft, a female astronaut finds herself ejected from the cockpit and propelled into deep space. She attempts to contact the base to obtain help but in turn makes contact with something unexpected. Clearly influenced by Kubrick's 2001: a Space Odyssey and delivered with the conviction of a big-budget blockbuster, the film has received many an award already and deservedly so. This is Gravity in a nutshell, a claustrophobic nightmare and a delicious visual feast.
Top Oats (Dir. Fergus Thom)
Fergus Thom's warm documentary follows two top porridge makers - both former winners of the coveted title of "World Porridge Making Champion" as they make their way to the 20th annual World Porridge Making Championship to battle it out. Along the way the couple discover just how diverse a dish of porridge can be. As mouthwatering and comforting as it sounds, you will be surprised at just how far the perfect porridge can take you.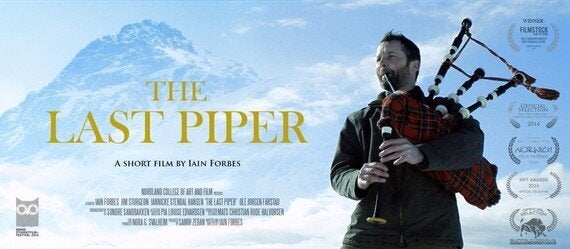 The Last Piper (Dir. Iain Forbes)
This epic, glacial tale from Scottish/Norweigian filmmaker Forbes follows Ryan MacCrimmon, guardian of the last set of bagpipes on earth. Hounded by a mysterious group whose ambition is to see the instrument wiped out for good, his travels have brought him to the northernmost part of Norway, the edge of the world, where he hopes to secure the future of the bagpipe once and for all. Glorious, breath-taking and surprisingly chilling, this sensational short will leave you feeling anything but cold.
Let's do the Cat Dance (Dir. Michael MacLennan)
Michael MacLennan's comedy tells the story of a frustrated filmmaker who decides to sell out and create a horrifically infectious viral video but what price will the film's massive online popularity come at? An amusing look at the effect of compromising artistic integrity for success can have on the artist. Five minutes of fun that shows how manufactured fame can sometimes feel like failure.
Stock Exchange (Dir. Professor Von Shoop)
This entertaining Belgian entry explores the case of a kidnapping gone awry. When an anxious father exchanges a briefcase full of cash for the safe return of his abducted daughter, he is met with an unexpected surprise. Here is a taut and tense psychological thriller filled with suspense, bloodshed and belly laughs whilst highlighting society's increasingly casual attitude towards violence and extremism.
Bernard the Great (Dir.Phlippe Lupien and Marie-Helene Viens)
This 9 minute French Canadian comedy is the adolescent tale of a young revolutionary named Bernard who attempts everything in his power to not grow up. Fast-paced, hilarious and incredibly rewarding, the film's only fault is that it is a short film. It perfectly captures the essence of childhood and the performances are so beguiling that you never want it to end.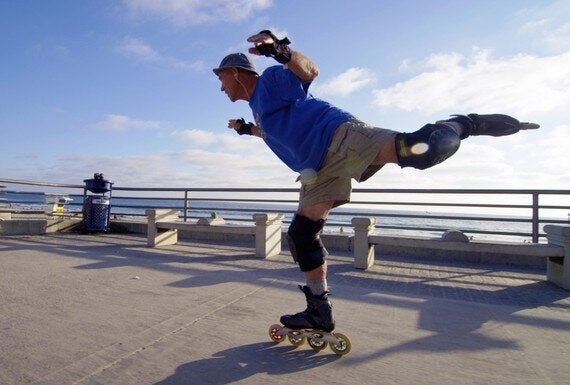 Slomo (Dir. Josh Isenberg)
Having won the best short documentary award at at SXSW, Isenberg's uplifting film tells the story of Dr. John Kitchin. Disillusioned with life, Dr. Kitchin walks away from his career as a neurologist and moves to Pacific Beach. There, he undergoes a radical transformation into SLOMO, trading his lab coat for a pair of rollerblades and his IRA for a taste of divinity. A rewarding documentary full of heart, soul and with a life affirming premise. An inspirational must-see for anyone who feels like they're on the road to nowhere.
Twelve (dir. George A Watson)
Twelve has a magnificent cast in the form of Monica Dolan and Joseph Mawle. Dolan stars as Jodie, a woman whose life is turned upside down when she receives a phone call from a stranger who threatens to reveal her past. She has one night only to reveal the truth to her husband played by Mawle, but she knows that the revelation of her secret past has the capacity to change their lives together forever. A thoroughly engrossing drama, expertly performed and delivered with the precision and maturity of British greats such as Ken Loach or Jimmy McGovern, thus calling attention to talented director George A. Watson as one to keep your eye on.
Redman (dir. Dulani Wilson)
Wilson's animated short follows King Macbeth as he faces his darkest hour and battles personal demons in the face of an invading British Army. Macbeth embarks on an urgent mission to preserve Scotland's independence and her sovereignty, all of which rest precariously on his crown. This timely piece is relevant not only in its gruesomely beautiful aesthetic but also in its political undercurrent. Intoxicating and exhilarating Redman guarantees to deliver a rush of blood to the head and more.
The Loch Ness Film Festival has something to offer everyone and the above ten provide only a mere glimpse of the huge variety of films on offer. There are many, many more to choose from. The festival kicks off on Friday 25th July until Sunday 27th. All screenings and events are free entry. For full details visit http://lochnessfilmfestival.co.uk
Related