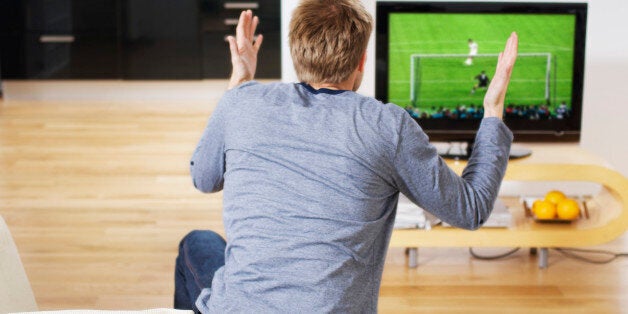 If you believed the headlines last month, we've been switching off live sports on our TVs in droves. According to the stats, viewing figures have dropped by 19% for Premier League matches on Sky Sports, while BT Sport is seeing a similar decline in its Champions League broadcasts (for one particular game, viewers were down by 40%). This is despite both media companies paying substantial fees for the rights to football games. Together the broadcasters paid £5.1bn for the Premier League, while BT Sport shelled out a further £897m in a three-year deal to air the Champions League.
There's no question that we're seeing seismic change, but it's important to note that the headline stats don't tell the full story.
The drop in viewers can be explained by a host of reasons. Firstly, Leicester City has a smaller fan base than Manchester United, so Champions League viewing figures would of course have dropped. And the switch to BT has meant less free-to-watch Champions League games. And in the Premier league, well supported clubs such as Newcastle and Aston Villa have been relegated. The combined effect is bound to have an impact on total viewing figures.
Perhaps more significantly for the future, sport is being distributed on a much wider scale. The broadcasting space is now hugely fragmented, with the industry falling in line with the way we consume almost everything across the spectrum now, be it TV, film, music and more - beyond traditional broadcasts to streaming online via services such as Netflix, Amazon and online players. It's endemic of our wider expectation to access content whenever we want, regardless of where we are.
When it comes to monetisation, sure, live broadcasting is arguably the last bastion of televised sport, but video platforms and social apps are making a beeline for the pot of more than $200bn of ad spend put into it by brands and advertisers. Facebook, Yahoo and Twitter are all eyeing sports media rights as a way to swell engagement - and therefore their coffers - on their platforms.
The NFL has started broadcasting Thursday Night Football on Twitter, in a deal worth $10m - and it's already achieved initial success in generating interest with new audiences. Meanwhile, the NBA has signed an agreement to stream games this season live on Facebook.
Clubs are getting in on the act too, as they begin to use their content to engage with fans on a global scale. Real Madrid generated over 110 million views on its social channels after deciding to show matches and affiliated content like player interviews on Facebook Live.
Additionally, athletes themselves are becoming increasingly relevant as powerful media channels in their own right. Where once sports stars used Facebook and Twitter as a way to connect with fans, audiences are so large now that their followers can rival, or even out-shine traditional channels. This year, for example, Cristiano Ronaldo generated $36m in value for Nike on social media alone via his own social accounts.
These platforms, whether it be apps, social networks or athletes themselves, are giving people what they want - frequent, fun and engaging content, delivered when they want it, wherever they are.
The rise of social in sport doesn't mean the days of the traditional sports broadcasters are numbered - indeed anything but, as they rise to the challenge and adapt accordingly. BT Sport's app is a case in point; it has witnessed a 17% increase in usage, while Sky is also reacting to this shift in consumer behaviour with the launch of it's new "match centre" app. Sky Sports also recently signed a deal this year with Twitter to stream on-the-minute highlights of goals scored during Premier League matches.
So, while viewing figures may be down for traditional full matches, we're more than making up for it in the way we consume clips, highlights and parts of matches via broadcasting apps. Arguably, total reach in sport is actually increasing.
Ultimately, live sports consumption isn't in decline, nor is it a choice between social media or television. Solo or displaced fans will watch games via online or social, but sport is a unifying occasion and our inherent sociability as humans hasn't changed at all: audiences will always turn to the telly when they want to watch sports with their friends. Even if content outside of game time is now being consumed on different platforms, live games are still as important as ever. And for channels like BT Sport and Sky Sports, the bang for buck is still there for the taking.
Popular in the Community