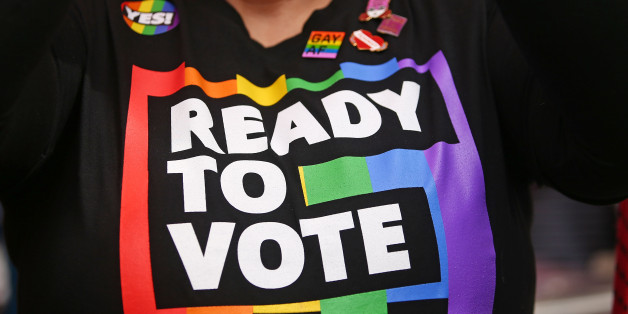 Scott Barbour via Getty Images
I would like to address this letter to those who back the "no campaign" against same sex marriage in Australia. In particular, those mothers in the recent "no campaign" video.
I would like you to ask yourself these questions. What are you afraid of? How does it hurt you to give two people you probably don't even know, the right to get married?
Are you afraid your child could become the next Tom Daley, an Olympic Diver? The next Sir Ian McKellen -- a multiple, award winning actor? Ellen Degeneres -- one of the most successful presenters and businesswomen in the world? The next Laverne Cox -- actress and activist? Or maybe total loser Elton John. Just kidding -- he's a legend who shaped the landscape of music, and guess what? He's gay.
I could list for hours the amount of LGBTQ people who have excelled in their fields, and those are just the ones you see in print and on screen. That's not mentioning the doctors, nurses lawyers, the people in public service and retail that you interact with every day.
What you should really be worried about is your children becoming the next Asher Brown or the next Seth Walsh... the next Justin Aaberg or Tyler Clementi. These are all young people who took their own lives because they were bullied for being gay. You see, according to The Trevor Project, LGB youth who come from highly rejecting families are 8.4 times as likely to have attempted suicide as LGB peers who reported no or low levels of family rejection.
I, myself experienced some bullying as a teenager because I was more "feminine" than other boys. Because my voice was a little higher. And in my adult life I've experienced homophobic abuse, like being called a faggot on the street for no reason. But because my family loved and supported me, I was lucky enough to have the strength to go into my adult life and make my parents proud, despite how they may have felt when I first came out.
By making your propaganda video, you aren't simply expressing an opinion, you are sending out a toxic message to future generations -- possibly even your own children -- and definitely their classmates.
Your video portrays you to be the victims, but make no mistake, you, and The Coalition for Marriage, are the problem right now.
If a school tells your son he's allowed to wear a dress next year if he wants to, it doesn't mean he's going to. No one can make your child LGBTQ. Trust me, for decades, there have been men and women who have wished they weren't because it would just be easier to be like the majority -- it would be easier than the level of intolerance, abuse and oppression we've endured, but we all know this isn't how it works.
So let me break it down for you: If your child is LGBTQ, your child is LGBTQ there is nothing you can do. You can oppress them, make them feel shamed, cause them to hide who they are for some amount of time -- but if you do that, they're probably going to hate you -- if they don't do something worse.
This is what you should really be afraid of. Oh, and also Isis. Not some kid who wants to wear a dress to school.